8 Ways To Stay Safe Running In The Heat
Summer running...isn't always a blast.
Heading out the door? Read this article on the new Outside+ app available now on iOS devices for members! Download the app.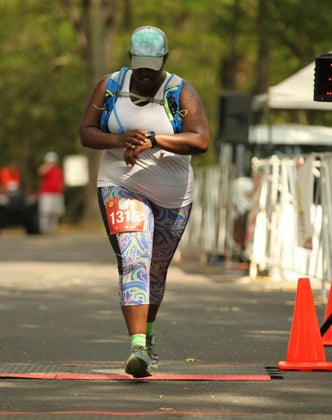 We can survive the heat, but we can't beat it.
This past weekend, I ran the Narragansett Beer Half Marathon in North Easton, Mass. It wasn't pretty. I mean, the course was beautiful and mostly flat, and the after-party was off the hook, but that was only after having punished myself with 13.1 miles of brutal sun and humidity on mostly-exposed pavement. HOT, I tell 'ya. Every muscle protested, screaming and wondering aloud why we weren't lounging inside with the AC on full blast.
But I survived this half-marathon of torture, and so can you.
Running in the heat can be difficult but  it can also be exhilarating—afterwards. The copious amounts of sweat dripping off your body feel almost therapeutic. You become one with the sun and maybe your shoes melt too, so you become one with the ground.
So instead of opting out of hot races and daily training runs, you can survive the heat and live to tell the tale.
Here's how:
TRAIN in the heat
Running a race in the heat shouldn't be the first time you've run when it's hot. Train yourself to be outside with the sun a few miles at a time.
Hydrate
Make sure your water and electrolyte stores are balanced before, during and after your run.
Eat
Make sure you have enough calories to sustain you throughout your run. Your body is working extra hard to cool you down in the heat, so make sure it is fed.
Slow down
Trying to get a PR? Maybe not today. You don't want to run the risk of overheating and succumbing to heat exhaustion. This can quickly become dangerous.
Stop at the water stops
If you're like me and carry your own hydration, you can still stop at the water stops and splash water on yourself. Sometimes they even have ice. No joke, I put it in my bra EVERY TIME (just make sure to BODY GLIDE THE LADIES, though…).
Wear a cap or visor
This will help shade your face. If your face feels cool, that's at least one part of your body that is cool…
Wear sunscreen
Even I wear sunscreen. 'Nuff said.
Stop
If you feel weak and/or dizzy, that is a sign that you've done too much. There will always be another race on another day. Take care of yourself.