T-Rex Runner: What to Know Before You Train for Your First Marathon
Share these 8 training tips with any first time marathoner to let them know what to expect.
Heading out the door? Read this article on the new Outside+ app available now on iOS devices for members! Download the app.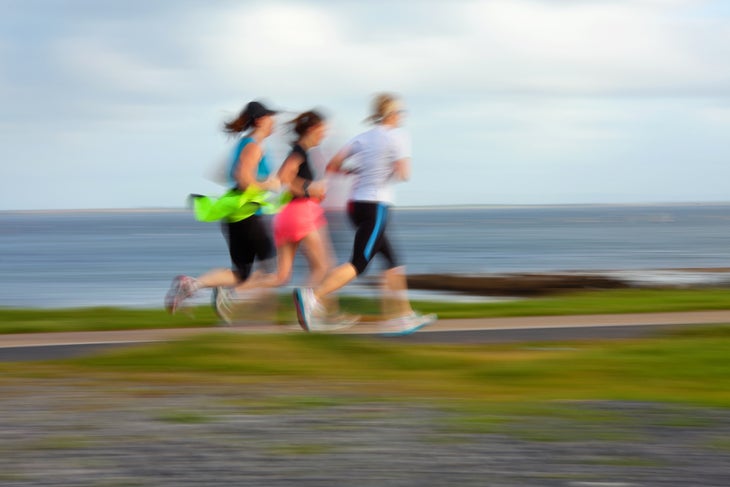 After running more than twenty half marathons, one of my running friends recently decided to train for her first marathon. She expected the experience to be pretty similar to training for half marathons and, suffice to say, was a bit surprised by the changes that marathon training brings with it. Since I apparently failed to prepare her adequately for what it's like to train for your first marathon, I figured I would make up for it by sharing with you. Here is what I should have told her before she started training for the marathon.
It takes up a lot of time. Yes, training for other distances is time consuming too, but marathon training is a different animal, especially if you are a slower runner. The sheer volume of mileage, the packing and unpacking of gym bags, showering, hair drying, and laundry will at times consume your life.
That said, it doesn't need to dominate your whole life. My friend complained that she felt like she had no life during training and wasn't able to cut loose on weekends. I have never felt that way. Since I do my long runs on Saturday mornings, I plan a low-key Friday night, run on Saturday morning, and then enjoy the rest of my weekend – margaritas included.
Be smart about training plans. If you have not been running for very long or are very injury-prone, consider a training program that doesn't include speed work for your first marathon. Getting to the finish line healthy but a little slower is better than not making it to the finish line at all.
There is no magic pre-long run fuel. Some people eat pasta before long runs. I eat enchiladas. Some love pizza. The reality is that there's no right food to eat— only the one that agrees the best with your digestive system and helps you feel ready to go.
Make peace with fueling on the run. Shorter distances may not require the use of energy gels or chews, but marathons do. Whether you choose to substitute "real" food or different forms of energy, you'll need to get used to taking in some type of fuel on the run. Start figuring out early what will work best for you by testing them out when your weekend long runs get above the half marathon distance.
Sometimes, you won't want to run. We all get burnt out sometimes, girl. It will pass.
A bad run during the week does not predict a bad run on the weekend. It's easy to let one bad weekday run throw off your confidence for your long run, but resist the urge. One bad run is no predictor of how your next one will feel. Don't get down on yourself. This is the same way with long runs – if you have a terrible 20-miler, that doesn't mean your race day will suck. Stay positive and trust in your training.
It's worth every second and sacrifice. I'm not an emotional person, but I cried like a baby at the finish line of my first marathon. It was a transformative experience that completely changed how I see myself and what is possible for me to accomplish. All the blisters, sweat, and tears will be worth it!
What advice would you give someone who is thinking of training for their first marathon? Tweet @thetrexrunner and @womensrunning and tell us!
Related: Surviving A Marathon- Gear Edition