How Does The Race Lottery System Work, Anyway?
So many runners apply to participate in major races every year, but only small percentages are accepted. Why is that?
Heading out the door? Read this article on the new Outside+ app available now on iOS devices for members! Download the app.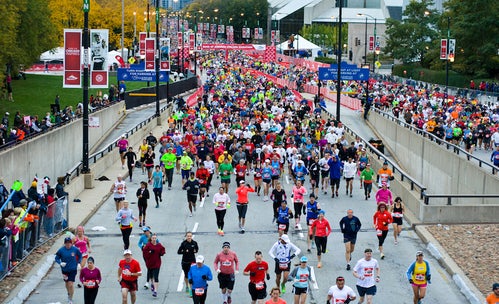 Understanding The Lottery System
Some people have all the luck— just not Pennsylvania runner Jenn Savedge.
She's applied for lotteries to run the TCS New York City Marathon four times. She's applied twice each to the Big Sur International Marathon and the Bank of America Chicago Marathon and she's entered the drawing once to run the Marine Corps Marathon.
She's never won.
Savedge is even part of a Facebook group called the Race Lottery Luccis, named for actress Susan Lucci, who was nominated for an Emmy 19 times before she finally won. Savedge is one of thousands of runners who apply and hope for a spot at their dream races—a dream that is mostly up to luck.
With growing numbers of runners wanting to cross the finish line, major races have turned to lottery drawings to choose runners; and like Savedge, not everyone wins.
On average, about 30 percent of total lottery applications to the MCM aren't lucky enough to get a race bib, and for the 2018 TCS New York City Marathon, nearly 85,000 applicants for the drawings didn't win the lottery.
"It's a bucket list opportunity for people," says Chris Weiller, spokesman for the New York Road Runners, the group behind the TCS New York City Marathon. "It's great because a lot of people want to run this race and we have to find the best way to make it fair as possible for everyone."
How Drawings Work
Most major races offer both guaranteed and non-guaranteed entries. Runners can earn guaranteed entries a few ways, such as running with a charity.
At the NYC Marathon, non-guaranteed slots are available in three different drawings: NYC-metro area applicants, national applicants outside of the NYC-metro area and international applicants. Weiller says they don't release how many guaranteed entries are earmarked each year, but any guaranteed entries that aren't claimed are ceded to the three drawings.
The Chicago Marathon has a similar system. In 2018, guaranteed entries made up about 30 percent of runners. The other roughly 70 percent were all runners chosen by a drawing.
"In 2014, we recognized we could no longer accommodate a first come, first served system," says Cindy Hamilton, spokesperson for the Bank of America Chicago Marathon. "The drawing system allows for an equitable and fair process for those who do not qualify verses relying on a first come, first served basis."
Exponential Growth
First come, first served systems are largely plagued with problems, officials with races say. At the Big Sur Marathon, the 4,500 entries used to take months to sell out. By 2014, before the drawing system was introduced, the race was selling out in less than an hour.
"The online registration system would jam," says Doug Thurston, executive director and race director for the Big Sur Marathon Foundation. "Folks were frustrated. Many complained because they couldn't all be poised at their computer at the appointed time…and even many who hit 'enter' at the exact second registration opened weren't able to register through no fault of their own."
In recent years, popular races like the AJC Peachtree Road Race and the NYC Marathon have seen greater interest and exponential growth. In 2011, when the Atlanta Track Club bumped its maximum number of runners to 60,000 and implemented its own lottery for the AJC Peachtree Road Race, the race had grown significantly from its modest start of 150 registrants in 1970. Meanwhile, the NYC Marathon has swelled from about 55 finishers in 1970 to about 50,000 in 2017, making it the largest marathon in the world.
The Odds
For most of those major races, there are no ways to improve your chances at scoring a drawing entry. Some, like the Big Sur marathon, allow runners to apply in multiple drawings, including in a "Last Chance" category. The MCM alternately offers guaranteed entry if applicants participate in the Marine Corps 17.75K— of course, that race, which is also regulated on a first come, first served basis, sold out this year in seven minutes and 25 seconds.
But race directors say runners should keep trying for their dream race. "We'd love to have more people," Weiller says. "We're continuing to look for ways to do that."
While the odds are tough, Savedge says she won't quit applying. "I will throw my name in the hat for NYC again when it opens next," she says. "I can't help it. I'm a glutton for punishment when it comes to that lottery."
Related:
4 Foiled Attempts To Run The 2017 TCS NYC Marathon
6 Running Goals That Aren't Qualifying For Boston