Yes, It's Okay To Look Like A Beginner
It is common to think of being a beginner as a bad thing. Mile Posts, however, shares why you should be embracing the title.
Heading out the door? Read this article on the new Outside+ app available now on iOS devices for members! Download the app.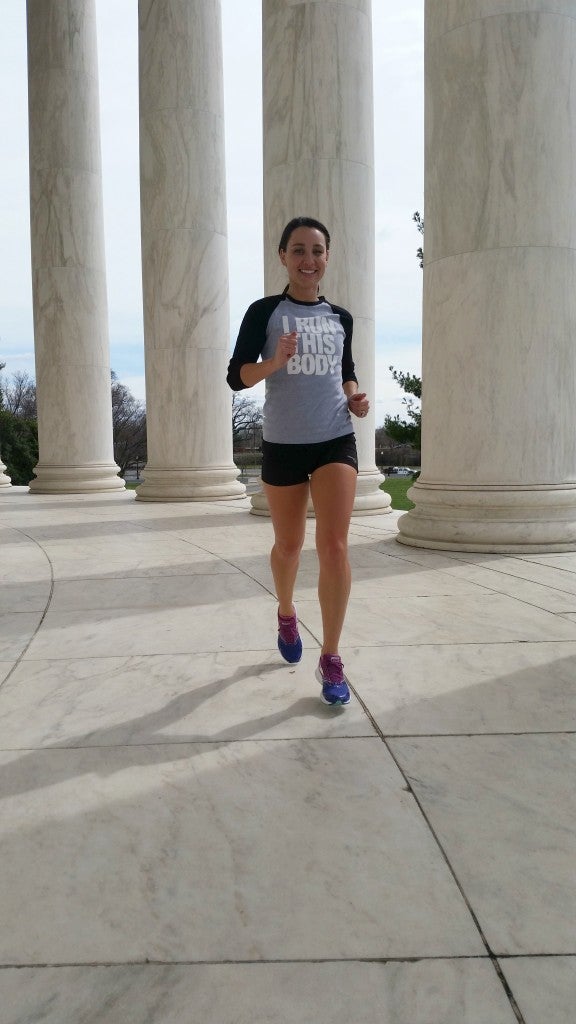 I started running on a regular basis more than 14 years ago. Those painful, out-of-breath runs are still seared in my memory. The cotton shirts that rubbed in the wrong places and the shorts that I quickly realized were not made to handle sweat are not a distant memory.
As a new runner, I knew that I looked nothing like what I saw in magazines. I didn't dress like those women, my body didn't look like theirs, and I certainly wouldn't be able to keep up with them for even a mile. With what I saw in magazines and books as my examples of what a runner looked like, I set out to try to look like a runner. I figured I would then be able to consider myself one and no one would know that I was new. I desperately wanted to fit in and feel a sense of belonging. I felt my novice abilities made me stand out.
In those days, floral print running shorts were all the rage—so I bought them. I saw runners commonly noshing on "bars" so I purchased every flavor I could get my hand on and replaced my mid-afternoon snack of an apple with a bar. Food wasn't just food anymore—I had to refer to it as fuel. Instead of drinking water, I needed to hydrate. Even the language I spoke was important in making sure no one knew I had only started running months prior. I got a job at a running store selling shoes and eventually decided to tackle my first half marathon, a distance I thought sounded respectable and hard. No one would think I was new if I am running 13.1 miles. Insecurity drove many of my decisions in those days.
I know now that I should have embraced the fact that I wasn't a veteran. There is beauty in loving where you are at in your journey. A beauty that has nothing to do with comparisons. I was a runner the moment I decided I was one and a runner's body looks just like mine and yours.
I recently purchased a road bike and took the first ride, if you will, on my way towards becoming a triathlete. My excitement on the morning I prepared to go for my first ride was met with some insecure thoughts. The me of past would have let those thoughts steal the joy from the situation I was in. The older me, though, looked at those thoughts from a wiser angle and knew that looking like a beginner isn't a bad thing. It is something I want to embrace.
I wanted people to know as I rode past them that I was new. It's akin to when you are in the left turn lane and at the last-minute a car tries to merge in front of you. Your first thought after seeing their out-of-town license plate is one of grace instead of frustration. When I said "on your left" a bit too loud and scared a woman up ahead, I wanted to say as I passed, "This is my first ride, I'm so sorry that startled you." I'm working on gauging how loud is too loud and how loud is not enough. When I got to the top of the hill, three miles from my house, and had to stop and inch my bike around to make the turn to go back down, I wanted the people passing me to know, This is my first day, let's encourage instead of screaming "Get out of my way."
I didn't buy the clip-less pedals for my bike yet, I'm learning the gears first. I'll then buy the shoes and pedals and move up to that level once I've gained a little experience. The old me would have bought ALL the gear, anything I needed to look like I had been doing this for years. This me, however, wants to take my time, to embrace the space and place I'm in right now as a beginner.
In my first week I learned that a tiny bug hitting your face at 20 mph hurts—no wonder cyclists wear glasses! I want to purchase the things I need because I've learned that they improve my ride, not simply because I'm trying to look like someone I'm not.
Everyone, even professionals, had a day one. No one starts with experience, it's gained through miles. Don't bemoan your beginner status, celebrate it.