How To Adapt To Steamy Summer Runs
if you train your body to adapt to heat, you could see improved endurance when the temperature drops again.
Heading out the door? Read this article on the new Outside+ app available now on iOS devices for members! Download the app.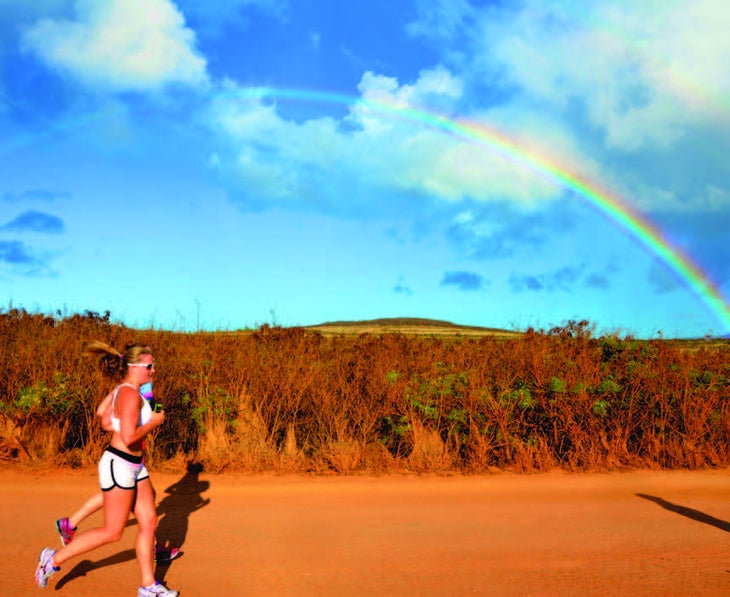 Published with permission from The Fitness Foresight.
In the summer we understand that you'd rather take your workout to an air-conditioned gym than tough it out in the scorching sun. But if you do battle it out in the heat and train your body to adapt to that type of atmosphere, not only will your workouts get easier, you'll also have improved endurance when the temperature drops again.
We trust you know that working out in the heat can be dangerous. Just remember to drink plenty of fluids to keep well hydrated and if you start to feel unwell from the heat (nausea, dizziness, weakness) stop exercising and get help. Whilst it is great to let your body adapt to the heat be sure to use your common sense and if it really is too hot then stay inside. If you live in the city or an urban area stay wise about smog and ozone levels as these are significantly worse on hot days.
Why does exercising in the heat feel so miserable?
No one likes to feel hot, sweaty and sluggish—in the heat these feelings are heightened and exercising feels even worse than it should.
In the heat your brain perceives things differently, you already know it's hot so even before you overheat you already feel sluggish.
One study, published in the European Journal of Physiology, found that cyclists who worked out in a lab at 95 degrees were slower than when they did the same time trial at 59 degrees. No real surprise there, but what the researchers found was that they were slower from the start. This is a prime example of our brain perceiving things differently in the heat; it knows it's hot so pro-actively slows us down to conserve energy.
Another study, published in the Journal of Applied Physiology, participants were asked to cycle to exhaustion. They gave up when their core temperatures reached 104 degrees—no matter what temperature they started at. The results found that the athletes that took the longest to reach that temperature were the ones that wore a water-cooling jacket. Taking on board these findings, the longer you can keep your body cool the longer you can keep going—you can mimic this affect by pouring water on yourself as you run, however this will only give you momentary relief.
During exercise your body produces sweat in an attempt to cool it off. Heat releases from your body as the sweat evaporates off your skin. But this won't be of much benefit when running in humid weather. When the air is humid it is already full of water vapor making it difficult for sweat to evaporate easily.
How you handle the heat is actually calculated by your body size. You may have thought it is easier to handle heat the more fit you are but it turns out the more muscle and fat you have the harder you'll find exercising in sun. When you exercise your muscles generate heat and your fat acts as an insulator—the more fit you are the more heat your muscles will produce making it hard work when out in the hot weather. Petite people as the whole generate less heat and have more skin from which to dissipate the heat.
In order for your body to adapt to exercising in the sun you're going to have to spend more time working out in the heat until your body is used to it. The more you run in the heat the easier it will become and you'll have better endurance on the days when it's less hot. The magic behind exercising in the heat is that it increases the amount of blood in your veins and this extra flow can go towards cooling your skin yet still having enough to fuel your muscles during your workout.
At first your mind will try and convince you that you are feeling tired and sluggish because of the heat but if you push past this feeling you will start to see a difference in your endurance after approximately 2 weeks. For your body to stay adapted to the heat you have to stay in the heat, of course you can have a few days rest but slack off a week working out in the heat will never become easier. Give it a go, but just remember to stay safe in the sun!