Elyse Kopecky's Feel-Good Miso Soup Recipe
This vegan, gluten-free soup recipe from two-time New York Times best-selling author Elyse Kopecky is soothing, nourishing, and absolutely delicious.
Heading out the door? Read this article on the new Outside+ app available now on iOS devices for members! Download the app.
This mineral-rich soup is soothing, nourishing, and loaded with digestion and immune-supporting ingredients from the seaweed, garlic, ginger, mushrooms, and miso. (It's also vegan and gluten-free.) To make it a meal, add shredded chicken or cubes of firm tofu and/or serve with a side of rice. 
I especially enjoy this restorative soup after a long run when I crave salt and hydration. The broth soothes my digestive system before eating a big meal.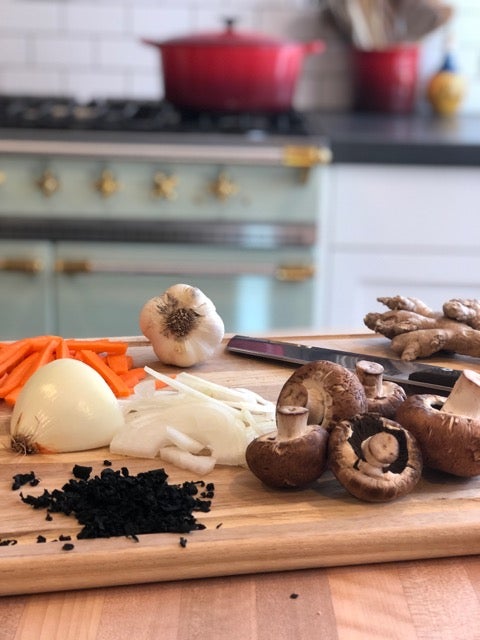 Miso Soup Ingredients
2 Tbsp. dried wakame*
2 Tbsp. extra-virgin olive oil
2 carrots, peeled, cut into matchsticks 
1/2 yellow onion, sliced into half moons
1/2 tsp. fine sea salt
2 heaping cups sliced mushrooms
4 cloves garlic, minced
1 Tbsp. grated ginger
1/4 tsp. fine sea salt
6 cups filtered water
1/4 cup barley or red miso
Soy sauce (shoyu or tamari), to taste
*You can find wakame at most natural foods grocery stores or online. My favorite brand is Emerald Cove Pacific Wakame. 
Directions
Rinse the wakame in a fine mesh strainer. Soak in cold water for 5 minutes, and drain.
2. Heat the oil in a large pot over medium heat. Add the carrots, onion, and salt, and cook for 5 minutes, stirring occasionally. Add the mushrooms and sauté for 5 minutes. Add the garlic and ginger, and sauté for 1 minute. 
3. Add the water and wakame. Bring to a boil, then reduce the heat, and simmer covered for 10 to 15 minutes. 
4. Turn off the heat. Ladle a spoonful of broth into a bowl. Add the miso paste and stir until fully dissolved, and then pour back into the pot. Add a dash of soy sauce to taste. 
5. Ladle into bowls and serve hot. 
Make-Ahead Tip: This soup will keep for up to 5 days in the fridge. Warm leftovers over low heat on the stove. Be careful not to bring it to a full simmer to maintain the miso's probiotics.
Elyse Kopecky is a nutrition coach, chef, and two-time New York Times best-selling author. In her new exclusive "Food Is Fuel" monthly column, the co-author of Run Fast. Eat Slow. and Run Fast. Cook Fast. Eat Slow. will explore everything women want to know about how to fuel—from breakfast to snacks, to recovery, and on-the-go foods. You can find her first column here.