A Brownie Bite That Is Actually Good For You
Yes, these delicious treats are healthy and can fuel your next workout.
Heading out the door? Read this article on the new Outside+ app available now on iOS devices for members! Download the app.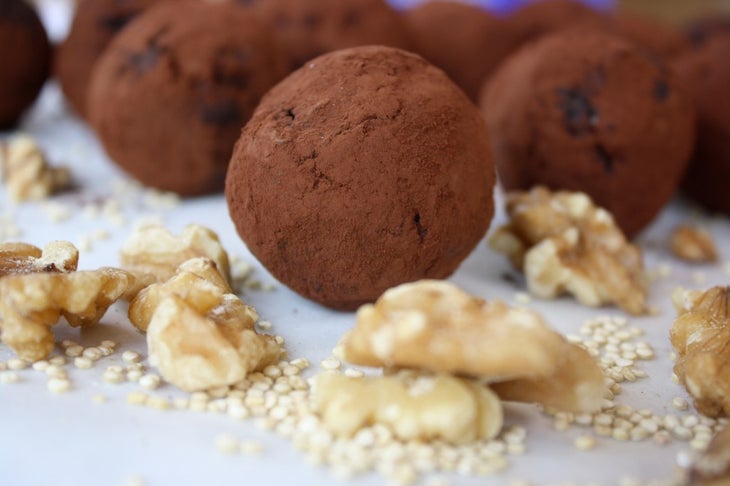 This year has been a roller coaster of injuries and letdowns in terms of my running. Yet I find that whenever I am injured, I focus on what I CAN do, as well as all of the other things I have going on in my non-running world. Thankfully I have a lot to focus on and look forward to! For example, I finally decided to create a blog and put recipes on it!
I've come to learn that sometimes setbacks and disappointments are the biggest blessings. During my recovery, I discovered my love for swimming. I was able to maintain my endurance while also toning and strengthening my whole body. Swimming was also very low impact on my joints. At first I started off using a buoy to protect my hips (the site of my injury), which I purchased from Finis.
Once my injury healed, I was able to use Finis paddles and fins,. These really took my swimming to the next level, allowing me to enjoy it even more. Their waterproof mp3 player is also a mental life saver. One of the many reasons I love running with music is because I get so caught up in a great song that I forget how hard running actually is. By having the waterproof mp3 player, I can experience that same feeling while I am swimming.
I think having the variety of tools like paddles, buoy, underwater iPod and fins really kept things interesting. When my legs needed a break, I would opt for the buoy and paddles. When I felt like destroying them, I would go for the fins.
Once a week, My friend Sally and I would head to the pool for this workout I found it challenging but doable. Even the mile swim would go by so quickly.
WORKOUT:
300 meter warmup
300 meter race pace— this should be hard out of breath pace
3×25 meter all out with 25 meter recovery in between each set
300 meter easy relaxed. Focus on good form
3×50 meters all out with 25 meter recovery in between
150 meter cool down
I enjoyed going into the pool with a goal. It kept things fun and fresh each time. Every time I did the workout, I would alternate between using fins, a buoy or even hand paddles – all challenging in their own way!
I am the type of person who loves to workout all day everyday. That's why swimming is amazing. Don't underestimate the power of a good swim workout. It always left me tired, hungry, sore and exhausted—all the same feelings I cherish after a long run.
When I returned to running, my legs felt strong and my heart felt powerful, as if I didn't skip a beat! Now that the sun is shining, I finally get to enjoy laps in an outdoor pool and then a good tan on the beach. It doesn't get better than that!
I wanted to include little peak into what I carry in my swim bag.
Water. Lots of water.
Swim cap and goggles
Pool toys– paddle, fins, buoy and kick board
Sandals
Sweatpants and sweatshirt to change into
Brownie bites (recipe below)
Garmin 920xt
Towel
Face wipes
What about those little fudge chocolate brownie bites in my bag? They are packed with quinoa, nuts, cocoa powder and healthy plant-based protein from Sunwarrior. They are the perfect snack to throw in your gym bag post-swim or hard workout—loaded with everything you need to recover so you can get back at it the next day.
They literally taste like a fudge brownie, but since these bites are made of all whole foods, they leave you nothing to feel guilty about. The quinoa adds protein and essential fats, as does the Sunwarrior protein. I love Sunwarrior because it's completely free of added sugar and doesn't contain any typical powder junk that's found in so many protein powders. The chocolate flavor gave these brownie bites the extra bit of chocolate they needed.
Quinoa Protein Brownie Bites
Recipe:
1 cup cooked quinoa (white or red works fine)
1 cup raw walnuts divided (any nut can work. If you want to make this nut free, you can try using coconut)
1/4 cup cocoa powder
1/4 cup Sunwarrior protein
Dash of cinnamon
Dash of sea salt
2 1/2 cups pitted dates (soaked in warm water for at least 5 minutes to soften)
1 teaspoon vanilla extract
Optional 1/4 cocoa powder for coating
1. In a food processor, combine 1 cup cooked quinoa, 1/2 cup walnuts, 1/4 cup cocoa powder, 1/4 cup Sunwarrior protein powder, and dashes of cinnamon and sea salt. Pulse until flour forms.
2. Add 2 1/2 cups dates and 1 teaspoon vanilla extract until a dough-like mixture forms.
3. Now add your remaining 1/2 cup walnuts to the food processor. The walnuts should be in pieces to give the brownie bite some texture
4. Form 18 turffles/balls using a small ice cream scooper or tablespoon. Optional: roll in cocoa powder, coconut, or ground nuts…
5. Store in the freezer and keep frozen to preserve.