Why Your First Mile Is The Most Important
It's more important to think about how you start a run in order to have a great finish.
Heading out the door? Read this article on the new Outside+ app available now on iOS devices for members! Download the app.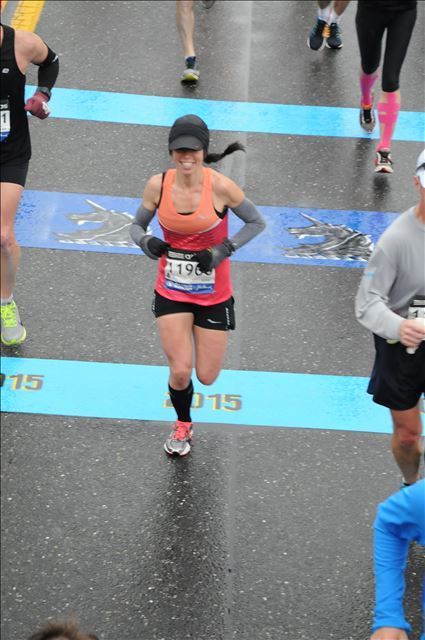 For years, I thought that the most important mile of each run and race was the last one. That's the true sign of how the run went, right? If you finish fast and strong – and most importantly, feeling good – it's likely you will put that effort into the "good run" category, regardless of how much of the run went well up until that point. But if you are hurting, slowing down or are counting the seconds until the run is over, it's likely going to be a run you soon hope to forget.
It's easy to judge an entire run by that last mile. But I'd argue that it's not the most important mile.
These days, I put a whole lot more focus and effort into the first mile. Run that first mile too fast (which is SO easy to do, especially in a race environment) and the rest of the run could end up being pure torture.
For everyday training runs, that first mile is my warmup. I aim for it to be my slowest mile of the day. It's a mile where I let my joints shake out any lingering aches or stiffness, where my heart gets alerted that it's about to do some work and where I give my body the time it needs to get adequately warmed up.
Related: 5 Goal Setting Tips For Your Next Cycle
This is the mile where I feel out of breath and where running doesn't feel great.  But I've learned not to fight this. It's taken me years to accept that this is not just normal, but good.  The ease of running and the effortless breathing will come later. Be patient, go slow and your body will thank you later in the run.
For races, that first mile is still a warmup of sorts. The longer the distance, the slower that first mile will be from my goal average pace. But even for a 5k, I still aim to ease into the all-out pace.
I've always shied away from a conservative approach because I didn't want to "lose time." I was worried how a slower first mile would impact my overall pace. Rather than go easy in the beginning, I would immediately start running goal pace – and often even faster than goal pace.
I ran the Boston Marathon five weeks ago and for the first time in a marathon, I started slower than I hoped to finish. My 1st mile was the slowest mile of the day (the same pace as mile 20, which was up Heartbreak Hill) and was 16 seconds slower than my overall pace. Not coincidentally, it was the most consistent, strong – and fastest – marathon of my life.
Related: Reasons Why Boston Is Magical
So rather than worry about how you will finish a race, concentrate on how you will start. A steady, conservative start can set you up for a happy and strong race!