Why You Should Write A Race Report—And How To Do it
The perfect way to reflect on your race experience is to write it all down.
Heading out the door? Read this article on the new Outside+ app available now on iOS devices for members! Download the app.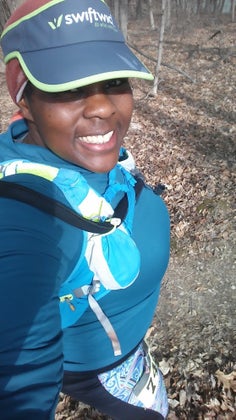 This past weekend, I ran (and hiked—a lot) the Naked Bavarian Marathon at Blue Marsh Lake in PA, a great event put on by the folks at Uber Endurance Sports. It was difficult and often painful. It was the kind of race in which I had employ all of my motivational mantras really early on in the first 10K. I finished the race with a time that was slow, even for this self-professed slow runner.
I've been processing this experience for all the good it brought me (gauging current fitness, seeing if my strength-training has had any effect on my hill running, and most importantly, getting out on the trail) and well, the bad (the low, LOW points I had, anger at myself for having signed up during an especially busy time of my life, and all of the hills). In the next few days I'll probably sit down and write a long and descriptive race report.
Why write a race report, you ask?
There are so many good reasons to write anything that forces you to reflect on any experience and a race report is an excellent way to do so, even if you don't consider yourself a writer. I typically write one after a big event (marathon or longer). It helps me figure out what the problem spots were and where, when, and why I felt amazing at other points. I also love to read old reports for races that I do often. I learn from what I've experienced in the past, and either try to approach the race in a similar way or in a radically different way.
Related: Why Recovering From A Race Is Harder Than Tapering
There is no specific formula for writing a race report, but they usually have some of this information.
The event itself: Where? How long? When? Weather?
Course description and evaluation of event logistics
How you trained for the event
Your gear and nutrition
Specific experiences (this might include)

Thoughts at every mile
Mantras you may have used
Falls (if any—always entertaining)
Conversations you've had with others
Conversations you've had with yourself

DNF experience (if applicable) OR
Your finish and associated emotions
Your overall evaluation of the event
The next time you do a particular event, consider writing a race report. This is a good practice both for you and for your friends and family. It is also an EXCELLENT way to share with folks who may be considering the event you just did. It will offer a unique perspective on the race, and just might persuade others to go off the deep end too.