5 Ways To Beat The Hot, Hot Heat On The Run
You don't have to let toasty temperatures and the approaching summer hinder your training.
Heading out the door? Read this article on the new Outside+ app available now on iOS devices for members! Download the app.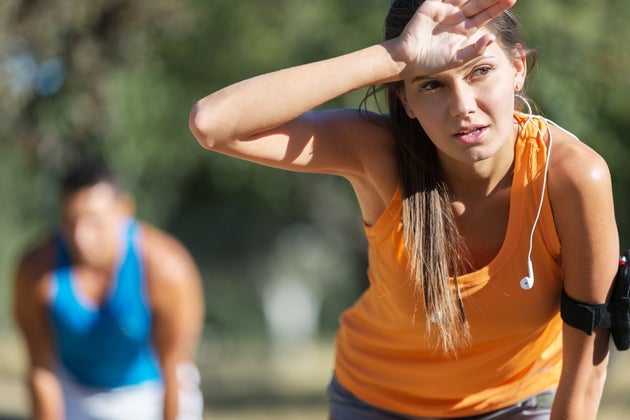 With the warmer weather approaching, hot runs are inevitable. Instead of hiding from the sun and humidity, here are some ways to still get the miles in without letting toasty temperatures hinder your training. Beat the heat with these tips:
Hydrate. The American College of Sports Medicine advises drinking roughly a pint of fluid about two hours before running in order to ensure adequate hydration and allow time to excrete excess water. When running on a super hot day, you may sweat out three to four pints of fluid per hour(!). According to Dr. Alan Jones, UMMC professor and chairman of the Department of Emergency Medicine, "One should always enter exercise or physical activity with normal body hydration." He explains that this requires you to have consumed fluids several hours before the activity begins. Jones says, "If you have a lot of activity during the week leading up to the event, then you have to maintain hydration during that time period." Remember: Being aware of your fluid intake is essential in order to avoid dehydration.
Dress appropriately. If you're running outside on these warm days, wear something lose and light. According to George Havenith, a professor of environmental physiology and ergonomics at Loughborough University in Leicestershire, "To help the sweat evaporate, you want air to flow over your skin—as much of your skin as possible." But be aware: Minimum clothing exposes your skin to the sun more. Put on sunscreen at least 20 minutes before you head out for a run. According to Rodney Basler, M.D., past chairman of the American Academy of Dermatology's Task Force on Sports Medicine, "Before every run, put on a water- or sweat-proof SPF 15 lotion that shields against UVA and UVB rays."
Search for shade. One of the simplest ways to avoid the scalding heat is to find a spot that is well shaded. Scout out a tree-lined path, or run on a near by trail if possible. For the urbanites, take advantage of the skyscrapers and tall buildings that block the sun. Simple solutions go a long way.
Avoid times of peak heat. Summer mode makes us dread a pesky early-morning alarm more than usual. However, getting out for your run in the early morning or evening can be much cooler than a midday run. Night running is much cooler, but make sure you have a friend or running partner to go with for safety and extra visibility.
Go slow. Your pace may be a bit off from what you hoped it would be, but that's okay. Especially in extreme temperatures, it's better to be safe than sorry. According to Alan Culpepper, a two-time Olympian, "You have to pay attention to perceived effort. It is important to recognize you will be slower than you hoped, but effort is the determining factor."
Read More:
The "Joys" Of Summer Running
8 Types Of Summer Runners You Always See