Trail Running Etiquette You Need To Know
How should you handle things that need to be disposed during a trail race?
Heading out the door? Read this article on the new Outside+ app available now on iOS devices for members! Download the app.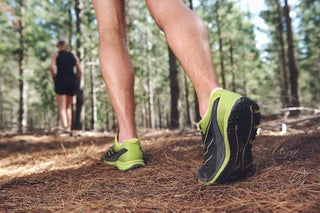 Etiquette expert Lizzie Post, great-great-granddaughter of Emily Post, knows a thing or two about the rules of the road—and the descendant of the famous decorum diva is a runner too!
Q: What's the proper way to dispose of paper cups and gel wrappers in a trail race?
A: One of the first rules for anyone using a trail is: "Pack it in, pack it out." This is when those little stash pockets in your shorts come in handy. Plan ahead and save some room in your pockets to avoid littering on the trail. Another option is to bring a ziplock bag to use for your trash. You can always empty your pockets or bag at the next aid station. The litter after a road marathon is bad enough; throwing all of that trash along a trail where animals can wind up eating it defeats the purpose of getting out into nature in the first place.
Q: I'm doing my first ultra and am worried about the lack of restrooms on the course. I hear most people just "go" out in nature. When is the best time to do this in between aid stations?
A: Your body is going to dictate when, but as for the how: Well, as I learned as a teen at summer camp in Colorado, human waste can be just as problematic to nature as litter. Here are some tips for when you can't make it to the next aid station with a portapotty.
If you really think that you may need toilet paper on your run for your bathroom breaks, then you should bring a small ziplock bag to hold your used toilet paper. Carry in, carry out. (Remember this includes pads and tampons too.)
Get out of sight and far from the trail (about 30 feet). There's less of a chance  of anyone stepping in it, or smelling it, as they go by afterward. And while you may be in incredible shape, no runner wants to see your bare butt as she comes around a corner.
If you just have to pee, try to find some dry ground or even rocks so that the urine is absorbed quickly. Peeing on delicate plants and other vegetation can damage them. If you have to poop, use the heel of your shoe or a stick and dig a little hole (around six inches deep). Keep in mind you want to be far away from a water source (200 feet is the recommended distance in any direction). Cover the hole when you're done. If you've brought toilet paper, remember to put it in your baggie. If instead you plan to use leaves, only use plants you can identify. It could be a long, itchy race otherwise.
Have a question for Lizzie? Email editorial@womensrunning.com or tweet @womensrunning with the hashtag #ProperForm.
Read On For Some More Running Etiquette:
Pre-Race Etiquette—To Wait In Line Or Find A Tree
How To Deal With A Pace Pushing Training Partner