This High School Senior Ran A Marathon For A School Project
Bethany Alvarez was busy studying for the SAT, applying to college and being a teenager...oh yeah, and training for a marathon.
Heading out the door? Read this article on the new Outside+ app available now on iOS devices for members! Download the app.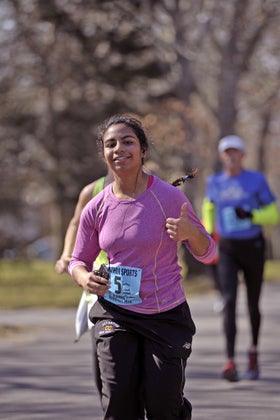 I get to work with phenomenal students all day as a high school teacher. I get to witness learning, upsets, reconfiguring and resilience, and eventual victories. I don't want to get all sappy on you, but like Whitney sang, I do believe children are our future. That is, because they are.
As a high school student, I didn't do any marathons. I played field hockey and lacrosse and ran to improve my game in those sports. I also didn't have to do any intense senior projects that required months of research, preparation and presentation. That was what college was for. Whew!
But Bethany Alvarez did. This past February, the seventeen year-old senior at Tiverton High School in Rhode Island, completed her first 26.2-mile distance at the Hyannis Marathon in Massachusetts.
I had the absolute pleasure of interviewing Bethany last weekend after she posted on one of my favorite Facebook groups, Trail and Ultra Running (TAUR). As a senior with myriad college acceptances to sift through, after-school activities to do, AP exams to study for and general teenager-ing to do, I was lucky to snag a spot in her busy schedule. She stunned me with her brilliance, thoughtfulness and kindness.
Bethany discovered that she loved running after initially feeling discouraged by her performance during the timed mile in PE class.
"I didn't make the cut-off freshman year. I was so embarrassed."
She felt as though her lungs were not cut out for running but knew that she could change this if she tried, which is exactly what she set out to do. So she threw on a pair of Converse and made her way out the door. Everyday she would push herself to go further and eventually, she fell in love with the sport. Each day she surprised herself, getting stronger and becoming healthier. It also helped to sustain her after her sister's death last year. It was a difficult year and Bethany used running to help regain her physical and emotional stamina. "I love knowing that I was capable of getting myself out of my rut."
Marathon madness came to be after Bethany had presented the idea of starting a track team to her school for her senior project. Unfortunately, this did not become a reality due to a lack of personnel at her small public school. The marathon gods had something even better in store for her, however.
She decided that since she loved long-distance running so much, she would make it her project. She signed up for the Hyannis Marathon and dove not only into preparing fully for it, but examining the physical and psychological implications of such training. Did YOU do this in HS? (I think I was still trying to figure out the scientific method senior year, just saying…)
After a sixteen-week training plan was chosen (one that she found on the Internet), she set off to train after school during weekdays and on weekends, even right after taking the SAT one Saturday. She was able to get everything in, running 60 miles a week during the heaviest part of training. Perhaps her ability to do all of this is an indication of a superior level of organization and discipline. This bodes well for a lifetime of successes, I think.
On a cold weekend in February, Bethany lined up with all of the others who had come to test their marathoning mettle. Bethany came to do this too, but she also wanted to honor her sister's memory and run the miles in her memory, know that she would be proud. She ran the first 17 miles at a nine-minute pace, slowing down for the last nine miles of the run and finishing with a time of 4:49:13, a respectable time for a first-time marathoner.
What did she learn? That fast-twitch muscles have to work in conjunction with slow-twitch muscles in long-distance running. That it takes a long while to recover from your first marathon. That long-distance running is mentally beneficial—she could handle stress better and suffered fewer mini-meltdowns. That she could take care of her own body and mind.
She is still recovering; little aches and pains present themselves from time to time but Bethany is ecstatic that she was able to finish. She made her parents proud, and she gave herself the gift of endurance that many people will never know. Maybe another marathon is in her future, but for now her biggest worry is picking the right college, finishing her senior year strong, and continuing to recover fully before she even thinks about tackling the distance again.
I'm proud of Bethany. As a parent, teacher and coach, I love the way that she saw the goal, attacked it SMARTly, put in the work, and then completed it successfully. If we could all tackle difficult tasks with the focus and determination that Bethany had for her first marathon (and hopefully not last—), we would surprise ourselves every single day.
Welcome to the club, Bethany!
Read More: 
One Powerful Woman Behind A Large High-School Running Meet
Couple Finishes First, Second To Win Cash For Medical School