How To Ease Into Speed Work—And Learn To Love It
Running fast can feel daunting. The key is to find which workouts you love to do.
Heading out the door? Read this article on the new Outside+ app available now on iOS devices for members! Download the app.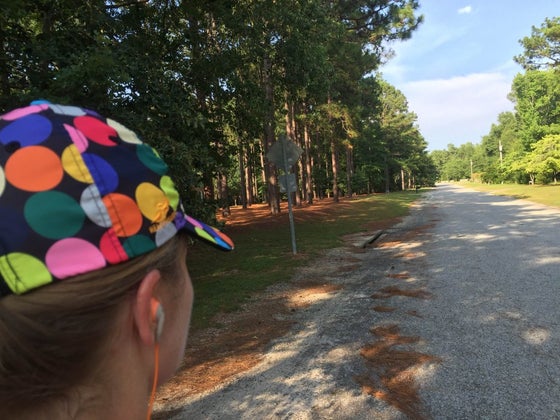 It's been about a year since I have done any type of speed work, and a good two years since I have done it with any type of plan or regularity—yikes! A slew of injuries definitely contributed to the hiatus, but so did a desire to keep my running simple. My approach to running these days is to do what makes me happy—no more and no less, and to keep things as stress-free as possible. For a while, that meant just running easy miles. As I transitioned back to a concrete marathon training plan, I'm finally ready to add speed work back in.
But where does one start after being out of the game for so long? Mile repeats seem…long and really hard. I'm not even sure what pace I would aim for during a tempo run; what is my 5k race pace? Are 800s still useful if I'm not marathon training right now? Are 400s too short to be effective for the half marathon distance? I hope I'm not alone in feeling like this. Sometimes speed work just seems overwhelming.
More challenging than the logistical issues, though, are the mental ones. It takes a certain amount of self-confidence to take on a speed workout and really crush it, because let's face it—speedwork leaves us exhausted in a way that easy miles do not. While I'm ready to run a little bit faster, I'm not quite sure I'm ready for the collapse-on-the-ground kind of exhaustion that can sometimes accompany a tough track workout.
With that in mind, I'm starting small with a few fartlek runs; fartlek is the Swedish word for "speed play." Essentially, I'll be making a game out of my speed work by running hard for the distance of say, five mailboxes, and then slowing back down. The intervals can be as long or as short as I want and as fast or as slow as I can go. As I build my confidence with these types of runs, I plan to add in slightly more complex workouts – quarter-mile repeats, tempo runs, and race pace miles. In the end, though, I'll stick to the kind of speed work that I find exciting and fun rather than the kind I find myself dreading.
If you find yourself wanting to run faster but not sure where to start, just know that you're not alone. And while certain types of workouts might be better suited to helping you prep for an upcoming race distance than others, in my opinion, there isn't a wrong way to do speed work if your goals are simply to get faster and push yourself a little outside your comfort zone. There's no need to fear—I'm easing right back in there with you!