Find Out Why Runners Love Orangetheory
This treadmill + strength training class uses heart rate to build stronger runners.
Heading out the door? Read this article on the new Outside+ app available now on iOS devices for members! Download the app.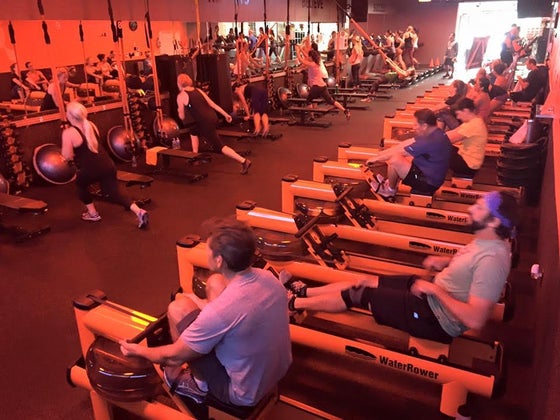 Are you looking for a way to switch up your cross-training? Or do you need motivation to start in the first place? Consider a class at Orangetheory, a 60-minute group interval workout that combines cardio and strength-training with some pretty smart science behind it. Classes are designed to push you into the "Orange Zone," which translates to 84% or higher of your maximum heart rate, for 12 to 20 minutes of the workout. This sweet spot allows you to torch calories and increases your metabolism for 24-36 hours after you're finished. Kat Gunsur, a coach at the La Jolla, CA studio, talked to Women's Running about what Orangetheory is all about, the secret to the workout's crazy calorie burn, and what makes the workouts so addictive.
Women's Running: Tell us about the philosophy behind Orangetheory.
Kat Gunsur: I think the best way to describe it is that anyone who goes to Orangetheory is going to be stronger, faster, better, more in tune with their body and more knowledgeable about their heart rate and fitness. The thing that Orangetheory pushes is the after burn effect, or the EPOC (Excess Post-Exercise Oxygen Consumption) effect. So not only are you going to burn calories during the class, anywhere from 500 to 1,000 calories, but your body is going to continue to burn calories after you're done.
WR: What does a typical workout involve?
KG: We always tell people to come to class at least 15-30 minutes early so they can get set up with a heart rate monitor, since that's new to so many people. Even rowing or running on a treadmill is brand new to some people, so the sales rep will talk them through what's involved and how the class is going to go and what the theme of the day is. We follow four themes—endurance, strength, power, or we combine all three on the same day. So you'll spend 20-25 minutes doing cardio, 20-25 minutes doing weight lifting or rowing- and when I say weight lifting, not at all like Crossfit- it could be TRX, medicine balls, it's really all over the place. We try to play to people's strengths- and weaknesses too!
WR: What do you think attracts so many people to an Orangetheory workout?
KG: I think because it's such a different concept. It's competitive but it's not. It's very community-driven and has a friendly, open environment. The cool thing is you've got your ultra-competitive people and then people who just want something that's going to give them results and are newer to fitness. So because it's all these different fitness levels, that's the biggest draw because it really is for everybody. Also having the heart rate monitor and seeing how hard you're working, I think that means people say "Ok, I can't slack off!". Plus, the workout is always different and changes every day so I think people like that.
Related: Why Runners Should Get To A Barre Class
WR: Fans of the classes rave about their kick-butt intensity. What advice would you give to someone who is new to working out and intimidated by the idea of this workout?
KG: I think the difference between this workout and other ones is that it can seem really intense from the outside but when you go in there, it's really not. If we say "ok, let's do your race pace"—well, what if they don't run? That's when we have our power walkers. We increase their incline instead. That gets their heart rate into the Orange Zone, and they don't feel like they have to be fast, they just have to be able to walk uphill. Same thing if you have something like an old running injury. Most studios will have two bikes and two ellipticals so that way they can still take part in cardio without doing more damage. Then, when they get to the rowing or strength training session, the coaches are really good about breaking down the exercises, and how to make them more challenging or giving an easier option, so there are really three fitness levels for each exercise. Every exercise we do is up on a TV screen too so if for some reason you miss the coach demoing the exercise you can see it up on the screen.
WR: What benefits would runners experience from an Orangetheory workout?
KG: Runners can sometimes tend to not do a lot of treadmill running or strength training. The strength training component is so huge for someone who is looking to get faster or prevent injuries. Runners move forward or backward. We're not moving side to side or rotating; in class we do lateral lunges, work on the Bosu ball, do rotations for your core, and in that way we increase your range of motion. And maybe you have a weakness in your glutes or hamstrings and could really benefit from the strength training. It also plays to your strengths. If you're already a great runner or feel comfortable running, you can build on your sprinting skills or speed, maybe increase your pace to qualify for Boston, and we even do hill workouts too.
For more information on Orangetheory Fitness, visit their website.