Why Is Everyone Talking About Track Workouts Right Now?
When it comes to half or full marathon training, the track is a great place to work on your speed.
Heading out the door? Read this article on the new Outside+ app available now on iOS devices for members! Download the app.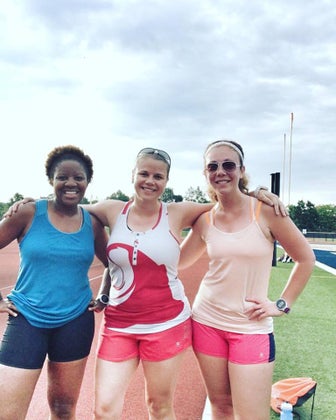 If you are running a fall marathon (hello, Chicago!), then chances are high you've started marathon training. Chances might also be high that you know that you might need to consider adding track work (or speed work, more broadly—doesn't have to be on a track) to your routine.
Here are a few reasons why you might want to consider adding track work to your schedule:
1. You can do a track workout with friends of all different paces and all get in your workout. One of the sometimes hard things about tough workouts is that you usually are doing those workouts at a very specific pace, which can make it hard to run with friends. The track solves that problem—you can be alone, but together. I am usually at the track with friends doing totally different workouts but we can encourage each other, keep each motivated and commiserate together. The company makes the hard workouts better.
2. Track work can really help your training. Track work is typically hard—and it's supposed to be hard so you can improve. It can be hard to get motivated for these tough workouts, but the payoff can be huge. Teaching your body how to run faster (and then recovering after those fast intervals) is so helpful.
3. Track work will help your mental game as well. My first track workout this season was 12×400. That's a heck of a lot of 400s. It's a bit hard to wrap your mind around it, but once you actually do it, that's another shot of confidence. Each week, you get mentally tougher as you track one tough track workout after another. Having a strong mental game can be a game changer come race day.
4. The variety in surface can be beneficial. Now this one is track specific—getting off of pavement and onto a softer surface (like a track) will help give your legs a break from some of the pounding of the streets.
5. Track work makes you feel like a badass. It just does. This goes along well with numbers 2 and 3 above. Putting in hard work makes me feel like I can do absolutely anything. That feeling is well worth it.
Do you hit the track? Why or why not?