How To Love The Treadmill—And 8 Workouts To Make The Time Fly
Make the treadmill your best friend in winter and beyond with these tips and workouts.
Heading out the door? Read this article on the new Outside+ app available now on iOS devices for members! Download the app.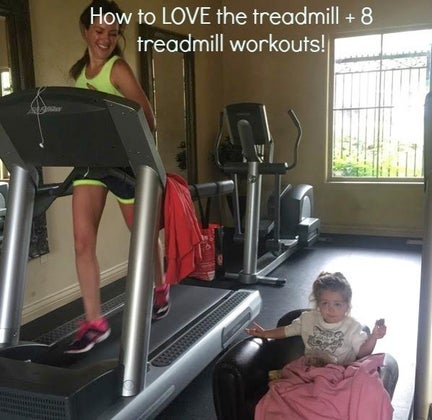 I've done some pretty strange things in my life. One of them was running a marathon on a treadmill. Yep, 26.2 miles on a treadmill. When I first started training for marathons, I was a high school teacher with two other jobs after school, which meant the only time I could run was 5 a.m. each day. I was not about to run by myself in the dark, so the treadmill was my only option.
I've enjoyed many long runs on my favorite gym treadmill (third one from the left in the second row) while watching Friends episodes and eating Shot Blocks. It was either the treadmill or nothing and I will always choose the treadmill when that question is asked. While I enjoy outdoor running a heck of a lot more, the treadmill really isn't so bad. I try to zone in on the positives.
Fast forward to a few years and many marathon training cycles done outside. I am back in the treadmill situation again as a single mom. On the days when my little one has preschool, I am able to sneak outside for a few miles. But on the other days, we utilize the gym daycare or a treadmill I have access to where she is able to watch a show or play near me while I run. Luckily, I have never minded the treadmill—although, 12 miles on it is about my max these days. I thought I would share some reasons to love the treadmill, just in case you are in a situation where it is your best friend lately too!
You get a HUGE mental workout and physical workout all in one. The treadmill works your brain in a whole new way. Just think, after miles upon miles of running on a treadmill and not pushing the stop button when it is so easy to just quit, you are going to be one tough cookie when race day comes. Those miles outside will feel like a total luxury!
You don't have to stop and you get to stop when you want. Oxymoron right? I love the treadmill because if I am in the zone, doing a tempo run or in a rush to get in my workout for the day, I don't ever have to stop for cars. I can keep going without a single stop until I am finished. On the days that I DO need to stop for breaks, I can just jump off and use the restroom, fill up my water bottle really quick and get back at it. Talk about convenience!
Related: What To Consider When Buying A Treadmill
It never lets you down. It is there for you no matter what hour of day/night and no matter how crazy the temperatures are outside.  I don't do well with ice—I fall on it anytime I come near it—and the treadmill never has ice.
It gives you time to catch up on your favorite tv shows or watch one of your all-time favorite movies.
It allows me to truly zone out. I love running for the clarity it brings to any problems that I am struggling with in life. But I also really love it for the zone out days when I can let my brain rest from overthinking and daydream about absolutely nothing. The treadmill allows me to just go sometimes without worrying about curbs, cracks in the sidewalk (I can't tell you how many times I have tripped on those), cars, people, anything…. just run.
It allows me to pace correctly. Do you have a problem with keeping it slow on your easy days like I do? Well, the treadmill helps me to stick to my easy days because I set it at the pace I need to go and don't touch it throughout the whole run.
TRY NEW WORKOUTS! I love the treadmill for speed workouts because it makes the time fly by and I can set the paces exactly. I also feel pretty hardcore once I finish. I can get in hill sprints, yassos, tempo miles, intervals… you name it. It can be done.
WORKOUTS TO TRY ON THE TREADMILL:
—HRG Treadmill/Strength Workout
—60 Minute Treadmill Hill Workout
—Deck of Cards Treadmill Workout
—Easy Pace—> Steady State Pace—>  Tempo Pace—> Interval Pace x 5 workout!
—Grab the elevation chart for your next race and try to mimic the elevation gains at the same miles on your training run!
—Progression runs (my most favorite thing to do on the treadmill)—With each mile (or half mile) increase your speed.  You will be cruising on that last mile and teaching your body how to negative split!
—After a 1 mile warm-up, increase your pace 1 mph every minute for 10 minutes. Return back to your base pace and do it again… see if you can increase an extra minute and extra .1 each time.
Related: The 7 Best At-Home Treadmills