Why Masters Runners Should Focus on Protein
Did you know that as you age, your protein needs change?
Heading out the door? Read this article on the new Outside+ app available now on iOS devices for members! Download the app.
Hitting the masters years of 40-plus as a female runner shouldn't be looked upon with dread, but rather as an opportunity to push age limits and continually maximize potential. As we age, physiological processes that can affect performance and recovery change, but rather than thinking about them as a negative, looking for ways to work with the body to combat them is key. Nutritional strategies such as optimizing protein intake can be particularly beneficial for enhancing recovery, prevention of injury, and performance as you enter into the masters years of training and racing.
What is Protein and Why is it Important for Masters Female Runners?
Protein itself is one of three macronutrients found in food and is broken down into amino acids in the body. Amino acids are considered the bricks of the human body as they make up everything from our organs, cells, immune system, neurotransmitters, and hormones to our musculoskeletal system.   
Performance wise, protein plays a key role in muscle repair and recovery and muscle itself supports the skeletal system. According to the Gatorade Sports Science Institute, muscle mass peaks in your twenties and thirties and for women, starts to decline after menopause, though there is no consensus as to how much when comparing sedentary women to those that are active and engaging in endurance training. 
RELATED: This Salmon Bowl Gives You a Boatload of Nutrition Any Time of Day
How Much Protein Do You Need?
While there tends to be slight discrepancies in recommended daily protein amounts for masters runners, the American College of Sports Medicine recommends 1.2-2g/kg bodyweight for protein intake for the day, and prominent female athlete physiology researcher Dr. Stacy Sims recommends up to 2.2 g/kg bodyweight per day for post-menopausal women in her book Roar.  Because protein is broken down a bit more slowly in the body and tends to be more filling, reaching these protein needs may require some adjustments to rework your current intake. 
Timing:
In order to optimally utilize protein for highest rates of muscle protein synthesis and recovery, spreading out protein intake evenly throughout the day is important. Calculating total daily protein needs and dividing it by four to five meals and snacks at regular intervals throughout the day can help meet this goal.
Due to its slower digestibility, pre-run protein intake should be approached with caution. Amounts up to 15–20 grams may be tolerated, but too much more could lead to gastrointestinal distress. If more protein pre-training is required, it may be important to consume it farther out from your target run session (e.g. two to three hours beforehand). 
Ideally, post-training protein intake should occur as quickly as possible or at least within 1-2 hours after finishing. For younger female runners, 20g of high quality post-exercise protein stimulates maximum muscle protein synthesis rates, while Master's athletes may need double that amount to induce the same rate of muscle protein synthesis (about 40g). 
Consideration of a pre-bedtime higher protein snack as an option to increase protein intake overall and increase muscle protein synthesis rates, can be an effective tool to enhance recovery while sleeping. Ingestion of up to 40g of protein in the 30-60 minutes before bedtime has been demonstrated to produce the most beneficial effects.
Sources of Protein
The most optimal sources of protein typically are considered those that have the most complete amino acid profile to help with muscle recovery. Those sources that contain higher amounts of the branch chain amino acids, leucine, isoleucine, and valine are preferred because they play a key role in activating muscle protein synthesis rates. Leucine, in particular, has been studied for its unique ability to turn on muscle protein synthesis at the highest rates and should be emphasized for post-workout recovery.   Optimal amounts of leucine need to be consumed in order to trigger this response, which in masters athletes appears to be about 3–5g at one time.  
Foods highest in leucine:
Cheese (4oz=2g)

Pink beans (1 cup=3g)
Black beans (1 cup=3g)
Adzuki beans (1 cup=3g)
Pork (8oz=3g)
Chicken (8oz=3g)
Turkey (8oz=2.8g)
Pumpkin seeds (1 oz=0.7g)
Other types of protein sources that are high in branched chain amino acids include: whey protein, dairy, eggs, meat, and soy protein.  
Plant-based protein sources do tend to be lower in branch chained amino acids, but focusing on daily consumption of a wide variety of plant-based protein sources can help to ensure that you are getting in the higher amounts that you need. 
RELATED: Beyond Pasta: The New Rules of Carb Loading
Putting It Into Practice
Evaluate protein totals:

Take the time to evaluate your daily protein intake compared to your training day. Keep in mind, protein needs should change based on the amount and type of training you are doing.  

Evaluate your protein intake pattern:

You may be consuming enough protein as a masters runner, but are you optimally spreading it out throughout the day to ensure the highest rates of muscle protein synthesis? Divide your meal and snack times into boxes that you try to fill up with protein in each one. Consideration of key workouts and windows of recovery for protein to be included should be evaluated. 

Figure out your intake strategies:

If you are someone that struggles to get protein in at breakfast, for instance, think of using sides like yogurt, hard boiled eggs, or whey protein powder to boost the protein content of the meal. 
Snacks can be a convenient way to also spread out protein and get more in throughout the day. Roast up some chickpeas, throw some pumpkin seeds in a yogurt, or include some cheese and crackers into your routine to mix it up.   
Liquid nutrition strategies can be an effective way to get enough protein in when you lack an appetite post-workout or if you are struggling to reach your protein intake goals throughout the day.  
Protein powder supplements may also offer a useful strategy to get extra protein in soups, muffins, oatmeal, and smoothies.  Different protein powders may offer different amounts of branched chain amino acids.  Whey protein powder is the winner for branched chain amino acid (particularly leucine) content and plant based runners should aim to get in a plant-based protein powder blend to get the most out of it.
---
Peanut Butter Protein Energy Bites Recipe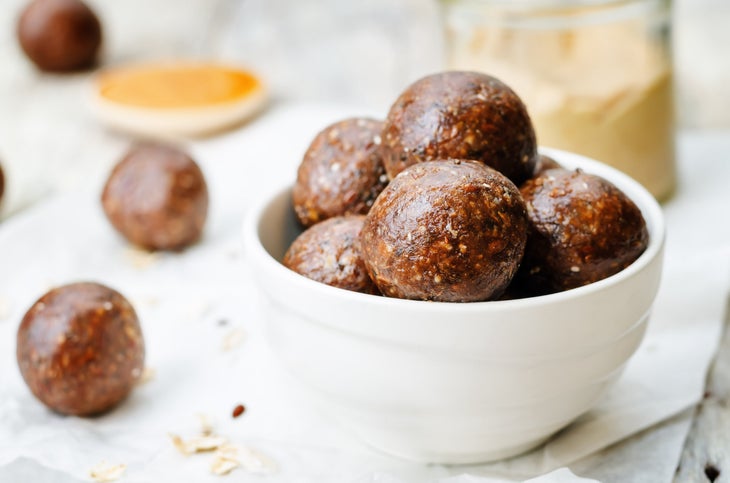 Makes 14 Servings 
Ingredients
1/3 cup quick oats

1/4 cup vanilla protein powder (whey or plant-based)
1/4 cup oat flour
1/4 cup ground flaxseed
2T chia seeds
1/2 cup peanut butter (can sub different nut or seed butter if desired)
1/4 cup maple syrup
Directions
In a large bowl mix quick oats, oat flour, protein powder, ground flax, and chia seeds. Fold in the peanut butter and maple syrup until a thick dough forms.

Roll dough into 1" balls and chill in the refrigerator for at least 20 minutes before serving.