5 Fueling Tips—And A Smoothie Recipe!—For Summer Runners
Run Eat Repeat advises on the best things to eat and drink before and after long summer runs so that you can stay healthy all season.
Heading out the door? Read this article on the new Outside+ app available now on iOS devices for members! Download the app.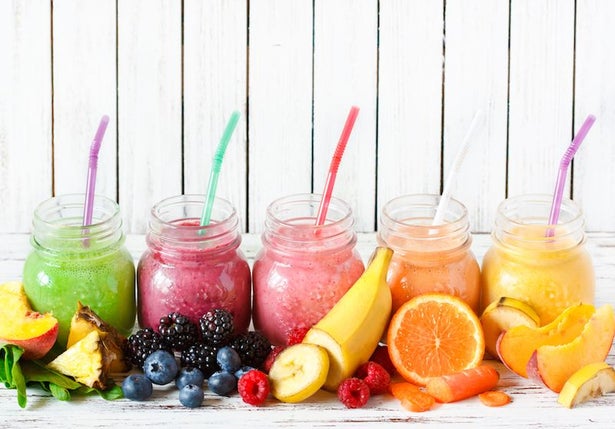 Heading out for a HOT summer run? Before you go, make sure you are hydrated and fueled for the journey. It doesn't take much to get dehydrated or exhausted from the heat, and that will have a negative impact on your performance.
Check out these ideas for how to fuel and hydrate before, during and after a run in hot weather. Run smart–and be safe out there!
Water You drinking?!
Yes, this is a super obvious requirement for summer running–but it's important and takes the top spot on our list. Sometimes we gotta go back to basics and make sure we're doing everything right–especially before a hard run in extreme weather. Make sure you start your run well-hydrated and bring along something to drink.
Remember, it's not just about what you do during your run. Keep your water bottle close the day before a long run in the summer; and pay close attention to your thirst after your run.
Related: The Easiest Way To Tell If You're Dehydrated
Sports Drinks With Electrolytes
Electrolyte drinks, tabs, powders and pricey bottled drinks aren't always necessary–but sometimes they can really help keep your body balanced and hydrated. If you're doing a long run in hot weather, consider drinking something with electrolytes.
When you sweat your body isn't just losing water; it's losing electrolytes, too. Replacing this in your drink helps to keep you going strong and fight off dehydration and imbalances in your system. This can come in the form of tabs or powders without additional calories, or drinks with calories for extra fuel. Just make sure you pick something that works with your tummy and running goals.
Related: Everything You Need To Know About Electrolytes
Gels—With Sodium Or Electrolytes
Try gels for the same reason as stated above with an extra punch of calories. Some gels are made with extra sodium to give you salt and sugar at the same time.
As with anything else during training, practice using these on runs before trying them on race day.
Hydrating Fruits And Veggies
Don't like water? Not really feeling your usual PB&J before a long run? Reach for fruits and veggies packed with water before hitting the hot sidewalk. Some of the best options for hydrating foods are: watermelon, celery, cucumbers, oranges, strawberries, melon…
There are a lot of options for hydrating foods in the fruits and veggies category. If this is a level of the food pyramid you usually skip, consider giving it some extra room on your plate before and after hot runs.
Related: 5 Foods That Will Help You Stay Hydrated
Smoothies!
The combination of running for a long time and hot weather can kill your appetite. But it's important to fuel well so you can recover quickly.
If you're not super hungry after a long run, make a smoothie packed with protein and carbs. Post-run smoothies are refreshing and can be a great way to get more fruits, veggies and protein in your diet.
Basic Post-Run Smoothie Recipe
Ingredients
1 scoop protein powder
1/2 banana
1/2 cup frozen blueberries
1 cup almond, soy or dairy milk
Ice
Optional: 1/4 cup quick cook oats
Top with: nuts, granola, chia seeds or trail mix, if desired
Directions
Blend the first six ingredients. Add your favorite toppings. Enjoy!
Related:
7 Simple Ways To Drink More Water
Stay Hydrated While Running With These Tips