What Two Famous Running Buds Say About Life Before The Olympics
They used a Rock 'n' Roll event to tune up ahead of the marathon trials, and now they are back to race side by side in SD ahead of Rio.
Heading out the door? Read this article on the new Outside+ app available now on iOS devices for members! Download the app.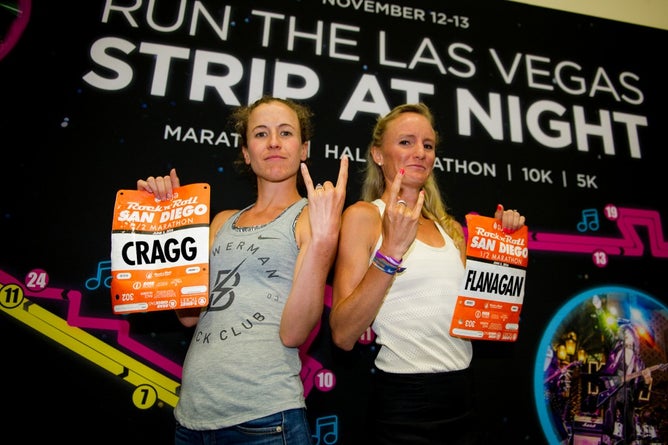 Nike training partners and now 2016 Olympic teammates, Shalane Flanagan and Amy Cragg are in town to race—and by race, we mean do a "workout" and still probably win the half marathon—the Suja Rock 'n' Roll San Diego Half Marathon in America's Finest City this weekend, and they were definitely looking fit. Could it be the altitude training they've been diving into, or the intense heat preparation to get ready for the humidity in Rio, or just the fact that they are two of the top marathoners in the country right now? Probably all of the above.
Standing at nearly the same height—Sidenote: Amy was wearing some really sweet Nike throwback kicks that were the talk of the crowd—they definitely looked like BFFs that run really fast together. We tossed a few questions at the duo to see just how they are feeling about running, the Olympics, life and Shalane being an "aggressive sweater":
On how they handle races that are actually training runs…
"Jerry, our coach, pretty much dictates our schedule, but Amy and I both agreed that we wanted to get in a half-marathon effort. We felt like a half marathon was a little more true to our training and a really good workout." —Shalane, who says, between her and Amy, they have completed 10 Rock 'n' Roll races. This is their first race at #RNRSD
On why San Diego was the match made in heaven for this weekend's training…
"It worked out well with San Antonio leading into the Trials, so we kind of wanted that same timing, and it's a nice easy trip down the west coast." —Amy, who ran in Texas with Shalane just months ahead of the Olympic Trials Marathon this past February
On what the heck happened at the Olympic Trials…
"Amy and I went down to Colorado Springs and did a heat and humidity test and got some analysis on physiological feedback on how to adjust to the heat. So we're going to start implementing some of that information in our training really soon; we've already started."     —Shalane
On how their fueling system will change in Rio…
"In LA I only drank 2 to 4 ounces of fluid and it's been recommended for me to drink 10 to 14, so I was massively under-hydrated. But there are also some other techniques Amy and I can do to cool ourselves while we're out there, like a towel with ice or something like that." —Shalane, the "aggressive sweater," according to Amy
Shalane on going back to her fourth Olympics…
"If you had asked me as a little girl if I would be a four-time Olympian, I would have thought that just one time would be plenty and that would be enough. I am amazed that I have been around this long and have made that many teams.   feel really fortunate and really lucky because it's rare to have gone to four Olympics.  I treasure each one, each time I make an Olympic team is just as special as the first time. I hope that all my experiences culminate with a really great last Olympics."
On being able to train with your best run bud every single day…
"I honestly feel bad for the athletes who don't get to share the Olympic build-up and experience with other athletes, because I really think it enhances the motivation, the focus and just the overall experience and memories." —Shalane, who has trained previously with Kara Goucher ahead of major races
"Training for a marathon is incredibly lonely so when you have a friend by your side every day, it just makes it go so much faster. And it goes from being a chore to something to look forward to every day. And qualifying with your friend was one of the best feelings of my entire career." —Amy, who won the Olympic Trials Marathon, with Shalane coming in third behind Desi Linden
Amy on life after winning the Olympic Trials Marathon…
"It was a little crazy right after but a lot of fun. I was able to go to the White House for the Easter Egg Roll with the kids and First Lady, went to Boston to watch the marathon and threw out the first pitch at a Red Sox game which was really cool, but honestly I was ready to get back to the mountains and have things quiet down and get back into training. You qualify for the Olympics and you're ready to start training but your coach wants you to hold back because they don't want you to get in shape too soon. I really wanted to get back into training because I'm excited about what's to come." (Spoken like a true runner!)
Shalane on winning a medal after contracting food poisoning (a not-so-fun-fact revealed during the press conference)…
"Yes in China, I had contracted food poisoning four days before the 10K event. I was running both the 10K and 5K events, but the 10K was where I had my best chance to medal, I came down with really severe food poisoning, to the point where I couldn't even get on the plan to go to Beijing from the training camp. My coach didn't think that I should race, so we were debating that, so when I finally got on that start line I was really grateful to be there. I ended up running the American record and claiming the Bronze medal, so sometimes we try and strive for perfection in our training and that taught me a big lesson that in the most imperfect situations, something really great can happen."
But are they actually concerned about Zika?
"So we actually went down to Rio to check out the course. This is the height of their summer, and the mosquitos are supposed to be worse, and we might have seen maybe one mosquito while we were there. We are going to take precautions, I think it would be silly to not worry about it at all and do everything we can do. Just be smart about it and then just go and do what we can." —Shalane, who says they will load up on insect repellant. Good plan!