10 Things I Learned At A Running Camp For Adults
The location is an awesome running destination and the camp is what I needed after a series of niggling injuries.
Heading out the door? Read this article on the new Outside+ app available now on iOS devices for members! Download the app.
Last month I was lucky enough to jet to Jackson Hole, Wyo., for a three-day running camp with Eric Orton Mountain Running Academy. The location is an awesome running destination and the camp is just what I needed after a series of niggling injuries had put me off running. Orton's name may be familiar to those who've read Born to Run (and if you haven't, it's a good read!), because he was the author's coach. I didn't know exactly what I was getting myself into, but the high at running camp is exponentially greater than a race high. Here are my 10 takeaways—read them with the expectation that you'll soon be compelled to go on a running camp experience of your own.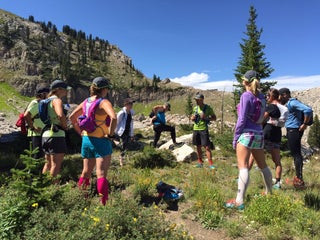 1. Everyone had pre-camp jitters.
Orton schedules different camps to cater to ultrarunners or lower-mileage runners, so people can pick the right one. I was seriously nervous beforehand, wondering how I'd stack up against others, but Orton has an approach that puts everyone at ease and is more about doing your best versus competing with others—and he easily transitions between addressing the needs of the group and those of individual runners.
2. Our form looked different—and better—by day 2.
It didn't take long to understand that Orton has a firm philosophy that people need to learn how to run, just like they would learn other sports, and with a little instruction and training to develop muscle memory, people can run with better form so they can run longer, faster and without pain. I was definitely a test case, given that I'd been in physical therapy for weeks for an Achilles, an arthritic knee and calf cramps that hurt like hell. Except for one teenager who seemed to have perfect form from the get-go (she was at the camp with her father, and, yes, they were adorable together!), it was so inspiring to see everyone's form gain fluidity.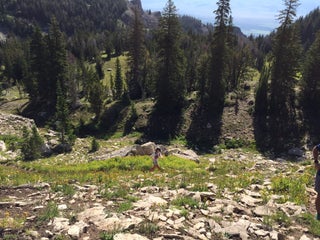 3. I should have read the book.
The Cool Impossible is Orton's book—written as if you're going to Jackson Hole to train with him, with step-by-step details. Even if you aren't going to his camp (yet!), it will help your running. The book and exercises will have you rethinking what's possible.
4. My feet are weak.
Orton relates most running problems to weak feet. He started everyone with some foot-strengthening drills using a slant board, and interestingly, the same drill worked differently for everyone. If someone was having a hard time getting their glute muscles engaged, the slant board helped. I could feel it almost immediately in my calf. Later when I was having trouble with calf cramps on a run, Orton pressed above the inside of my ankle and, yikes, did that hurt. This made the connection between my feet and calf a little more obvious—obviously weak.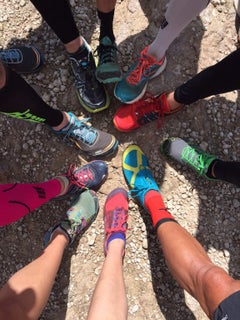 5. Shoes make a big difference.
Since Born to Run came out, it's been credited for contributing to the barefoot-running craze. Orton uses some barefoot drills to strengthen feet, but shoes are required for the camp. My new Merrell All Out Terra Trail (bottom center of photo) shoes were awesome for the rocky mountain terrain!
6. A little massage goes a long way.
Day 1 ended at the Hotel Terra's Chill Spa for the lavender and goat milk body treatment and day 3 at the Teton Mountain Lodge's Solitude Spa for its Warrior Poultice Thai Ritual. These were probably better than a sports massage, since I didn't need any additional deep-tissue soreness. I was also happy to have brought some Vim & Vigr compression sleeves to wear under my long skirt or pants in the evenings.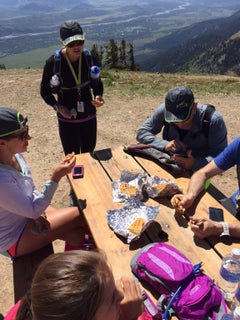 7. Hydration and nutrition are so important.
Orton constantly reminded everyone to drink water or sports drink that we were required to carry. Everyone enjoyed tasting different chews and chocolates that people tended to share, but the biggest hit were the waffles with peanut butter and bacon that are served hot off the press at the restaurant at the top of the mountain. Genius!
8. I love running trails!
When you're at camp, working on your form and trying to get better and better, it's important not to lose sight of the reason why you're running. It was wonderful to constantly hear Orton telling people to enjoy themselves. The varying scenery and terrain couldn't be beat, so I didn't have to try very hard to keep a smile on my face.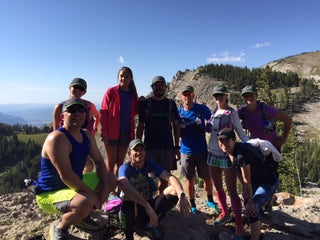 9. Running camp buddies are friends for life.
In addition to spending full days together, the group had nightly meals at the Teton Mountain Lodge, which awesome food aside, was a wonderful time to connect and talk about everything from our lives back home to our running aspirations. Everyone was quick to friend each other on Facebook and now we're following the runs and races everyone is doing out in the real world.
10. Running pain-free doesn't seem impossible.
When I got home, I felt as if I had clear direction: strengthen my feet. I've been working on that regularly, and I'm much more hopeful that I'll be running pain-free soon. In the meantime, I'm biking and swimming to do the TriRock San Diego sprint triathlon this weekend. Fun!
If you loved this, there are plenty of running camps made for adults: