What One Runner Learned From Her Bucket List Marathon
For one runner, the marathon started out as a bucket list item. Now, it's become much more.
Heading out the door? Read this article on the new Outside+ app available now on iOS devices for members! Download the app.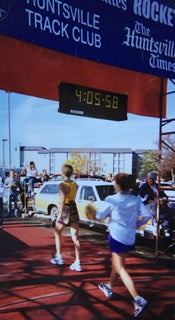 I'll never forget the excitement, intimidation and obsession I had with running a marathon before completing my first marathon. I thought there was no way I'd ever be able to run more than six miles. I thought, I'd never look like a runner (whatever that means). I thought that if I crossed the finish line of one marathon, I'd be satisfied.
Seventeen years later, marathons still hold a certain power over me that is similar to how I felt the first summer I committed myself to marathon training. In college, I set the goal of running a marathon the year after I graduated. I had no other running goals. I hadn't yet decided I wanted to qualify for Boston or run the New York City Marathon. All I wanted to do was try to accomplish something that seemed so impossible.
Related: Rave Races—Boston Marathon Qualifiers
Like most newbies, I knew nothing about running marathons, but what I was most wrong about was thinking it was a one-and-done bucket list item. I couldn't comprehend how someone would want to put themselves through that kind of torture more than once, but now I'm one of those people who keep going back for more.
During training I had become accustomed to weekly group runs. I had a running partner who was a much better runner than I was. I made new friends. I created new routines. After completing my first marathon I didn't want to give all those things up. I wanted to hold onto all of the good things marathon training had brought into my life. I know I could have kept up with these things without training for another marathon, but for me it meant running another marathon.
Related: The Mysterious Magic of Marathon Training
Over the years I've continued to run marathons because I didn't have a reason not to. I ran them because I needed something that only running seemed to give me. I ran them because I wanted to raise money for organizations that are important to me. I ran them because I wanted to see what could happen if I trained hard. I ran them to celebrate my accomplishments. I ran them to celebrate life.
If there's anything I could tell you about running your first marathon, it's that it probably won't be your only marathon. That bucket list item might just be the gateway to a lifelong obsession.