When Should You Run And Train By Time Versus Distance?
Some training plans have you run for a set amount of time and some for a specific distance. So which one is best? We have the answer.
Heading out the door? Read this article on the new Outside+ app available now on iOS devices for members! Download the app.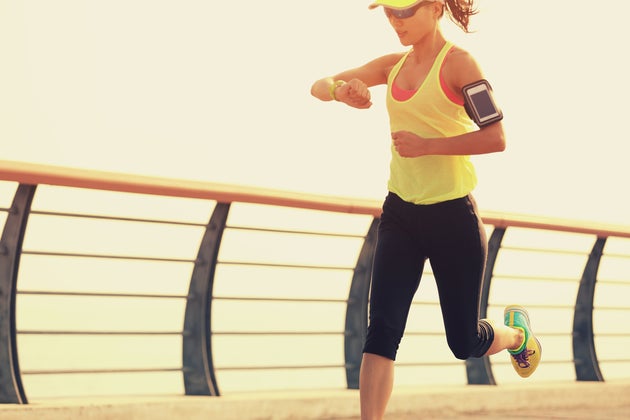 Some training plans are based on weekly mileage while others have overall time goals. Is it better for your mind and body to set out on a 5-mile run or a 45-minute run? Like most questions about running and race training, the simple answer is: "it depends."
There are several factors that go into training based on miles versus minutes, the first of which is the purpose of your training. Are you running your first marathon or your 50th? Trying for a BQ or finishing your first 5K? You can see how this quickly this can become complicated.
Let's break it down as we search for the answer:
Running By Minutes
When you run based on time you're more inclined to adhere to a proper effort since 30 minutes is 30 minutes and you won't get there faster by running faster. A lot of runners tend to increase speed to "get in" the final mile or quarter mile at the end of a distance-based run, a factor that is erased when running for time.
This type of running can be advantageous to newbies since a lot of injuries are sustained by going to fast too soon when starting a running plan. On the other hand, veterans of the sport can also use it as injury prevention if they know they tend to go too fast on easy days.
Running by Distance
At some point, every runner needs to understand the magic of pacing. The only way to figure out how to pace yourself in a race is to practice the distance and know when to ease up or push the pace.
Speed workouts or track intervals will also eventually come into play and, of course, are all measured distances. You can also better predict your race times based on certain track sessions, like Yasso 800s as marathon finish time predictor.
Mental strength training is also better honed when running a specific distance. You learn how to train your brain to hold back in the first half and then overcome the pain and fatigue of the second half, in order to "negative split" or run the first half faster than the second. This is a skill widely regarded as the best way to race and achieve personal records.
The Answer
Both methods work, so the answer depends on YOU. Think about your race goals, what type of runner you are, the experience you already have, and then incorporate the appropriate training plan in order to achieve success. You will likely find that a mix of running by minutes and distance works best.