Use This Packing List For Your Next Ultramarathon
They literally cover every single detail.
Heading out the door? Read this article on the new Outside+ app available now on iOS devices for members! Download the app.
When I run an ultramarathon, I normally have three goals: finish, hit a particular time and have a good time and meet new people. These goals may be similar to yours or you may have your own, but regardless, meeting our goals requires a certain type of race-day preparation (which should involve a packing list)
Normally I'm the poster child for massive advance preparation—I'm the type of lady who gets to the airport early and sets out her clothes the night before. But in the excitement and worry before my ultramarathon in 2013, I forgot a whole host of things, including breakfast. Ultimately, I hit all thee of my goals that day, but it was a humbling experience and reminder that the nerves and excitement can even get the best of those of us who are always prepared.
I've assembled a packing list, broken down by category, of my ultramarathon necessities in the hopes making your future preparation easier. If this is your first ultramarathon and you're looking for a more detailed look, we've included a selection of books at the end that you may find helpful.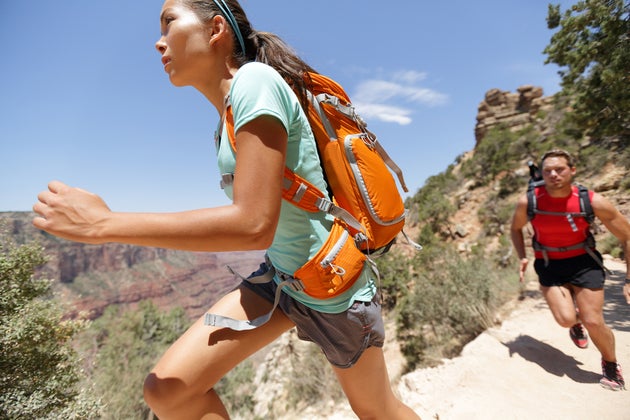 Packing List For An Ultramarathon
Helpful Hint: Create a packing list of your essentials and check them off as you pack them to ensure everything gets there. Using clear plastic containers to pack your gear is a great idea, as these are waterproof and can double as waterproof drop bags.
You-Specific Items: Good luck necklace/buff/bandana? Medications? Dietary restrictions that may not be met by aid stations? Make sure it all gets packed and added to your packing list!
Camping: One of my favorite parts of ultras is the camping experience. I have yet to do one that didn't feature this at least as an option. Camping lets you make new friends, have a place to crash out afterward and immerse yourself in the total race experience. (Plus it's cheaper than a hotel.) You'll need at least a tent and a sleeping bag, clothes to hang out in, a light for moving around and a camping stove to make food (if necessary).
For sleeping, many people enjoy a pad, cot or air mattress. If you don't have any of these, I've made due with some leftover bedtopper foam, stacks of blankets and post-race clothes. Firewood, smores supplies, additional lighting, coolers and folding camping chairs are recommended. I also suggest taking a look at the ten essentials from REI to make sure you are prepared, some of which I'll cover in other sections.
Running Gear: By now, you've trained for this for weeks and you know which gear and clothes work—hopefully for the many conditions that could happen on race day. Always be prepared for conditions that may change! I always pack a disposable plastic poncho for fall races for rain, snow or wind. Ideally, you want backups for your base running layer and your shoes. If you need to switch shoes during your race, make sure these shoes have a backup too. A clean hydration pack or bottles and potentially a backup bladder or bottle in case of damage are ideal.
For head and face, a combination of a hat, buff/bandana and sunglasses should be in your bag. If you've got medium to long hair, make sure to pack extra hair bands. If your race is going to start before sunrise or go past sunset, make sure to pack a lighting option and reflective gear so that you can see and be seen. Plastic baggies are also essential: you never know what you'll have to waterproof, divide, protect or save during the race.
Race Nutrition: I'd advise to take a look at what will be at your aid stations and to try some distance runs with those food options. In addition, bring the foods you've practiced with already. Gu has really upped their game with new flavors (including a savory one in cucumber mint), but you might get bored of the same gels. They make stroopwaffles now, as does Honey Stinger, so that could be an additional option.
For "real foods," my favorites fall into the "tiny foods" category: jelly beans, donut holes, goldfish, tiny PB&Js, etc. You could also try the tasty treats described in Biju Thomas & Allen Lim's Feed Zone Portables. However, with any of these options, pack what works for you for this race. Don't be afraid to try new things later.
Race Hydration: While your race may provide hydration, it's always a good call to be safe and carry water in a backpack, vest or belt. If tablets are your thing, make sure you have the tablets like nuun in your drop kit and perhaps some on you as well for aid stations. Same with powder—put some in your drop bag and some for when you arrive at the aid station.
Post-Race Clothes & Gear: I always have long sleeved-shirts and pants with on the off-chance that I get cold after the race. Decide what makes you comfortable—loose clothes, compression gear or a mix—then pack a few options. A post-race shower will feel amazing, so make sure you are prepared for that. Pack shower shoes, your own towel and the bath products that make you feel better post-run. If braving the showers isn't your thing, you could also try shower wipes like those by ShowerPill.
For soreness, remember to pack a foam roller, stick, lacrosse ball or your own favorite instrument of self-torture and relief.
Post-Race Nutrition and Hydration: What is that food you always crave post-run? Make sure it gets packed (or that you plan a way to get it). You might also consider your favorite post-run "beverage," both for you and to share with other runners. Did you have a crew for this race? Buy them some beverages and food as well. Extra Gatorade or other electrolytes and extra water will allow you to hydrate with your own preferred flavors.
Electronics: Make sure you have all of the charging options you might need, from cords to external power sources. Also, bring extension cords; you never know when you might need them!
First Aid/Preventative First Aid: My kit is a bit bigger than normal for any "emergencies" and includes things like chapstick, Vaseline-based lotion, aloe vera, band aids in all shapes and sizes, Neosporin, tissues, tweezers, alcohol wipes, athletic tape, salt tablets, toilet paper (you never know what the bathroom situation is going to be), an ace bandage, NSAIDs of two types, nail clippers and tiger balm. Sunscreen is also a must for this kit, always. Insect spray is often a must during summer trail races. For chafing issues, there are a wide range of possibilities, including lubricants of various brands like Body Glide or Vaseline. Tampons, pads, diva cups—bring them, because you never know!
Wildlife Prep: For races in terrain with wildlife, consult your race's website or contact the race directly to determine if a snakebite kit, pepper spray or any additional gear might come in handy.
Hopefully these categories inspire your next ultramarathon packing list and the assembly of your drop bags. Is there anything else I missed? Anything you swear by? Please add what you include in your packing list in the comments!
Suggested Ultramarathon Reading
Moehl, Krissy. Running Your First Ultra. Page Street Publishing Co, 2015.
Powell, Bryon. Relentless Forward Progress: A Guide to Running Ultramarathons. Breakaway Books, 2011.
Korener, Hal with Chase, Adam W. Hal Koerner's Field Guide to Ultrarunning: Training for an Ultramarathon, from 50K to 100 Miles and Beyond. VeloPress, 2014.
The opinions and views expressed in this piece are those of the author and do not represent or reflect the opinion, views, or policy of Michigan State University, the MSU Department of Philosophy, or MSU AgBioResearch.