Pre-Race Warm-Up Tips From A Coach
Prepare your body the morning before a big race in the best way possible with help from these warm-up tips.
Heading out the door? Read this article on the new Outside+ app available now on iOS devices for members! Download the app.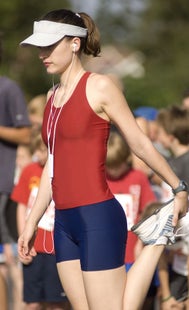 NCAA runner turned high school coach Hillary Kigar has an answer for all things running—both before, during and after race day.
How should I time my pre-race warm-up?
Depending on the race, you should give yourself 30 to 60 minutes of time to properly warm up. Your warm-up should start with an easy jog. For longer races or days when it is very warm, spend around 10 minutes jogging at an easy pace. For shorter races or on days when the temperature is cooler, spend more time getting warm, more like 15 to 20 minutes of easy jogging. Follow your warm-up jog with 10 to 15 minutes of dynamic stretching and drills such as high knees, A-skips, B-skips and other active drills. The idea is to wake your legs up with various drills that get your main muscles (glutes, quads, hamstrings and calves) firing. In the five to 10 minutes before the race, be sure to shed any remaining layers of clothing that you have on and get in several quick strides. Remember a stride is just a tad slower than a sprint. This will help get your heart rate up and prepare your legs for the start of the race. If you find that you need to go to the restroom several times before the start of the race, be sure to add in five to 10 minutes to factor in portapotty line time!
Related:
The Best Time To Return To Running After A Marathon
Race-Day And Post-Race Fueling Tips From Nutrition Experts