5 Common Mistakes Made While Marathon Training
You could be doing one of these—and it could be keeping you from a PR.
Heading out the door? Read this article on the new Outside+ app available now on iOS devices for members! Download the app.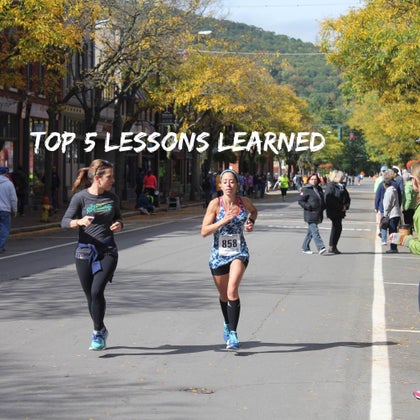 I think a lot of runners are of the mindset that in order to improve as a runner you have to train harder. But sometimes, it's more a function of training smarter.
For several years, I trained hard and had successful training cycles, only to run slower than my goal time on race day. After each race, I would vow to train harder—whether that was by increasing the length or frequency of my long runs, increasing my weekly mileage or picking up my pace on all of my training runs. So I tried to run harder, faster and longer.
But it didn't work. I felt like I was going 100 miles per hour but not seeing any improvement. Putting my head down and working harder was not what I needed to do. So I took a step back and looked my plan and general approach to training.
After six years with the same PR, I took more than 6 minutes off my marathon time at Boston and then another 3 minutes in the fall—more than 9 minutes in five and half months in 2015.
Here's what I did to see those improvements—and you'll see, none of them include increasing the mileage or intensity during training. (Note: I shared these lessons learned on Instagram in a series of five posts.)
#5. I was physically strong but mentally weak.
I need to strengthen my mind.
In 2013 and 2014 I raced five marathons. I worked my butt off for each one but I only focused on my physical training. So on race day I was physically strong but mentally weak and ill-prepared to handle the last few miles of the race. The result? One DNF and three marathons where I mentally quit by miles 21-22.
My mind wasn't strong enough to handle when things got really hard and my body started to slow down.
Here's what I did:
– Read "Mind Gym" by Gary Mack (Can't recommend this book enough.)
– Had a few positive mantras to repeat during race.
– Stopped seeing pace during the race.
– Was my best friend on race day. Rather than get annoyed with myself when things got hard, I learned to lift myself up and only focus on the positive.
In a marathon, the first 20 miles are run with your body. The last 10K is run with your mind. Your body will want to stop but your mind needs to be strong enough to keep pushing.
Related: The Mental Side Of Running
#4. Racing was more stressful than enjoyable.
I was taking running too seriously. At the start of the 2013 Philadelphia Marathon, I was so nervous that I couldn't eat anything. I felt sick to my stomach until the race began. The race didn't go as I hoped and afterwards, I felt like my world was ending. It sounds so dramatic to write now but at the time, my entire world revolved around running.
It took a few marathons like that to realize that I needed to relax and not stress about training or racing. Being nervous is one thing, but I was letting it consume me. I take running seriously but I am not an elite. I am not training for the Olympics. It's not how I make a living. At the end of the day, it's my hobby.
But it's easier said than done, especially in a world where everything is shared on social media. These days, I work hard and still have goals, but the ultimate goal on race day is to run within myself and finish happy. A hobby should bring happiness, not stress into my life. Even if the race doesn't go as planned, guess what? There's always another one. The time on the clock does not define me. I can only control what I can control. 
#3. Running too hard on easy days.
If you look back at my photos or blog posts from 2-3 years ago, you will see that my easy runs were 20-30 seconds faster, despite running marathon times 10-20 minutes faster now.
When I started sharing my training on social media, I felt a need to always run fast. I felt proud when my (so-called) easy runs were fast. I felt like I had something to prove. Call it immaturity, inexperience, lack of confidence. But I was running too fast on the days where I should have been taking it easy.
These days:
– My easy runs are not pace-driven. I focus on effort and often do not share my paces because they don't mean anything.
– I sometimes use a heart rate monitor to keep me honest about my easy-runs.
– I also do a lot of my "easy" runs without a watch. I know where the mile markers are. I can focus on effort and recovery rather than worry about pace.
Easy runs are meant to be just that—easy. They help you recover from the hard days while adding to your baseline fitness and strength. Honor their purpose. Don't push the easy days. Save that for the hard days and racing. You'll start to see big gains when you do. 
#2. I didn't race well.
I needed to become a better racer. This one is two-fold:
1. My focus was always on a very specific finish time. I wasn't paying attention to my body and was going to run the paces regardless of how how I felt.
2. Once the race started, I would often try to "bank" time. I thought that if I ran just 5-10 sec per mile faster than I planned, I could create a buffer that would help me later in the tougher miles.
The result was that I ran too hard for 18-20 miles and then hit the wall.
I was tired of getting to mile 20 and having no fight left. Of knowing I went out too fast. Of having training runs more successful than races. Of having to walk to the finish. Of spending weeks training hard and throwing it away on race day.
So I changed the way I raced. I stopped racing for a certain time. When I started my last two marathons, I had a range in mind that I thought I was capable of. My number one goal was to finish happy and strong.
I also stopped worrying about what my watch said on race day. Instead of getting worked up about the pace I was running or what my finish time could be, I focused on effort and let my body dictate the pace. I still run with a GPS but can only see total time.
It also pays to start easy, but finish fast. I would negative split all my training runs but on race day, it's like someone takes control of my body. During Boston in April, I forced myself to ease in, be patient and let the race unfold. The result? Mile 1 was tied for the slowest mile of the day with mile 20— Heartbreak Hill.
I think it takes a lot of confidence—in your training, ability and self—to race well. Be patient. Let the race happen. You can't run a PR in the first mile. But you can definitely run away from one.
Related: Why Your First Mile Is The Most Important
#1. I was trying to do too much at once.
I was trying to rush the process by doing too much. I picked race goals that were outside of my ability, trying to accomplish in one race what I should have aimed for over three. I started races way too fast and hit the wall between mile 18-21 each time.
I was also training at paces that were too fast. In order to accomplish my goal, I started using training paces that were entirely too fast for my current fitness. Because of that, I bordered on over-training for all of those cycles. I skipped a lot of easy runs and long runs were cut short because I was too tired.
I also increased my weekly mileage too fast. Prior to 2012, my weekly mileage was usually around 45 miles. I immediately started running 65-70 mile weeks. The result: weekly mileage that was never consistent. One week was 80, the next was 40. It wasn't sustainable.
I think we live in an age where we expect results right now. I didn't have patience to trust the process and let the race times, mileage and paces happen naturally. I wanted it all to happen immediately.
Last year, I stepped away from time goals for races. I lowered my weekly mileage. And I slowed down my paces. I let things happen when they were ready. Rather than go for sub-3:10, I aimed for a PR. "Just" a PR. 6 minutes, then 3 minutes. And now I'm knocking on sub-3:10's door.