You Just Crossed the Finish Line of a Marathon. Now What?
For the first few minutes post-26.2 and through the next several weeks, here's a plan for a healthy recovery.
Heading out the door? Read this article on the new Outside+ app available now on iOS devices for members! Download the app.
Your body goes through a lot during the marathon, which makes proper rest vital. You'll need to recover from the dehydration and glycogen depletion we endure during the race, not to mention the damage done to our muscle fibers while running 26.2. While physical responses to a marathon are highly individual, most runners will have at least light damage on a cellular level, and therefore need to allow for muscle glycogen replenishment for several days to a week. And contrary to popular belief, your post-race pain or discomfort is not caused by lactic acid overflowing your bloodstream. You weren't running hard enough to produce massive amounts of lactic acid, and what you were producing was recycled in the liver and turned back into glucose.
This step-by-step guide details how to handle the minutes, hours, days, and weeks post-marathon.
The First 30 Minutes
While you may wince at the thought of eating, try to consume some calories right away. It doesn't really matter what it is; in fact, you can pretty much eat anything you are craving. Whether it is a bowl of chicken broth, a Coke, or chocolate chip cookies, at this point what is important are the calories, not the source from which they are coming. This is a good thing because you usually can't be picky when it comes to finish-line fare. Whatever they are offering, take it. Since you have depleted nearly all of your available muscle and liver glycogen, your body will bounce back far sooner if you eat now. What's more, your blood glucose is low, you're dehydrated, and you have only a few remaining electrolytes. The faster you start replacing these nutrients, the sooner you'll be back to feeling normal. The window of optimal recovery time is brief, so take advantage of the goodies in the finish area during those first 30 minutes after the race.
The First 2 Hours
Once you gather your hardware and snacks, leave the finish area and find your family and friends. As long as you have had something to eat and drink, you don't need to worry about consuming a full meal until your stomach settles down. Go back to your hotel room or home, get cleaned up, and put on comfortable clothes. By that point you may be ready for a full meal. Focus on taking in a high percentage of carbohydrates to replace that lost glycogen. If you still don't feel quite ready for a feast, steadily consume calories to get in a good amount over time. Nutritious snacks will help get your system back on track. Fruits, vegetables, and whole grains are great options, along with water, fruit juice, or sports drinks.
The Rest of the Day
Continue to hydrate and replace calories as desired. Put your feet up and relax for a few hours; you earned it. Although you may feel stiff and tired, make it a point to get up and walk around later in the evening to loosen up your legs. This can help with the soreness that will likely set in by the following morning. Lay off heavy stretching as this will actually reduce blood flow. In fact, you'll also take a few days off from any exercise, but then slowly add in low-impact cross-training. This can improve recovery rates by increasing blood flow.
The Next 3–5 Days
Mobility may be tricky for the next few days. Your first steps out of bed the following morning will be labored, and walking up and down stairs may seem a challenge akin to climbing Mount Everest. From elites to weekend warriors, no one escapes a marathon without at least a little soreness. Besides the glycogen depletion, the structural integrity of the muscles has been compromised, so don't plan any big outings right after the marathon.
Don't run at all during this period. Remember, taking a break from running is extremely beneficial to your body. Some runners fall into a cycle of jumping right back into mileage just a few days after the marathon, often leaving their legs feeling stale a month or two down the line. Rest now, so that you can recover completely. Use this time to catch up on the things that took a backseat during training, and enjoy the break. If you feel like you must do something, go for light walks.
The Next 2 Weeks
Many runners dislike taking time off from running, worried they might lose precious fitness. It's important, however, to understand how a break fits into the bigger picture of training. Planned time off can prevent a forced break down the line due to injury or overtraining. You are better off allowing yourself some time off now, even though it may feel like a major deviation from the routine you established over the past few months. You can take the entire two weeks away from exercise altogether. It's also OK to incorporate some cross-training, provided that it's not too intense. A light resistance training program or a cycling regimen are reasonable options. Cross-training helps to maintain the routine you worked so hard to build, making it easier to resume running again. Just refrain from running for these two weeks to let your body completely recover before getting out and pounding the pavement again.
2 Weeks Post-Marathon
Following your two-week rest, feel free to start running again. Approach your return conservatively, however. Some runners want to begin planning their next race before they are even two weeks out from the marathon. While it is excellent to have goals and we applaud the desire to continue training, remember to be flexible with your plans. For newbies and veterans alike, it is important to wait and see how your individual recovery goes in order to avoid the pitfalls of rushing back to hard training too soon.
Once you have established that you're fully recovered and ready to get back into a running routine, start small, with an easy running regimen. Those first few runs may feel more difficult than usual. Don't worry; you haven't lost as much ground as you think. Two weeks off will have decreased your fitness by about 5 percent, a small number in the training cycle.
Start with 30 minutes of jogging every other day. The first week might look like this: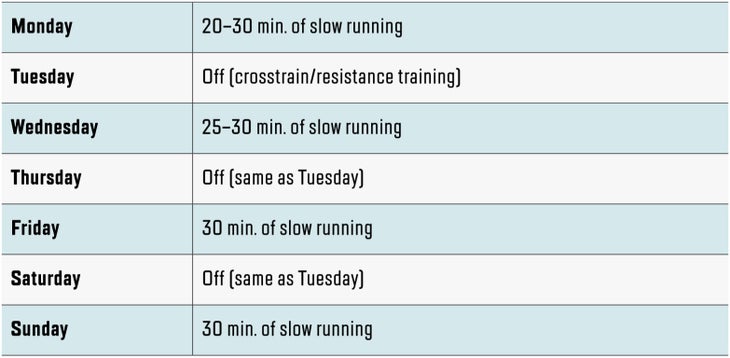 Resistance training can also be resumed, two or three times each week. This should be done on days that later on will be runs of higher intensity.
After following the aforementioned mileage for the first week back to training, you might consider bringing things up a notch for the second week, although it should still all be easy mileage. If you are feeling refreshed and looking forward to getting back on track, add a bit of mileage. A beginner should add two days with 30-minute runs, bringing the weekly total to five days of 30-minute runs each. More advanced runners can add time to each of their running days, aiming for 45–60 minutes of easy running, six days a week. If you are still feeling sore and tired, however, don't hesitate to give yourself another week to linger at lower mileage and let your body and mind recover.
---
Adapted from Hansons First Marathon: Step Up to 26.2 the Hansons Way by Luke Humphrey, with permission of VeloPress.