Here Are 4 Reasons Why You Need A Training Journal
Writing it down might actually make you a better runner.
Heading out the door? Read this article on the new Outside+ app available now on iOS devices for members! Download the app.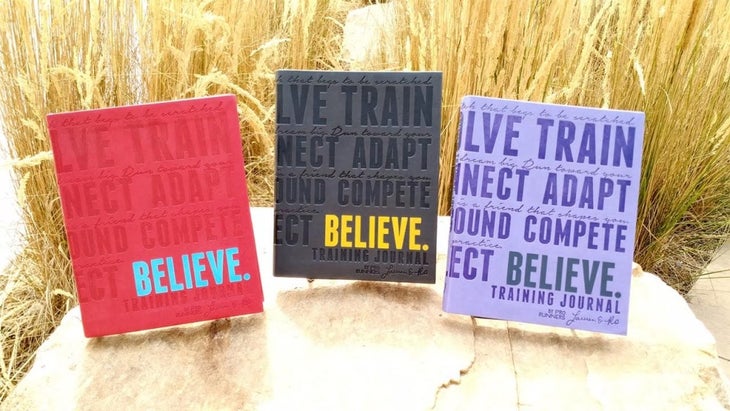 Keeping a training journal can seem like a daunting task. After a run or workout—especially those early morning, weekend long runs—you just want to eat, shower and rest. Taking a bit of time to reflect on your day or week, however, can do wonders for your training, both physically and mentally. You don't need anything fancy; just grab a notebook (preferably one with a fun design that you are excited to crack open and write in), log to your heart's content and reap the following benefits.
Accountability
Logging your miles (and the ever-important cross-training) is a great way to hold yourself accountable, especially if you work out alone. To take it a step further, you can divide your journal pages into two columns. Write out your planned workouts in one column and then use the other to log what you actually do. Even if you don't complete an entire run due to weather or a nagging pain, you can still see what you had on the docket for that day and adjust your weeks accordingly to stay on top of your goals.
Reflection
Feeling down? Had a bad run? Noting that in your training journal—along with the workouts that felt great—can be a great way to reflect on how you are doing when going for your goals. That one run that felt a bit off won't seem as bad when you can turn to your journal and remember how great the rest of the week has been.
If you are feeling stuck—or seem to not be moving forward like you wish—your training journal is a great way to change that. Keeping track of your runs, especially when you start training for a goal race, will help you up your miles in a safe way and remind you of all the progress you have made. Keeping track of your miles on the road and reps in strength training is also a great way to remind yourself to push forward and up your difficulty (when ready, of course) so that you keep challenging yourself.
Celebration
Did you do all of your runs as planned this week? Hit all of those mile splits like you wanted to? Celebrate! A training journal is a great way to remind yourself of your accomplishments and have just another reason to pat yourself on the back. Did you record all of your runs this week? If you are new to keeping a training journal, that in itself can be a cause for celebration. Use your journal as a way to celebrate your big (and little) accomplishments of running—not just at the finish line. You deserve it.
[velopress cta="Shop now" align="center" title="Buy a Training Journal"]