Your Brain Could Be The Key To Running Farther And Faster
Is your brain holding you back from reaching running bliss? Sports psychologists share how to get your mind in line with your stride.
Heading out the door? Read this article on the new Outside+ app available now on iOS devices for members! Download the app.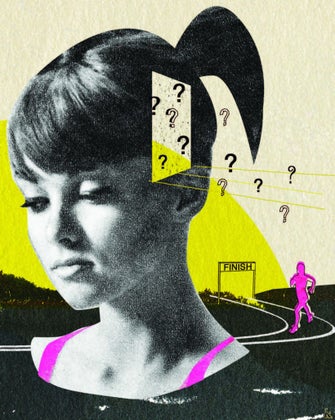 Don't let self-doubt sabotage your running—sports psychologists share how to get your mind in line with your stride. 
How can you run farther and race faster? The answer could be in your brain.
Exercise psychologist Duncan Simpson, Ph.D., works with athletes of all levels. One day, a new runner in her 50s came to see him because she was struggling to keep her training on track. "She kept telling me she was mentally weak and wanted to quit the whole process," Simpson recalls.
As he explored his client's back-ground, Simpson discovered she had raised three children, was the caretaker for her cancer-stricken husband and currently worked full time to support her family. "The more I talked to this woman," Simpson says, "the more I realized that this was one of the toughest women I had ever met in my life. I had no doubt she would achieve her goals."
Why We Doubt
Lack of confidence has a direct impact on running ability, according to Barbara Walker, Ph.D., and owner of the Center for Human Performance in Cincinnati. "I think that people self-sabotage themselves a lot when it comes down to running," she says. "It all comes out in performance [when we race]."
Walker explains that confidence is linked to how we talk to ourselves—this stems from things we were told growing up or that we picked up indirectly. "I think the interesting thing about self-talk is that the message someone gives themselves might not even be true anymore," Walker says. "It may have never been true. But people start creating these tapes for themselves, especially when they're trying to follow through with a goal."
First Step is Acceptance
Oregon-based psychologist and author of The Mental Athlete, Kay Porter, Ph.D., says she has seen both experienced runners and novices suffer from self-doubt, although their concerns are often different. "Beginners worry about being last, not being able to finish the race or looking stupid," says Porter. "Elite runners worry about going out too fast, not being able to sustain a kick at the end or not finishing high enough in a race."
Races bring out insecurities because of the many variables they present, some of which can't be controlled. Simpson says it's only natural for runners to worry, but her goal is to help athletes realize that doubts are a natural part of racing.
"If we knew we could always achieve our goals, it would mean our goals are not challenging enough," Simpson says. "Accepting that doubts are part of this process is the first step."
Turn It Around
Simpson says the best way to eliminate doubt while racing is to prove you can tackle the race during training: "If you have self-doubts about running a hilly course, go and find some hills and practice on them. If you struggle to run in the heat, practice in the afternoon."
As for his client who thought she was weak? Simpson worked to help her realize just how mentally tough she was: "She had developed so many important psychological strengths over the years—time management, determination, mental toughness, focus—she just hadn't realized it." She began to draw great strengths from these areas and finished all 26.2 miles of the London Marathon.