Does Running Hurt? Here Are Cures For Common Pains
Running shouldn't have to hurt. Here are ways you can stride on happily.
Heading out the door? Read this article on the new Outside+ app available now on iOS devices for members! Download the app.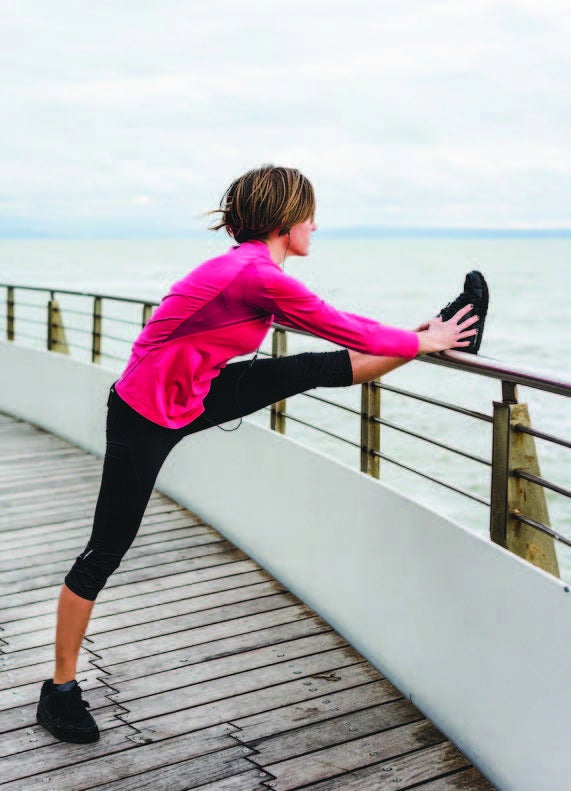 If so, we can help—with tips to take the pain out of your mileage game.
Running can be a fun, rewarding and peaceful experience. But it can also hurt like heck—especially for newbies. "It takes time for the body to adapt to the impact of running," says Lisa Reichmann, a running coach and co-owner of Run Farther and Faster in Washington, D.C. But your gains can come with less pain if you take the right precautions. Whether you're seasoned or just starting out, these five fixes will keep your runs a little more pleasurable.
What hurts? Your back, knee, hip or shins feel achy.
Cause: Because running is a repetitive activity, it can stress bones and joints. As a newbie, it's easy to let enthusiasm drive us to run more miles before we're ready, which can lead to overuse injuries.
Cure: Ramp up your mileage slowly, and back off if your body aches. A. Lynn Millar, chair of the department of physical therapy at Winston-Salem State University, adds that strength training can often help. Millar herself suffered from chronic knee problems for years until she added quad-strengthening exercises to her regimen. Include a strength session once or twice a week that includes exercises like squats, planks, bird dogs and dead lifts.
Related: Quick Strength Training For Runners
What hurts? Your lungs feel like they might explode.
Cause: Increased activity leads to oxygen-hungry muscles, which can cause breathlessness. Don't let it discourage you, says running coach Reichmann. A few small tweaks in your routine should fix it.
Cure: If you're just starting out, begin with run/walk intervals, where you run for a minute or two and then walk for a minute or two and gradually increase your time spent running. The run/walk method gives you control over fatigue, helps the cardiovascular system adapt to running and allows you to work out for longer from the get-go. Still feeling breathless? Check out "What's the Best Way to Breathe?"
What hurts? Your stomach is sloshing—then it starts to cramp.
Cause: You want to go into a run properly fueled—but it's easy to overdo it. When food is still digesting in the gut, the oxygen required to digest the fuel is being diverted to support running muscles, making you feel less than your best, which causes muscle fatigue or cramps, says Kimberly Mueller, owner of Fuel Factor Nutrition Coaching in Castle Hayne, N.C. If you ate recently, don't mistake cramping as a sign you need more fuel, she says.
Cure: "My rule of thumb for fueling prior to a run is allow one hour digestive time for every 200 to 300 calories consumed," says Mueller. "If someone is having a 500-calorie sandwich, allow around two hours to digest before running." Experiment with different pre-run meals and snacks to see what works best for your body.
Related: How To Fuel Your Workouts And Runs
What hurts? Your muscles feel like they're in a vice.
Cause: The good news? It's just normal microscopic tissue damage caused by exercising and everyday wear and tear.
Cure: Stretching, the antidote to muscle tightness, has yet to be proven effective for preventing injuries. But that doesn't mean it isn't good for you. According to research in Orthopaedic Nursing, "Direct negative effects of stretching were not found…stretching should be performed." Getting loose physically primes the muscles you're going to use—plus "it just feels good," says Ellen Casey, a sports medicine physician at Drexel University College of Medicine in Philadelphia. Add post-run stretching after a long run to prevent next-day stiffness and soreness.
Related: Quick Post-Run Exercises
What hurts? After a run, your legs feel as stiff as sticks.
Cause: Your muscles are fatigued—and this is likely being worsened by a depletion of fluid and fuel.
Cure: To rebuild after exercise, muscles need nourishment, but recovery needs are dependent on a run's intensity and duration. For a 30-minute run, all you need is water. For longer runs, Casey recommends a snack comprising protein and carbohydrates in addition to fluids. Research has shown that chocolate milk is a great recovery drink as it checks all of these boxes. Aim to have a glass within 30 minutes post-run.