Can You Run A Marathon Without Training? One Runner Tried It.
And this is how it turned out.
Heading out the door? Read this article on the new Outside+ app available now on iOS devices for members! Download the app.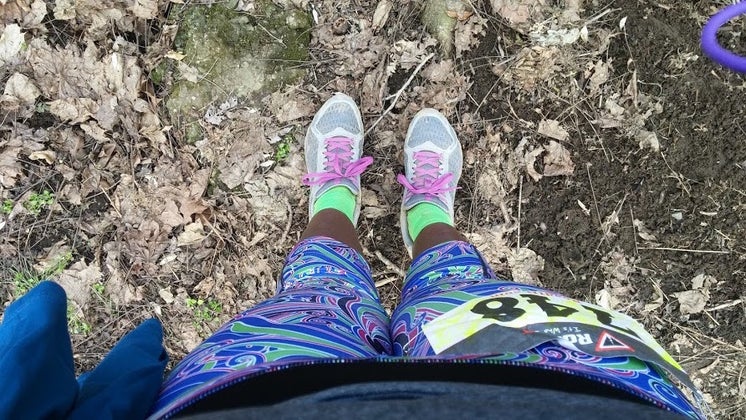 If you've read my last post, you'll know that I strongly believe in both writing and reading race reports. As a writer, I learn so much about myself through reflecting on any given experience, and hopefully as a reader you get something out of it too.
In fact, last night after I had finished watching the documentary "The Barkley Marathons: The Race That Eats Its Young," I did a Google search for race reports about the infamous 100-mile long race held in the Brushy Mountains of Tennessee—not that I'm ever going to even think about attempting something like it. The race reports that I found demonstrated the similarities and striking differences of people's experiences. I was made very aware of the fact that the trail events I like to do (which I find pretty difficult) pale in comparison to something like the Barkley. I loved learning more about this spectacularly difficult race—and am happy that NOTHING I do is this hard.
I present to you my race report for the expertly organized and executed Naked Bavarian Marathon, complete with potato pancakes, German music and brats—put on by the awesome folks at Uber Endurance Sports:
The day was nippy, as it had just snowed overnight. Temperatures had dipped a bit in the preceding days, though the ground was not still frozen from the long winter. Although it was brisk out, it was the perfect weather for running. It wasn't warm, but it was cold enough that stopping movement could mean danger if you were out on the course for too long.
Related: Why You Should Write A Race Report—And How To Do It
For the occasion, I wore my Skirt Sports Redemption capris and Charmer long sleeved tech shirt, a Merrell quarter zip jacket and All Out Crush trail shoes, and Swiftwick Aspire socks and visor. My hydration system was the Nathan Vapor Cloud pack and my electrolyte drink was Tailwind. I also brought along some gels and bars that I would using as my main fuel along with whatever the aid stations offered.
Because I hadn't trained (and also because I had just signed up a week prior), I decided that I would use this event as a fitness assessment, to see where I was currently and what I would need to do to regain running fitness after some time off actually training. Boy, did I learn how much progress I would need to make before starting my training for summer ultramarathons and fall marathons!
The race took me a very long time to finish. There were hills, flats, mud and more hills. The sun came out periodically, but in the afternoon we would lose any heat that we had during the day. There were out and backs, people seriously racing, people taking it easy, and me. I made my way slowly through the pretty, non-technical singletrack trails, trying my best to enjoy the beauty of Blue Marsh Lake in Reading, Pennsylvania. I tried not to spend too much time at the aid stations, although at each one I had to ask myself why I was doing this to myself again, and couldn't I just walk down that road right there and somehow get to my car and leave? My legs felt heavy during the second half marathon, and my feet started hurting at around mile 20—but then I was able to ignore the foot pain during the last 4 or so miles of the 27 mile-long marathon.
Related: Do Not Fear The DNF
I became angry at the world when I discovered that I had an extra mile to go…I had been so stoked about almost finishing and then another mile suddenly popped into existence. I plodded my way through it, stomping almost, and eventually made it to the finish in over 9 hours.
It has never taken me that long to do a marathon, and I was pretty disappointed with my time. But then I also realized that the entire week before I had gotten very little sleep, and had spent a lot of time working on different media projects and writing. I also, again, had not trained. Next time I sign up for a marathon, I'll make sure that I'm not severely undertrained or extremely, EXTREMELY fatigued. I have no regrets though, and I would do it again in a heartbeat.