The Top 6 Reasons Why Beginners Quit (And Why You Shouldn't)
Don't let these things keep stop you from running!
Heading out the door? Read this article on the new Outside+ app available now on iOS devices for members! Download the app.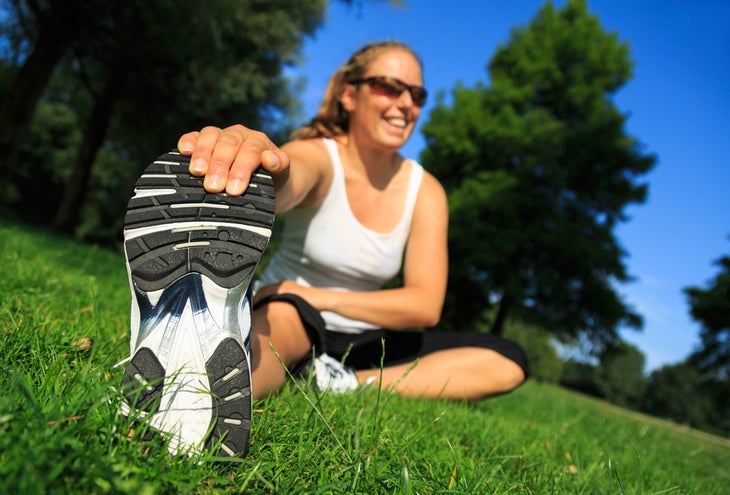 *Courtesy of RunHaven
Whatever reason you recently decided to start running — maybe to lose weight or live a healthier lifestyle — chances are, you'll probably quit in the near future. Wait, what? If you're already on the verge of quitting, this probably isn't what you wanted to hear. Here are some of the top excuses, er, reasons newbies quit running after just a few months.
Weather: It's too hot! It's too cold! The oppressive heat of summer, the bitter cold of winter — neither encourage outdoor activity but rather, spending time on your couch in front of the television. Clearly, mother nature doesn't want you to be a runner. The good news is, you have options. The first is called a treadmill. We use them to run inside during inclement weather. They can be found at any gym and are an adequate substitute for the pavement or trail. The other option is to suck it up and dress appropriately. Running in extreme weather has training benefits of its own. Over time, running in heat and cold can boost performance, making you a faster running. Also keep in mind that unless you live in an area with year-round extreme weather, it will eventually end, so don't give up!
Injuries: Injuries put a real damper on training. Beginners might see injury as a sign that it's time to hang up the shoes for good. Not so fast! With proper rest and recovery, you'll be back in the saddle in no time. To avoid injuries, train within your physical limitations. After a run, focus on stretching. Stretching can help minimize some of the soreness that usually follows a good run. Also, wearing proper shoes can help prevent common runner injuries such as knee and back pain. An expert at your local running store can help fit you.
No motivation: This often happens to runners who make lofty running goals right out of the gate. This could be making a plan to run 100 miles in a month or finish a marathon in their first year of training. Not to say it's impossible, but when reality sets in, the task often becomes too difficult, and the runner decides to throw in the towel. Start with a practical goal like training for a 5K or running 2-3 days a week and work your way up.
Difficulty breathing: Unlike sitting on the couch or sleeping, running is an aerobic activity that tests your cardiovascular strength. Having difficulty breathing means your body is trying to meet the physical demands of running. But don't let it be a deterrent. You can start by incorporating walks into your breaks and practicing breathing techniques to get into a rhythm. The more you run, the easier breathing will become.
Boredom: You put on your shoes and head out to run the same loop you did the day before and the day before that — and the day before that. You run the same distance and the same pace, exerting the same amount of energy. The only difference is your outfit (and sometimes that's even the same, which would explain why the gym clears out every time you go to work out). That would drive anyone insane! Most beginners don't understand the importance of varying their route, distance and speed. Try something new: instead of your normal loop, try running on a trail or consider meeting up with a group at your local running store. Beat the boredom by switching it up!
Busy schedules: This is easily the number one excuse. Between work, family and social engagements, there's a lot to juggle, leaving little time for your newfound hobby. But your busy lifestyle doesn't have to trump your dreams of being a runner! With just 20-30 minutes per day a few times a week, you'll start seeing the health benefits. That's not a lot of time — one episode of your favorite TV show.
Mike Shomaker is a writer and runner (though not at the same time) living in the D.C. area. When he's not writing about running, he's out on the trails training for his second ultramarathon. You can follow Mike for training tips on Twitter @mikeshomaker.
Related Links
10 Mental Tips To Push To 26.2
The Best Things To Bathe Your Sore Body In After A Run
Why Fall Is The Best Time For Your First 10K
Running Is The Reason I'm Alive Today
New Regulations Will Reveal How Legit Your Trainer Is