7 Things To Really Consider When Choosing Your First Race
There's more to consider beyond where and when it will be. Fat Girl Running shares what you should know for the perfect first race day.
Heading out the door? Read this article on the new Outside+ app available now on iOS devices for members! Download the app.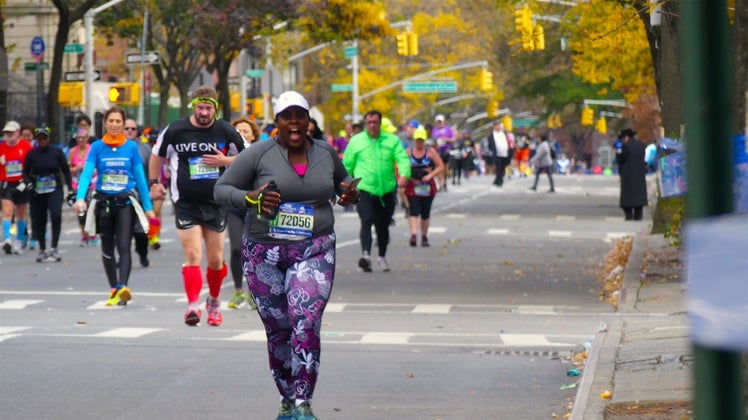 When choosing your first race, there are lots of things to consider beyond where and when it will be. Here are a couple of things to remember as you enter and maybe become addicted to the world of racing.
Why are you running this race?
Are you trying to prove something to yourself? Do you want to test and go beyond your perceived limits? It's a good practice to know why you want to do something so that you can focus your training and energy on reaching your goal.
Are you willing and are you able to put in the requisite time to train?
If you are training for a 5K or 10K, it won't take as much time out of your everyday life as preparing for, say, a half marathon or longer. You might want to think about how much time you'll need to put in the mileage and to recover. Do you have children? Do you have a real-life schedule that you can modify to fit your fitness in? Make sure to look a a few different training plans that will help you meet both your race goals and your overall fitness goals. There are lots of plans out there, so take time to do some research so you can find what works for you.
What will happen when you're in a training rut and you lose motivation?
It is inevitable. Know that you will lose your mojo at some point during training. Life will get hectic. You'll get a cold or sprain your ankle. It'll get too cold or too hot or you'll simply be too tired to get out of bed and do your three- or four- or twenty-miler. Have a plan for when this happens. Make sure you know what your triggers are that impede training and then deal with them. Wipe them out. Maybe state your mantra a couple of times. Think about it like an important appointment that you can't miss. Or, give yourself a day off, because sometimes that is all you need to get your mojo back.
Are you willing to travel? Will it be a race-cation? How will you make it happen?
Some goal races may be far away and that's okay if you have the time and budget. Last year, I made the Javelina Jundred 100K in Arizona a huge goal race and in order to be able to do it I had to be creative. I used a voucher from an airline for travel, points from my Expedia account to get discounts on my hotel stay—oh, and I mooched off of my brother and a friend for dinners and desserts! So, my point is, if you can make a way for something you deem important, MAKE A WAY!
Is this an ultimate goal race or a smaller/shorter practice race before your big one?
If this race is your final goal, you'll run it a bit differently than you would a practice race. Say, for example, you run a few 5Ks before your ultimate 10K race. Will you go all out on the 5Ks or will you use them as tempo runs? Will you treat your half marathon as a tune-up a few weeks before your marathon, or will you run it like it's your final race? Both kinds of approaches will yield different results come goal-race day, so make sure you have a plan and follow through. Also, make sure you're not setting yourself up for injury.
Is a medal important to you?
If it's important for you to have a medal at the end of the race, make sure the event organizers actually give one (because not everyone does). In a lot of trail races, for example, the finishers' awards range from medals to pint-glasses and belt-buckles, to homemade pies and coffee. Personally, I dig pint glasses because every time I use them, which is daily, I am reminded that I DID THAT.
Why are you doing this again?
Sometimes you have to remind yourself of why you run. Keep your larger goals (other than the race itself, in mind). Why do you run?