Ask A Coach: Timing Your Massages and Breathing Techniques
Coach Hillary Kigar answers questions from our readers!
Heading out the door? Read this article on the new Outside+ app available now on iOS devices for members! Download the app.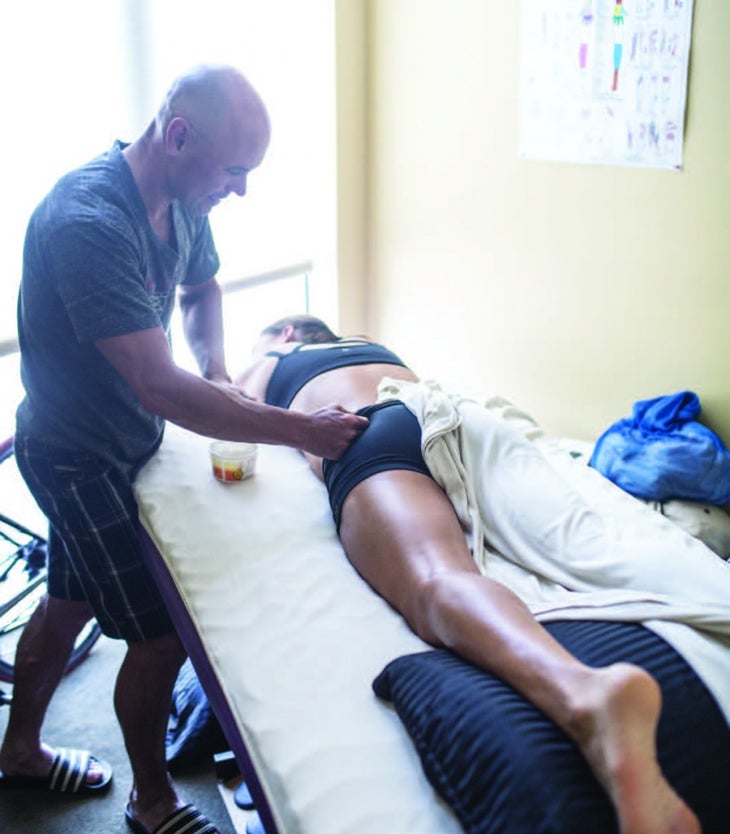 NCAA runner turned high school coach Hillary Kigar has an answer for all things training!
Q: Is it better to get a massage before or after you race?
Both if you can swing it! But make sure you get the timing right. Getting a good full-body massage a couple of days before your race is a great idea as long as the massage isn't too in-tense. Avoid a deep, painful rubdown that might leave you sore afterward. And I wouldn't recommend a massage the day before or the day of a race either—you don't want your muscles to be too relaxed and feeling more ready for a yoga class than some fast running!
After your race, cool down and jog at a very easy pace for 10 minutes and get some stretching in—a massage later that day or the next day will definitely help with the recovery process. If you're not feeling super spendy, perform a DIY massage job with a foam roller or stick.
Related: Is It Okay Not To Wear A Sports Bra?
Q: If it's that time of the month and I'm crampy, does it help to go out for a run or curl up in a ball?
I love the saying, "No matter how slow you go, you are still lapping everyone on the couch." That's absolutely true—no matter what time of the month it is. While you may feel exhausted, bloated, irritable or just plain grumpy, I guarantee you will feel at least a little bit better from even a short jog around the block.
The combination of fresh air and getting your heart pumping can be just what you need to get out of your funk. While a run won't necessarily cure those pesky PMS symptoms, you can take confidence in knowing that you are not a victim of Aunt Flow when she comes to visit. Believe in the power of the run!
Related: How To Get Rid Of A Mid-Run Side Stitch
Q: What's an easy way to improve my breathing? I feel like I can never get enough air.
Often as we start to feel fatigued during a run, our breathing becomes irregular and we begin taking shorter, shallower breaths. When you notice yourself getting more tired, remember to keep your breathing calm and even. Feeling out of breath isn't a bad thing—it often means that your body and lungs are working, and you are getting stronger! Be patient, your lungs should get in better shape with time and regular training.
If you don't notice improvement with your breathing after a few days, consider talking with your doctor—you may need an inhaler to help with lung strength. Even some of the fastest runners and Olympians use inhalers on occasion!
Related: Keep Your Laces Tied
Dixie Magic
Suffering from chronic shin splints? Runner's knee? Aching Achilles? Fill up a few small Dixie cups with water and put them in the freezer until frozen solid. After a run, pull one out and peel away the top rim of the cup, exposing the ice. Rub the ice on the sore area for 10 minutes.
Have a question for Coach Kigar? Email editorial@womensrunnning.com or tweet @womensrunning with the hashtag #AskACoach.