Are You Overtrained?
Are you a workout away from an overtraining injury?
Heading out the door? Read this article on the new Outside+ app available now on iOS devices for members! Download the app.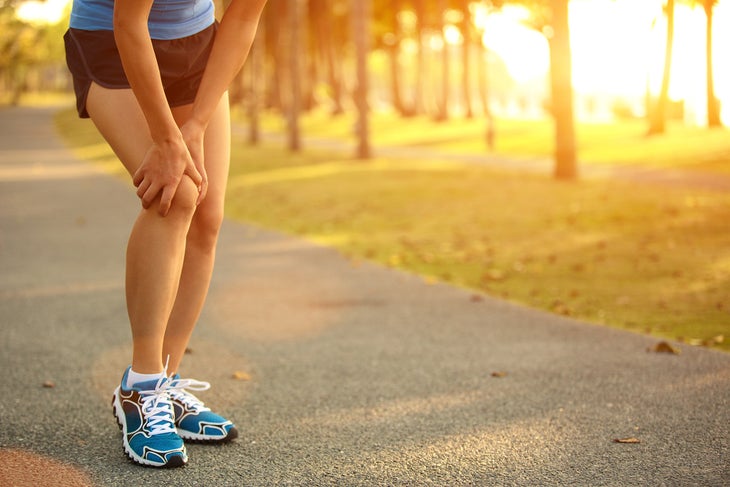 "There's a thin line between training and overtraining," says Steve Magness, cross-country coach at the University of Houston and author of The Science of Running. "We want to stay on the right side of the line, where we are pushing hard but are still able to bounce back and recover." How do you know if you're on the brink of a breakdown—or simply having a bad day? Check out our guide to spotting red flags to stay off the ledge and on the trails.
RED FLAG #1:  "Why am I so tired?"
It's perfectly normal to be fatigued after a hard workout, but if that feeling lingers for several days, your chances of injury rise exponentially. In the initial stages of overtraining, sluggishness, moodiness and lethargy are your body's way of telling you something's up. Rest!
RED FLAG #2: "Hmm…that feels odd."
Overtraining injuries don't happen overnight, but runners are good at ignoring their symptoms, according to Dr. David Geier, an orthopedic surgeon and sports medicine specialist in Charleston, S.C. "A runner usually notices a small pain in a single location that comes on early in a run," says Geier. "She should pay attention to this pain and not try to train through it."
RED FLAG #3: "It hurts when I'm not even running."
"With training we might get general soreness that's kind of diffuse. With actual injuries, it becomes pinpointed to an area," says Magness. "If symptoms persist and almost become the new normal, then we have an issue." Often, rest, low-intensity exercise (like swimming or yoga) and recovery treatments, such as ice or massage, can put a runner back on the right track, says Geier. If rest fails to resolve the pain, or if the pain increases, it can be a good idea to see a doctor.
Related: 5 Injury Prevention Strategies For New Runners
HAVE THESE SYMPTOMS? YOU'VE OVERTRAINED.
If it feels like…pain in the back of the thigh with explosive movements (sprinting, jumping).
It could be…a hamstring strain. Your hamstrings are fairly elastic, but they need to get extra stretchy before training. Repeated running without proper warm-up is a no-no.
Doctor's orders: Ice, ice, baby! Most hamstring strains heal on their own with time and rest, but ice can speed up the process by decreasing inflammation. When you're back in action, warm up before every run with active stretching.
If it feels like…pain in front of the knee, especially while going up and down stairs or running hills.
It could be…patellofemoral pain syndrome, also known as "runner's knee." Every time you bend your knee, the patella (kneecap) glides. When the bones in your leg are not lined up ideally, abnormal tracking can lead to accelerated wear between bones.
Doctor's orders: For mild cases, taping or a brace can help keep the patella in line. More severe cases require exercises from a physical therapist to help prevent the knee from collapsing inward.
If it feels like…a snapping sensation on the outside of the knee.
It could be…iliotibial (IT) band syndrome, a catchall name for inflammation in the tissue running from your hip to your knee.
Doctor's orders: IT band syndrome can be caused by a lot of things, such as weak hip muscles and poor running form and can be as easy to fix as foam rolling or starting a strength-training regimen. Consult with a specialist to pinpoint the cause, so you'll make the right steps to keep symptoms from returning.
Related: 4 Exercises To Prevent Knee Pain
If it feels like…pain on the bottom of the foot, especially when you step out of bed in the morning.
It could be…plantar fasciitis, typically caused by fallen arches. Without good arch support, the connective tissue at the bottom of your foot can become overloaded when you run.
Doctor's orders: Though painful, plantar fasciitis can be managed well with rest, stretching and a change in footwear. Consult a doctor or physical therapist for the best shoes or inserts for you.
If it feels like…pain in a specific location, like the top of the foot, that comes on earlier in a run and doesn't go away.
It could be…a tiny crack in the surface of the bone, known as a stress fracture. According to Geier, females are thought to be more prone to stress fractures due to lower bone density.
Doctor's orders: Stop what you're doing and get to your doctor, NOW! Continuing to run (or, in some cases, even walk) on a stress fracture can cause it to progress into a true bone fracture, requiring casts, crutches and even surgery.