6 Modifications To Make Strength Workouts Low-Impact
These tips could help injured runners, beginners, and pregnant women stay in shape.
Heading out the door? Read this article on the new Outside+ app available now on iOS devices for members! Download the app.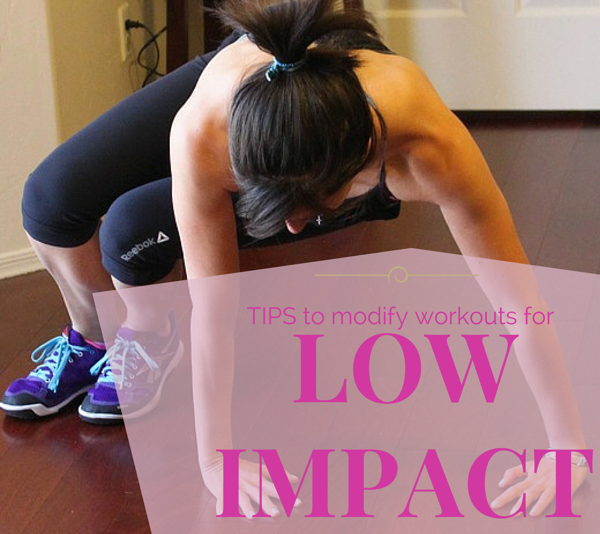 *Courtesy of The Fitnessista
I get a lot of questions about how to modify workouts to make them low impact, especially from friends who are recovering from an injury, women who are pregnant and don't feel comfortable with jumping, or those who just want to avoid jumping/impact in general. When I taught at a resort, we would take turns assisting the aerobics, bootcamps and dance classes. One instructor would lead the class, while the assistant was in front to demonstrate the low-impact variations of the movements. By doing this for over a year, I got pretty good at intuitively knowing how to modify a variety of workouts, and in turn, I think it made me a stronger instructor.
Here are some of the things that can decrease the impact of beloved exercises without taking down the intensity:
1) Decrease the range of motion. Usually that will be enough to decrease the impact from the exercise. This is also critical if you are a true beginner or if you're recovering from an injury and getting back in the swing of things. Start with small movements and build up from there.
2) Keep at least one foot on the floor. If you want to change up a traditional jumping movement, keep one foot on the floor at all times. An example of this is frog or tuck jumps. I exhale and bring one knee to my chest (instead of jumping to bring up both), or substitute with regular ol' squats instead.
3) Break the exercise up into separate pieces. For jumping exercises, try to segment the movements. For plank jumps, instead of hopping each foot out and in, walk each foot out and in. Only one foot is moving at a time and the other remains on the floor.
4) Move your arms! By raising your arms above your head, your heart rate will increase. If you're keeping the moves low-impact, try to think of some ways to add in controlled arm movements to increase your calorie burn.
5) Instead of jumping, rise up onto your toes. I especially love this one for vertical jumps. Come down into a squat and rise up onto your toes, reaching your arms towards the ceiling. Move as quickly and efficiently as possible. Bonus: you get in an extra calf workout.
6) Try a workout with minima or nonexistent joint pounding, like yoga, Pilates, swimming or spinning. If you're trying to minimize impact, these are all generally safe options. I find that when I'm forced to take things down a notch (either through injury or pregnancy), I find new workouts. It encourages me to step out of my comfort zone.
An ideal workout is one you look forward to, one that will challenge you, and one that leaves your body feeling energized and occasionally pleasantly (not painfully) sore. Usually I LOVE higher impact workouts, especially plyometrics, but am trying to minimize jumping right now; it doesn't feel quite right with the pregnant belly. I've also found that lower impact variations have called to me because they make my body feel so good.
How do you feel about high-impact workouts? Do they feel awesome to you, or do you try to avoid it?