Why Runners Should Try Probiotics
If you're on the fence—or just totally confused—about probiotics, here's some reasons to get "pro" about them.
Heading out the door? Read this article on the new Outside+ app available now on iOS devices for members! Download the app.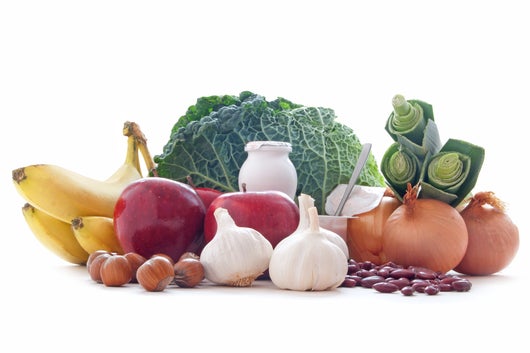 If you are deep into marathon training but a summer cold has you down, your gut could be too blame. While making you a stronger athlete, big exercise efforts like a long run or race tax your system, and a taxed system has reduced immunity. But that's not an excuse to sit on the couch! Getting plenty of sleep, staying hydrated and eating a healthy diet will help.
The other important aspect is gut health—surprisingly 70 to 80 percent of the immune system is in the digestive system. The above factors will help maintain digestive system balance, but adding a daily probiotic supplement (also known as "good bacteria," or live bacteria and yeasts that help with digestion, absorption of nutrients and fighting off bad bacteria) to your daily regimen could be the secret to staying healthy. In a study about the effects of probiotics on elite distance runners published by the British Journal of Sports Medicine in 2010, the runners who took probiotics experienced fewer days (less than half) and less severe symptoms of respiratory illness than the athletes taking a placebo.
Yes, you can get probiotics from eating fermented food, such as sauerkraut, kombucha and keifer. And they are certainly important aspects to a healthy diet. But a supplement provides a more reliable dose.
If you've investigated the supplement aisle of your local health foot store, you already know there are lots and lots of options. Use these 10 tips to help make the best selection for you.
1. Work with a registered dietician to determine what probiotic strains you should incorporate into your diet. Two common strains are Lactobacillus or Bifidobacterium.
2. It's important to research different brands to make sure they contain ingredients as advertised. LabDoor is a good place to start for information about supplements. After checking out their probiotic list, I discovered that one of the probiotics in my fridge earned an A, the other an F—yikes!
3. Which number? Our guts have 30-40 strains of probiotics, so choose a type with multiple strains that make sense for you. Also look for brands with one to 10 billion, or more, CFU (colony forming units) per dose. Generally look for something from one to five CFU for maintenance, but up to 10 if you are taking antibiotics or fighting off an illness. Again, a registered dietician will be able to help with dosing.
4. Keep it fresh. Probiotics can lose potency over time. Packaging will include the date they were packaged. Be sure to buy one packaged as recently as possible and use by the expiration date. Look for brands that are "viable through end of shelf life," meaning they'll still be effective when you take them.
5. Buy in powder, liquid or capsule form, depending upon which you are most likely to take and which is most convenient for you.
6. Refrigerate if you can. Some products come refrigerated, others don't. Follow package guidelines, and, when you can, store in the refrigerator to help extend shelf life.
7. Take it daily. Popping your probiotic just after a hard effort or when you are feeling sick is a start, but taking it daily will have more and consistent benefit. According to some recent studies and doctors, taking a daily probiotic is more beneficial than dutifully taking a daily vitamin.
8. Try taking it on an empty stomach. It works in your digestive tract, so taking it on an empty stomach means it can get to its intended destination sooner than if food is added to the mix. Realistically, take it whenever you can.
9. Make sure you have prebiotics in your diet—basically fiber from fruits, vegetables, grains or legumes—to help kick probiotics into gear.
10. Or, you can make it easy on yourself and try Sound Probiotics created by athletes (including one who is a doctor) for athletes. They include probiotic strains proven to work for athletes and even include a prebiotic.