It Turns Out You Can Run From Your Problems–At Least Temporarily
One runner explains why she chooses to "run away" from her problems–and why that can actually be a good thing.
Heading out the door? Read this article on the new Outside+ app available now on iOS devices for members! Download the app.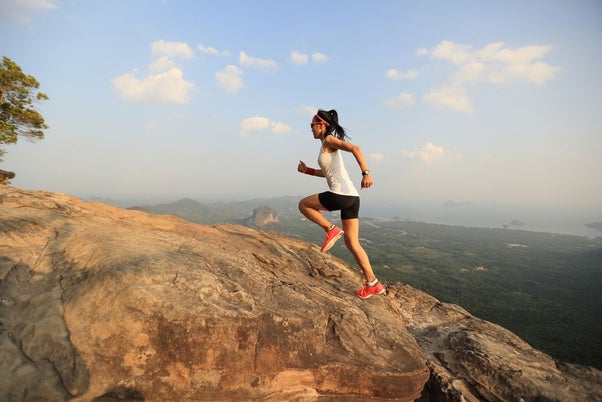 Remembering James Fixx
Does anybody remember the 1977 bestseller The Complete Book of Running? Great book. The cover was a picture of the author's bare legs topped off by a pair of red running shorts. When he wrote it, James Fixx had a story to tell about his journey from an overweight couch potato to a confirmed running junkie. His message was clear: Barring very few physical considerations, you too could become a "runner." I read his book in the early '80s and there remain a couple of odd tidbits that cling to the cobwebs of my brain even today. For one thing, Fixx claimed that, while perspiration produced by sedentary folks was stinky, the sweat generated during running was "virtually odorless." "So, go ahead," he encouraged the corporate masses, "Take that run during your lunch hour, skip the shower, and suit back up!" Eeeeww.
Related: Real Runners: I Finally Discovered The Runner's High
Proud To Be A Runner
In spite of the elitist mentality that some runners have, I am happy to be counted among those who love to run. There's a part of me that completely understands the mania of it, the unadulterated compulsion to hit the pavement. I've been a runner for the better part of 30 years. My Sauconys are the first thing I pack when I go on a trip. I have run on boiling hot asphalt and cool early morning beach sand. I have made running playlists on my iPod to help me escape the monotony of the treadmill, and I've had near-spiritual experiences while running trails through the woods in autumn. I have, as Fixx promised I would, found it easier to breathe while running in the rain because of the higher nitrogen content in the air.
Here's a little insight for those of you who think us runners are nuts: Only non-runners see people jogging and think the practice is about weight management or getting a bit of exercise. "Real" runners know the truth, and we can spin it a thousand positive ways…but it pretty much comes down to those whacky madcap twins: addiction and obsession.
I recently posted a Facebook status that was essentially a long moan about how much I needed a good run in that moment. An old high school friend who was sidelined with an injury commiserated with me, saying that she literally cried when she drove past people that were running. God, I so got that. I was really glad she said it, because I'd felt the same way and thought I was being melodramatic. Truth: I have never heard anyone express anything close to that kind of desperate yearning to get on the elliptical, or to (yawn) go into warrior pose at "Yoga in a Toga."
I've never run a full marathon and I have a bad case of marathon envy. I was training for a half marathon when I began experiencing pain that a MRI revealed was the cause of stems from a labral hip tear–the same tear a friend of mine had repaired. My situation is a little different, and I decided to try a different path to recovery; but I can tell you that I completely understand her choice to Just Do It. And then do it again.
The Mental Benefits Of Running
I personally prefer to run alone. Over the years I have just pounded anger, anxiety, frustration and fear right into the pavement. People have told me they've seen me (looking slightly deranged, no doubt) with my fingers flying, playing the air piano as I run–and I know it's true. If it's classical music on my iPod, I'm a featured soloist. During my runs I've carried on both sides of conversations that I wisely never ended up having, and I've composed letters I never sent. I've mulled over the day ahead and made up stories. I've cracked myself up and let myself cry. I've left the house happy and contented and come back euphoric and brimming with a sense of endless possibility. I've run to escape the bad neighborhood of my head, and returned to a place more like Easy Street.
I've prayed.
Hell, I ran when I still drank and smoked cigarettes! (And my buddy Jim told me, in a somewhat conspiratorial tone, that I could do that, too.) In my twenties I ran off hangovers and, to borrow a Charlie Sheen-ism, the "cringeable" behavior that goes with all of that.
I tell anyone who is just beginning to run that the best kept secret about running is that anyone can be a runner. Anyone. Put on a pair of sneakers and go out the door. Start with five minutes, walk, do it again. It doesn't matter where you begin; from that very first step, you are a runner. I also tell people that, in my experience, no matter how long I've run, the first mile is almost always the hardest. It takes that long to get your rhythm, for your heart rate and breathing to level off, and to feel like you are in the "zone." It's after that first mile that the magic kicks in. I don't think I've ever run far enough to "hit the wall," but the "runner's high"? Absolutely. And let me tell you: adrenaline is good stuff. What that means for me is that, fairly consistently, there's a point during my run when I get this invincible I could run forever feeling–as long as I keep running forward. But my runs are always large loops, and as I round the bend to head back, I'm reminded that you can run away from your problems–at least temporarily. Sometimes, that's all you need.
Here's another thing the running guru Fixx said (and I'm paraphrasing here): in his opinion, running is to exercise what vodka is to alcohol consumption. In other words, it's the most direct and potent means to an end. I haven't tasted vodka in a long time, but I like the analogy. Running is the most direct and potent means to an end, and the end is way more than exercise. It is, purely and simply, the best way I know to untangle thoughts, dilute toxic emotions and positively channel the overdrive nature of an obsessive personality. That's the way it works for me, and that's why I keep coming back to it.
Related:
Real Runners: How Running Contributed To My Addiction Recovery
I Became An Ultrarunner Less Than A Year After Having My Daughter