Women Against Negative Talk Founder Katie Horwitch Shares 3 Tips
Women Against Negative Talk founder Katie Horwitch offers three tips to help runners confront their negative thoughts.
Heading out the door? Read this article on the new Outside+ app available now on iOS devices for members! Download the app.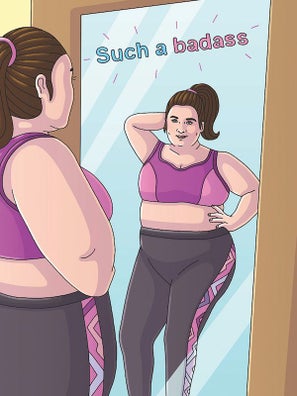 Katie Horwitch Offers 3 Tips To Try
When it comes to developing a healthy relationship with yourself, positive self-talk is key. A bit of negative self-talk is normal—we are human, after all. It's whether we choose to listen to it that makes all of the difference. Katie Horwitch, writer, speaker and founder of Women Against Negative Talk (WANT), shares a few ways to ditch those negative thoughts about your body.
Related: This Is How You Kick Negative Self Talk Out The Door
1. Ask yourself why.
Why are you feeling the way you feel? Sure, maybe it's a physical reason—but maybe you're being triggered by something else entirely. It's often just easier to place the blame on our bodies than it is to face what's really going on in our lives.
2. Remind yourself that you've felt this way before–and you made it to the other side.
Our bodies change by the minute. Literally! The more we remind ourselves that our bodies are always in flux, the easier it is to let go of the momentary discomforts and make them just that: momentary.
3. My motto when I feel uncomfortable with my body and that feeling is preventing me from going on a run, working out or even attending an event:
Think about it later; be in it now. It might sound counterintuitive, but I give myself full permission to dwell on my body hang-ups…after I've put in the work, attended the thing or have done what I needed to do. Most of the time, my negative body talk was just attempted self-sabotage. So once the work is done or the thing is over, there's nothing left to sabotage. I'm not a fan of procrastination—but this is a form I'll highly endorse!
Related:
Get Tough With These 5 Mental Race Strategies
Actress Lyndie Greenwood On Busting Negative Self-Talk (And More)