How Collagen and Vitamin C Work Together to Make Our Bodies Stronger
Plus, how to produce more collagen naturally.
Heading out the door? Read this article on the new Outside+ app available now on iOS devices for members! Download the app.
A couple of years ago, the fitness industry caught the collagen craze similar to the way the cosmetics industries latched onto the compound starting in the 1980's. "Recently we've seen collagen popcorn. There's collagen added to bars. There's collagen in everything, like it's the magic cure-all," said Dana Lis, director of performance and nutrition at University of California, Davis, in a recent talk she gave at the Food and Nutrition Conference and Expo (FNCE). "I would definitely challenge that in a lot of areas." 
Chances are you're going to be seeing even more of these products pop up over the next few years as the collagen peptides market is projected to grow to a nearly $800 million industry by 2025. That growth is expected to be mostly attributable to sports nutrition and dietary supplement use.
Though Lis doesn't believe collagen to be a magic cure-all for athletes, recent research does find that it's something runners should pay attention to.
What is Collagen?
Collagen is a fibrous protein found in our bones and connective tissues. There are over a dozen known types of collagen, but the human body mostly utilizes just three types. Type I, alongside calcium phosphate, is used to reinforce construction in bone. Type II is used in cartilage and has a rigid construction that allows for shock absorption (something runners' knees definitely need). And type III is a major component in the structure of some of our internal organs and our skin. 
The production of collagen is a naturally occurring biological process, though there are some factors that influence it, such as nutrition and activity. 
"Your body can produce collagen on its own with the help of vitamin C, which helps support this process," says Yasi Ansari, MS, RDN, CSSD, and national media spokesperson for the Academy of Nutrition and Dietetics. 
How Does Collagen Help Runners?
Besides benefitting from the structural necessity of collagen (like the stability of our skeleton), runners can benefit from improving collagen production as a way to prevent injuries and enhance recovery. 
"The two main areas that I think practitioners are definitely using collagen supplementation would be in rehab and then also prophylactically helping to create more different injury resistant connective tissue with that fine balance of not being too stiff," says Lis. 
For runners, the potential to prevent injuries is very appealing. "According to research, consuming collagen combined with vitamin C within an hour of exercise can support tendons and ligaments," says Ansari. This kind of reinforcing support can prevent musculoskeletal injuries that could keep a runner down for weeks to months. 
For masters runners, research has shown that collagen peptides increased bone mineral density in postmenopausal women. Though the authors of the study recognize that further research is still needed to determine the optimal dosing, manufacturing process, and the most effective type of collagen peptide (bovine, porcine, marine, etc). This is really true of most of the collagen research out there. 
If you are already injured, including collagen-rich foods in your diet could speed up recovery. Because collagen protects the integrity of cartilage, some early studies have found it can reduce joint pain in athletes. It may also protect connective tissue but more research is needed for both of those claims says Ansari. 
It's also important to note that collagen can be lost due to inactivity, making tissue brittle. "At the start of [the COVID-19 pandemic], if you were one of the people who sat on your couch for the last six months, you were completely inactive, what has happened is that you've lost some of the collagen and you've gotten what are called sugar cross-links," said Keith Baar a researcher at UC Davis in the department of physiology and membrane biology in the same FNCE presentation. "The result is you have a brittle tissue and that brittle tissue is going to be much more likely to rupture. And that's why we see a lot of athletes who come back from long periods of inactivity, rupture tendons or pull muscles."
And while a lack of exercise can cause you to lose collagen, according to Baar, physical activity can triple collagen synthesis, which is why it is recommended to consume collagen-rich foods or supplements before a workout.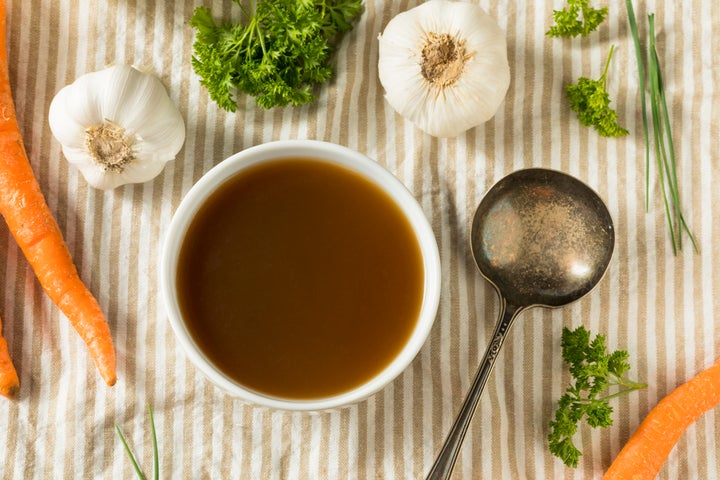 Nutrition to Support Collagen Synthesis
Collagen is naturally produced in the body, but is lost slowly as we age. Before reaching for a supplement, Ansari urges runners to consider how a balanced diet can help their bodies synthesize collagen more effectively.
Many animal and plant-based proteins can help your body produce collagen, particularly meat containing muscle and connective tissue. The collagen in those foods will be broken down into amino acids and then used to synthesize your own usable collagen. 
"Vitamin C helps increase the production of collagen and absorption within the body," says Ansari. Vitamin C is associated with hydroxyproline synthesis, which is necessary for collagen formation. Copper is also an important variable in collagen synthesis. 
"When consuming protein-rich foods, make sure to focus on getting enough vitamin C and copper from [your] diet," says Ansari. This includes eating things like beef, eggs, chicken, fish, bone broth, or soy products paired with oranges, bell peppers, strawberries, tomatoes, beans, lentils, and seeds. 
Do you need a collagen supplement?
Supplemental collagen is widely available in the form of pills, powders, bars, and drinks. 
Ansari recommends eating foods that support collagen production before turning to a supplement. But if you do decide to supplement collagen, follow these tips:
Choose products with minimal ingredients.

Choose collagen peptides or hydrolyzed collagen, which are easier for the body to absorb.

Look for third-party testing to verify quality.

NSF International

has a thorough, searchable database of certified supplements to make choosing a product easy. 

Choose products that also contain vitamin C. 
"Collagen supplements may not negatively affect an athlete," says Ansari, "but when possible getting foods that help increase collagen production is always recommended." 
Collagen seems to be an example of where consumer-demand is moving faster than science can keep up. But that is also encouraging researchers to pursue it more, which means we can definitely expect to learn more about collagen in the coming years.