This Happens To Runners During Every Training Cycle
Don't stress—tough long runs happen to all of us in training.
Heading out the door? Read this article on the new Outside+ app available now on iOS devices for members! Download the app.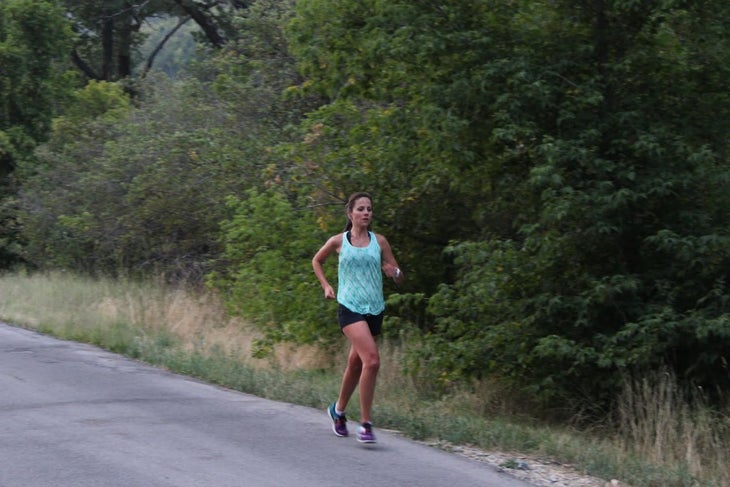 During marathon training, the same thing happens to me every cycle. I have a few miles left to do on one of my long runs and I start to struggle. My brain starts to think about how in the world I am going to be able to hit my marathon goal paces on race day when I am struggling this much on a long run. Because I am not feeling so hot during that long run, I question how I will go longer and faster in just a few weeks on race day.
Then I remember that this happens to me each time I train for a marathon. I remember that on race day I have some huge things to look forward to that will help me to reach my potential. I know I will feel a lot better compared to some of my training runs! Here are a few things to remember if this happens to you.
I go into long runs tired from a week of training hard, but I go into race day rested up and recovered. The taper is genius. It gives us 1 to 3 weeks (or whatever works best for your body) to build back up after weeks and weeks of hard work. The taper allows our bodies to repair themselves a bit after weeks of higher mileage and intensity. During the taper, our runs get shorter and our recoveries in between any of the 'hard' workouts get longer. We focus especially on getting our bodies in tip-top shape for race day. I always force myself to bed earlier during the taper, which makes all the difference for me on race day when I show up to the starting line well rested.
The adrenaline. All of the excitement of race day gives me extra energy compared to my training runs. The race turns into a celebration of all of the hard work you've put in over the months. The excitement of race day helps my legs to move faster and go further without getting tired.  It is great.
I am surrounded by thousands of other runners doing the same thing. For me, there is strength in being surrounded by other runners charging up the same hills and ticking away the miles as we plug along the race course. My long runs have been done all on my own. On race day when all of those other runners are doing the same thing as me, I will feel better when it gets tough.
The carb-loading. You have to play around with what works best for you. But during my own race week, I up my carbs and lean proteins. It could be the placebo effect or it could be that the extra carbs leading up to the race really do help me to feel extra energized on race day. Whatever it is, I'll keep doing it because it works for me.
All of the course support and cheering along the way. Remember that on race day you are going to have people handing you water/gatorade all along the course. The aid stations seem to pop up exactly when I need them on race day. Having people there with signs and smiles cheering us along translates to me feeling a heck of a lot better than I do on a dark road all by myself on a random Saturday morning.
Loved ones along the course and/or at the finish line. Seeing my favorite people at a race helps me to stay positive and for my legs to keep doing their thing.
Visualizing the race. During the final two weeks of training, I spend a lot of time visualizing success on race day. I imagine crossing the finish line in the time I am shooting for. I picture myself staying strong mentally and physically during the hard parts of the race. What we expect to happen is much more likely to happen. If we expect/visualize good things to come on race day, then chances are good things are more likely to happen. The same goes if we are thinking negatively about our race/ourselves—we probably won't preform to our potential.
If you are stressed about your long runs not feeling like rainbows and butterflies, don't stress out too much about race day. If you are training and recovering properly, there are a few factors that come along on race day that will help you feel like a million bucks. At least if you keep telling yourself you feel like a million bucks, you can kind of trick yourself into feeling that way.
Also, these factors do not apply to every race… just most of the time for me. Some days are just tough running days and that is okay. I am sure your next race will go much more smoothly.
More from Hungry Runner Girl
The Best Emotion Running Can Teach You