The Art Of Moderation
Instead of "all or nothing" it's important to allow moderation into your diet.
Heading out the door? Read this article on the new Outside+ app available now on iOS devices for members! Download the app.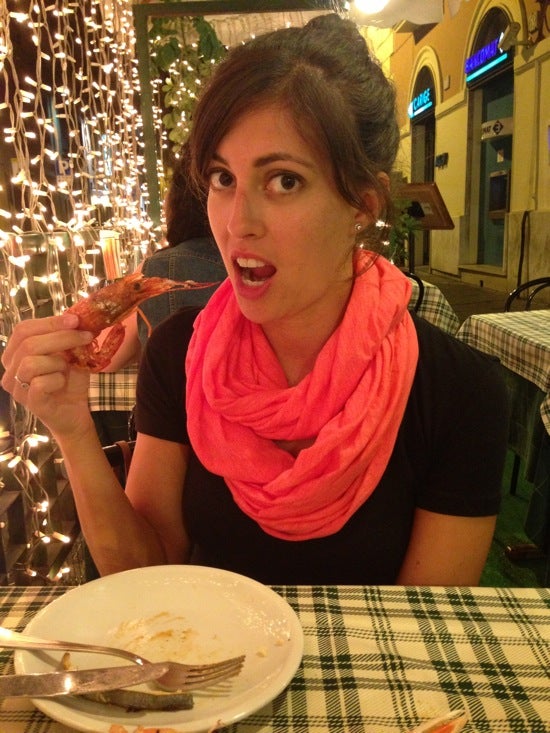 *Courtesy of Fitnessista.com
When it came to changing my health and fitness, I thought it had to be all or nothing or I wouldn't succeed. I also felt this way because it's what I would read in many of the diet and health literature I surrounded myself with. There were talks of out-exercising a brownie with a hard run, stringent eating plans, and foods to avoid with an ominous red "X" marked on them. While I did achieve my fitness and weight loss goals, it sometimes affected how I felt about some of my once-favorite foods. Sure, I never felt hungry, and overall I was eating healthier, but I missed out on some of the things I truly enjoyed. I remember eating my sugar-free Fudgesicles while I longed for the real thing. (This was also when I ate far more processed food—lots of diet, low-cal, low-fat and low-carb.)
Instead I began to enjoy little bits of treats here and there to keep me more even-keeled. I found that I could eat all things in moderation because I actually enjoyed the way I felt when I ate healthy (and still enjoy the way I felt after a treat here and there). It does take a little bit of discipline. I try to focus on my fitness goals to avoid too many treats, but if you have a few more than you wanted to, don't sweat it!
Related: 5 Great Yoga Poses For Tight Hips
Some of the things I learned about moderation:
When you allow yourself to enjoy everything, it's instant portion control. What makes something more desirable? Telling yourself you can't have it.
Eat what you love. It's easy for me to pass up on store-bought treats like packaged cookies and chips. When it's something that's homemade, or something I've never had, it's worth it for me.
Eat what makes you feel good. I think we all would love to eat brownies, nachos and donuts all day… but we'd feel lethargic and like crawling into a food coma afterwards. I learned that eating a variety of clean and nutrient-dense foods energizes me, but sometimes nothing will do the trick like a serving of gooey chocolate cake. It really is a matter of finding that balance of food that enables your body to thrive, and food that just tastes really dang delicious.
For for a "grand scheme of things" approach. Aim to eat whole, non-processed foods most of the time, but give yourself room to enjoy the other foods you really love. Nutrient-dense foods will make you feel better (more energy, better digestion, more satisfying), but sometimes you'll be craving something entirely different. That's ok. Eat it, don't go crazy pants on the serving size, and enjoy it. It's much easier to stay mindful and enjoy your food if you're not thinking "I haven't had this in so long. Must eat as much as I can as quickly as possible." If you make it no big deal, it will be no big deal. It will not have a negative impact on your goals.
Related: Getting Out Of The Comparison Trap
Did it take a while for you to learn moderation, or is it something that's always come naturally to you?
What was a turning point or something that influenced your health or fitness journey?