Alarming Statistics About Runner Safety And How To Stay Safer
We all want to feel safe out there—how are some tips on how to do that.
Heading out the door? Read this article on the new Outside+ app available now on iOS devices for members! Download the app.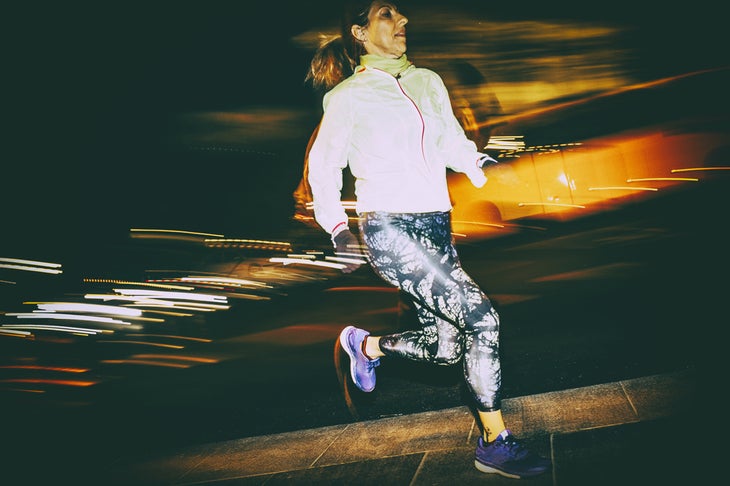 More than one third of Americans say they're "on edge" when exercising outdoors alone, and the time change doesn't make them feel safer. In fact, this time of year comes with an increase in violent crimes, which ultimately prompts a significant change in outdoor behavior, according to a new study by Wearsafe Labs, a leading developer of advanced wearable safety products.
Here's a look at the results of the study, which polled 1,000 people across the United States last month.
Related: 6 Important Safety Tips For Your Next Run
34% feel afraid running, biking, walking or hiking alone outdoors
The study's participants were asked how often they feel afraid when they're running, biking, walking or hiking alone outdoors. One-third of the respondents say they were fearful either sometimes or all the time. Another third report never feeling fear when alone outdoors, while 37 percent claim feeling threatened only rarely.
All respondents change their routine with the onset of winter
As winter approaches, the respondents say that fewer hours of light has a direct impact on their routine, with 60 percent curtailing outdoor activity or limiting it to daylight hours. Another 33 percent say they will switch to indoor activities, while 34 percent of those take some added precaution such as a wearable safety item that contacts help when activated or deterrent such as pepper spray. Eleven percent of those surveyed say they work out less when there are fewer hours of daylight.
"More and more people are opting for preventive safety measures when out alone, says former Secret Service agent and security expert Rich Staropoli. "Making smart changes to your routine to help stay safe is consistent with law enforcement 'best practices,' and we particularly encourage people to re-examine their activity when it starts to get dark earlier."
Nearly a quarter claim greater fear when hearing of assaults
With the high number of runner assault cases recently reported, 22 percent say their fear has "greatly" increased, while 50 percent report being "somewhat" more anxious about violent crime. Yet that fear isn't universal; 28 percent say they don't feel more afraid when hearing about crime.
40% feel safety is "greatly" increased when outdoors with others
Another 45 percent of respondents feel "somewhat" safer when they're with at least one other person, while 11 percent feel their safety increased "very little" with others around. "Group activity is always preferred, but it shouldn't be thought of as a guarantee against any potentially threatening situation," said Staropoli. "And with less daylight hours, we simply encourage people to spend as much time as they like outdoors but take protective measures to safeguard themselves."
Dave Benoit, co-founder of Wearsafe adds, "The combination of greater awareness of surroundings and knowledge of potential threats will help keep people enjoying outdoor pursuits with greater peace of mind throughout the year."
Staropoli has additional suggestions to stay safe outside all year long:
Stay in the spotlight. When out after dark, walking with a flashlight or the light from your phone is an excellent deterrent to a would-be assailant. Any additional light in your surroundings or on your person is always helpful.
Travel on routes you know are safe. Use sound judgement and avoid taking risks with new running or bike paths unless you've thoroughly checked them out. Some towns offer lists with vetted trails to help you choose the safest courses.
Don't let a smartphone give you a false sense of security. By all means, don't go out without it, but if you are in an urgent situation, you may not be able to access your phone quickly, unlock it, call for help and wait for a response. To avoid wasting precious minutes fumbling for your phone, opt for a discreet wearable device instead.
Make sure you're aware of where/when your friends are outdoor exercising. When you're not running together, make sure your friends have told you the route they're taking and how long they should be gone. Importantly, offer to be in your friend's Wearsafe network if they are running alone.