Mile Posts: Life Is Short – Give Thanks Daily
Dorothy reflects on why running makes her feel thankful.
Heading out the door? Read this article on the new Outside+ app available now on iOS devices for members! Download the app.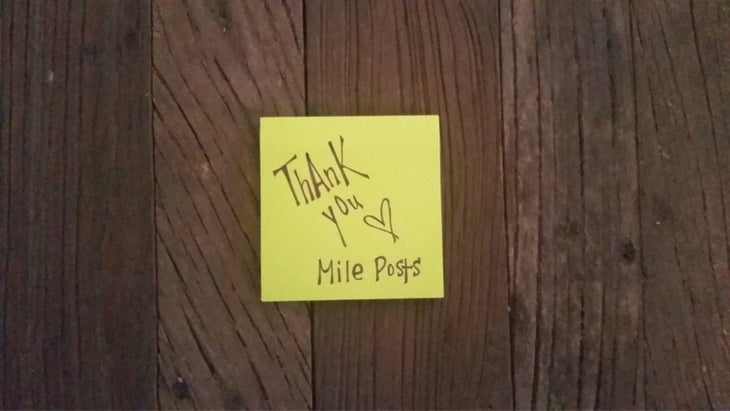 I have had the great fortune in life to find a passion that not only is something I enjoy as a hobby, but one that has also lead to what I do professionally. Running has given me life in my life. There isn't much I don't love about the sport, from the people and the places, to the running and the races.
They say you never work a day in your life if you love what you do. For the past ten years I'd say that has been true for me. Running is something I do for fitness, for fun, as my hobby, when I want to volunteer and as a way to make an income. I get so much more out of the sport of running than I put in. For that I am crazy thankful.
As I get older, I realize more and more that moments are fleeting. Often times we don't get a second chance to say thank you. Thank you's come from a place of being thankful, a feeling that can hit us in a moment or later on.
In 2010 I ran a small local marathon, and won. (I will re-emphasize it was a small local marathon. I'm an every day average girl and my time, though fast for me, was not crazy fast). Because of the way the course was set up and that they had an early start for slower runners, I had no clue I was in first place until I saw them raising the tape for me to break. I had gone to that marathon alone, with no family or friends there to cheer me on or meet me at the finish. I crossed the finish line, fighting off the emotions that were about to overtake me. Then I burst into tears as I walked through the finish chute. I started to slump over and really cry, as it struck me that all of the hours I had spent training that year and the years leading up to that moment had given me a 10 minute PR and a marathon win?! Did I win? A volunteer came over to me and looked me in the eye and said "You did it girl. You won. You really did it." She gave me the type of hug only a mother gives a daughter. It was full of love. A child sat there looking at me with a concerned face, and the volunteer said, "It's okay sweetie. These are happy tears. She is happy she won." I stumbled to the side crying. The woman walked over to me again. I asked "Did I really win? Was I the first woman?" She said "Yes yes. You won girl! You won. The other women in front of you were early starters." She hugged me again.
When I reflect back on the race, the thing I am most thankful for is not my PR or the win. I am thankful for that volunteer. I do not know her name. I didn't see her again after the race, so I never got a chance to thank her for that hug that meant so much to me. I wish I could write her a letter and tell her that over 4 years later, I still think about that hug and smile. I want to thank her for squeezing my sweaty body tight and making that moment even more special than it already was.
Life is short. Run long. Give thanks daily.