My Overweight Mom Didn't Give Me Body Image Issues—Becoming An Athlete Did
One runner doesn't blame her mom for her body-image issues—she blames being an athlete.
Heading out the door? Read this article on the new Outside+ app available now on iOS devices for members! Download the app.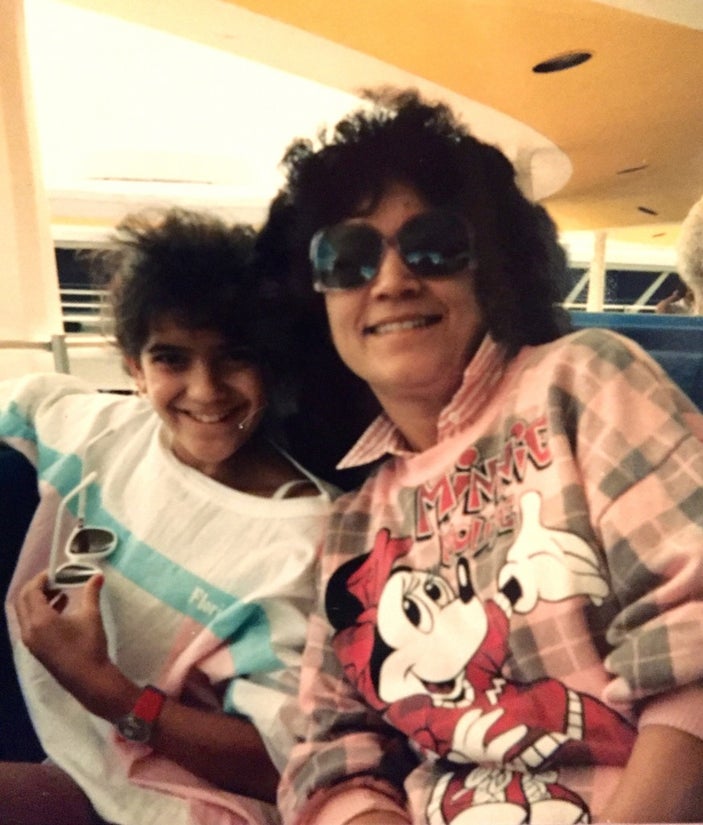 Growing up I knew my mom was fat. There is no other way to put it and trust me, she wouldn't mind the boldness of the statement. She didn't hide her disdain for her weight nor did she ever stop trying to sweat it off with Richard Simmons, Jane Fonda or anyone else yelling from our television with bad hair and worse outfits.
This was the 80's, and there was no social media, no internet and nary a smug mom blog telling my main female influence that she should not be grabbing her belly and saying, "Ugh, this is so disgusting" in front of her very impressionable young daughter.
Despite growing up hearing my mom bash her body on an almost endless loop, it is such a small part of what was forever ingrained into my memories of her. She was strong willed, smart, confident and had an unconditional fierce love for my brother and me. Her only regret was not being able to see us grow up, which were almost her exact words to me, after she was diagnosed with terminal ovarian cancer in 1989.
Related: Everyone Loves This Powerful Body Image Video
She died in 1997 and, of course, I was devastated. I struggled to hold onto the most important parts of her and most of all, to have a healthy body that could never be claimed by cancer. Of course, healthy people are diagnosed every day but, in my quest for health, I found something I never thought I would—body-image issues.
I discovered athletics at a young age. By the time I was in third grade I had competed in state level competitions for gymnastics and, most of the time, came home with podium finishes. I ran track and was on the dance team in high school, started mountain biking and other cycling sports in college and, at the ripe old age of 25, I started running.
Running for fun turned into passionate competition. After my twin sons were born I branched out into triathlon and all that time I felt like I was living out a legacy for my mom, doing what she could never do—be healthy and fit and have so much fun doing it. Then, in 2012, I qualified for the national championships in duathlon.
Related: 7 Unhealthy Habits Of Healthy People
Doing well at nationals meant securing a spot on Team USA and going on to the world championship. To adequately prepare, I hired a coach, I got very serious about my training and started to scrutinize my diet. To be very clear, none of this came from my coach. She gave, and continues to give me, excellent training regimens, zero diet advice and, has never once questioned my weight. I started doing this to myself, all by myself.
It started out small, as these things do, with the purchase of a scale. I had not weighed myself in years and, since a few people had commented that I was looking "very thin" I was curious as to what the number was. Let me tell you, if I could go back to that day, I would have never made the purchase and would have continued to just train and eat by two simple rules: eat when you're hungry, stop when you're full. Unfortunately, I started to weigh myself. Weekly. I told myself I was doing this so I would not drop too much weight but, in reality the opposite was true, I was tracking a certain number not to go above.
During that time I started becoming acutely aware of what the body type of elite runners, triathletes and duathletes looked like, and I noticed they did not look a lot like mine. My muscular upper body and arms that I worked hard to sculpt and was so proud of, suddenly became something to shed because muscle equals weight and weight equals slower times.
So my battle to chase a number on a scale began. It had nothing to do with being thin. I knew I was thin, I never once thought I looked fat or even out of shape. The only question I would ask myself is, "Do I have the body to win?" It was all about being competitive and beating myself, besting my last time, chasing personal records and being better, faster, stronger and leaner than last time.
I started fueling my body to be a machine. I cut out pretty much all desserts and even refused birthday cake on a few occasions.
Related: You Can Fuel On The Trail Like A Pro
I would stand in front of the mirror and pick my body apart with my eyes and mind—too much here, not enough there, and OMG I may as well just give up on that—rolling my eyes and walking away thinking I could do better next week.
It was a struggle. It made me crazy and started sucking the fun out of all my training and competing. Instead of tuning in to how my body really felt and how it was responding to training, all I cared about was what the number on the scale would show. If it was the "right" number, I was instantly happy but, if it was not, it would ruin my day and possibly my week.
As soon as the world championships were over, I ended it. I stopped weighing myself, I went back to eating when I was hungry and stopping when I was full. I had birthday cake even when it wasn't anyone's birthday and I started loving my image in the mirror.
Two years later I can say that I just don't weigh myself that often and, when I do, whatever the number is I leave it at that—just a number. I'm completely in tune with my body and know I need to eat (and eat a lot) to fuel my training. Dieting and hard training should never be done at the same time. My body does so much for me and I want to show it the love and respect it deserves.
These are the lessons I learned for myself and all by myself. Throughout this time plenty of people had advice, comments or made assumptions about what I was doing, including family members, but none of it seemed to matter. This was something I had to go though, to learn by doing and to correct it.
I know that so many moms these days struggle with sending their daughters the right message about body image, and I want to let them know that they may be putting too much unnecessary pressure on themselves. As a mom myself, I think it's far more important to set a good (but not perfect) example, to be honest about your feelings and your struggles and just love your kids for who they are and love yourself for being their mom, no matter your body type.