8 Tips To Take The Fear Out Of Speedwork
Speedwork can seem tough and scary, but it doesn't have to be. Plus it will make you FAST!
Heading out the door? Read this article on the new Outside+ app available now on iOS devices for members! Download the app.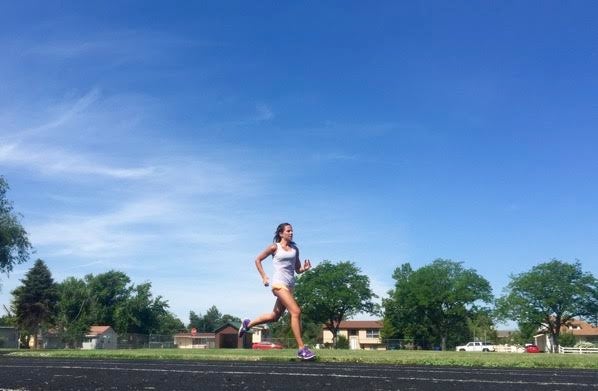 I'm back in training mode again for my upcoming fall marathon. That means that speed work is back in my life again.
Speed work is hard for me. My muscles scream at me to slow down. My heart beats way too fast. My brain tells me that it is time to quit and go get an ice cream cone half-way through the workout. But I do it anyways. I do it because I want to reach my goals—I know that it takes running fast to be fast on race day. I do it because I feel hardcore after I finish and those post-track/tempo endorphins are kind of the best. I keep coming back for more speed work because deep down I crave that feeling of pushing myself far beyond my comfort levels in a workout.
Speed work is work. It's not supposed to feel like rainbows and sunshine. But putting in all of the hard work at the track or on the streets is definitely worth it if you are looking to improve your running times.
Here are some tips for getting through your speed work.
Choose faster music for your speed workout playlists. A fast song makes me want to move fast. I can't help it. If a beat is quick, then I want to move quickly. I use Garage Band on my computer to speed up my favorite songs to match my goal pace. Try out Spotify Running because it detects your tempo as you are running and matches songs to your speed!
Stay in the mile or repeat. What good will come from thinking about how many more miles/repeats you have to do? Nothing. Focus on where you are at the moment and work hard to stay on pace for the part you are doing. Think about the next portion of your speed workout when you are doing the next one. Constantly thinking that there is no way you will be able to do more 800s is most definitely going to slow you down. Check one off at a time and next thing you know it, you will be done and enjoying that post speed workout high.
Related: 9 Tips For First Time Marathoners
Go with people. It doesn't matter if they are faster or slower. Just knowing that one of my running buddies is also on the track with me or .25 miles up ahead on the running path, sweating and breathing hard just like I am, helps to keep me going.
Just start. I learned this one from one of my favorite running friends. I tend to be the type of person who procrastinates a workout. I'll get to the track and talk to my friends for a while before I get going. Or I'll stand on the sidewalk for 15 minutes putting together a playlist before I actually start my workout. Lately, my friend has rubbed off on me and I start my workout as soon as possible. I don't take extra recovery time or stand around thinking about what I am going to do. Don't think about it—just start. Get to work and the workout will fly by.
Don't overanalyze your workout. Leading up to your workout (whether it be the night before or the morning of) don't worry about what you are about to do. What's the worst that could happen? You don't finish and try again tomorrow… oh well! Why spend time and energy worrying about your upcoming speed workout? Use that energy that you would spend worrying on something else, like killing your track workout. Doubting yourself and your running skills isn't going to get you anywhere! Leading up to a tough workout, visualize success because the more you think that you can do it, the more likely you are to do it.
Wear colors and shoes that make you feel fast. This may sound strange but don't knock it until you try it. I have a pair of orange shorts that I love to wear for my speed workouts because the color orange just makes me feel fast. I love brightly colored workout clothes for speed sessions because they give me an extra boost of energy. Wear running clothes for your speed workouts that are flexible and move with you. Maybe even try out a lighter pair of running shoes for your workouts, but make sure to gradually build up your speed/mileage when transitioning into a different type of shoes.
Related: 10 Changes To Improve Your Running Form
Smile. I do this in races a lot too. When I get to those last few repeats or the end of my tempo run, where things start feeling hard and I am toying around with the idea of stopping, I throw on a smile for a few seconds. It reminds me that I love running and that I GET to run.
Focus on your form. When you start getting tired and want to quit, then switch your thoughts on over to thinking about your form. Not only will it keep your mind occupied on something other than wanting to quit but it will help you to finish your workout with proper form. Think about leaning forward from the ankles without bending at the waist, run light, aim for 180 steps per minute and elongate your spin. These will all help you to power forward and feel a lot better throughout your speed workout. Running more efficiently will save energy and help you to avoid injury. Also whenever my legs get tired, I just think about pumping my arms harder. It's pretty difficult to slow your legs down when your arms are pumping fast.
Remember that you shouldn't be giving 100% in your speed workouts. Save your racing legs for race day. If we are constantly using everything that we've got in our speed workouts, we won't have much to give on race day! Push yourself but don't go all out.