6 Ways That Cycling Is Making Me A Better Runner
After buying her first road bike, one runner is learning that cycling is actually benefitting her running.
Heading out the door? Read this article on the new Outside+ app available now on iOS devices for members! Download the app.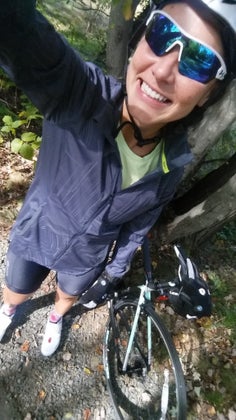 A couple of months ago, after years of talking about it, I bought a road bike. In thinking about the choices I've made this year, buying that bike was one of the best. While running will forever be my first love, the more I've tried different forms of movement, the more I've realized that I just like moving. When triathletes would tell me that running was their favorite part of a triathlon it felt confusing. If you love running the best out of the three sports you are doing, why not quit the others and just run? It took buying a bike to understand.
If you are on the fence about whether you should purchase a bike here are a couple of ways that cycling is making me a better runner.
It's making me appreciate running that much more.
When running is my only source of cardio I start to feel stale. My legs don't feel snappy and I can fall in to a rhythm of doing it just to do it and not because I'm really excited I get to go out and run. Having another form of cardio that is just as convenient for me as running is, has made me look forward to the days where I run and is lessening any feeling of I have to do this because I'm training for something.
There are no comparisons.
For the most part I have moved past comparing myself to others, but the one person I still compare myself to is my former self. Cycling has opened up a new world for me because everything is a personal best or a personal record. It reminds me of those highs I once had when I was training for speed. It's also helping me to focus on who I am right now instead of who I was or wasn't in the past.
Intervals are fun.
I've always been the type of runner that has had a hard time doing a lot of speed work each week. I rarely combine long runs with any sort of workout that pushes the pace. Cycling has given me the opportunity to add in another speed workout weekly with out the impact. It's also just plain old fun and makes me feel like I'm a kid again when I'm flying down a hill at speeds that would have scared me a month ago.
It aids in recovery.
As I get older I can feel long runs in my body more than I did when I was in my 20s. I don't spring out of bed the next day ready to run 10 miles. The bike has allowed me to workout for a longer period of time on days that I am trying to recover from running. Because it's a no impact sport (unless you are standing while riding) it gives my body a chance to flush out my legs.
It's a great workout.
Riding a bike seemed both simple and terrifying to me. While yes I knew I could ride a bike, the thought of being clipped in and traveling at high speeds had me worried I was going to injure myself and somehow mess up my running. Once I was able to overcome some massive fears and turn them in to a just slightly nervous feeling, I was able to focus on what a great workout it is. At the end of a ride I can feel core muscles I used that I'm not aware of after I finish a run!
Keeps my mind from wandering.
I'm not at that point yet with riding my bike that I can zone out the way I can with running. I have to pay attention to what I'm doing and think ahead about what I'm going to do at a street crossing up ahead. I'm paying attention the whole time. This isn't always the case with running, sometimes I can get lost in a negative thought pattern on a run because running has become second nature to me. Cycling forces me to be in the present and focus on my form, my breath and the road ahead.