4 Glute Exercises That Will Make You A Stronger Runner
Keep your glutes firing correctly with these injury-preventing exercises.
Heading out the door? Read this article on the new Outside+ app available now on iOS devices for members! Download the app.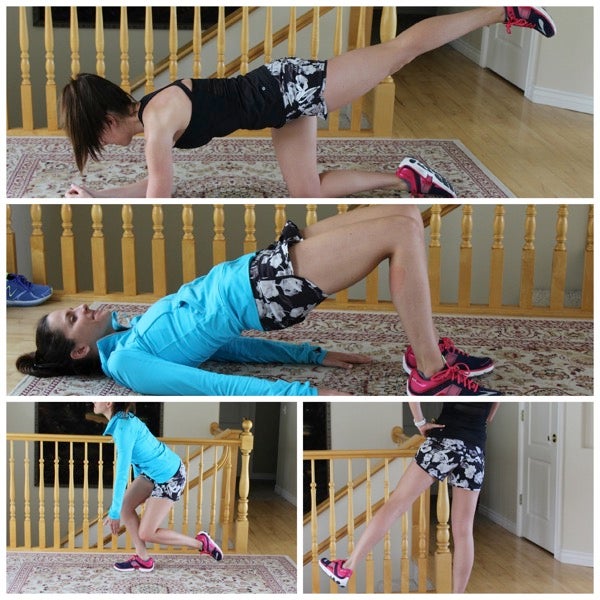 For many years I reigned as the Queen of Injuries. I had pretty much every running-related injury possible. It wasn't until I really focused on incorporating some strength training into my routine that I stopped getting so many injuries. As women, and especially after having kids, we really need to make sure we are putting in the work to strengthen our glutes, hips and core to avoid getting injured. Strengthening these major muscle groups will also help to propel forward more efficiently, maintain proper form while running and help to conquer those hills like it is nobody's business.  Added bonus—because you are strong from all of the strength training you have been doing, you can train longer and harder, which will make you a better runner.
Today let's focus on our glutes. There are so many different injuries directly associated with weak glutes, such as shin splints, runner's knee, IT Band problems and Achilles tendinitis! If our glutes aren't firing properly while we run, our other muscles (like hamstrings, quadriceps and calves) have to take over and compensate. This can cause all sorts of different problems.
I have four moves that I love to do a few times a week to help strengthen my glutes! The best part about these moves is that you can do them anywhere and you don't need any weights! I like to do each move 15 times in a row (and then switch legs if applicable), followed by a 30 second rest and then repeat that sequence again 3-4 times depending on the move. In short— 15 reps for 3 sets with a 30 second break in between each set.
Related: All The Little Things That Help Your Running
Leg lifts
While your elbows and right knee are on the ground, lift your left leg until it is parallel with the ground. This is your starting position. Lift your left leg up about 6-12 inches while keeping it straight and then return to your starting position. I also love to do donkey kicks while I am in this position. Just make a 90 degree angle with your leg and lift your leg up 6-12 inches while keeping your knee bent.
Bridge
Lie flat on the ground with your hands by your sides and your knees bent. Pushing up mainly with your heels, keep your back straight and raise your hips up off of the floor. Hold there at the top for a few seconds and then go back to where you started and repeat. For an added bonus, try this exercise with only one foot on the ground at a time!
One-legged squat
Start with your feet hip-width apart. Start to bend your right knee as your left leg starts to go behind you. Squat down with your right leg and then hinge at your hips to touch the ground. Raise back up slowly and bring your left knee up so that your left thigh is parallel to the ground. Repeat and then switch to squatting down with your left leg.
Related: 10 Changes To Improve Your Running Form
Leg raise to the side
Stand on one leg with your knee slightly bent and the other leg just a few inches off of the ground. Raise that leg that is a few inches off of the ground to the side as high as you can while keeping your back straight. I usually go up to about a 45 degree angle. Return that leg back to the starting position and repeat.
Now let's all get those glutes of ours strong and firing properly to help us with our running!
Get the latest in training, gear, nutrition and news sent straight to your inbox. Sign up for the Women's Running newsletter.