3 Ways To Improve Your Mental Running Game
Running is 90% mental, so make sure your mind training is just as sharp.
Heading out the door? Read this article on the new Outside+ app available now on iOS devices for members! Download the app.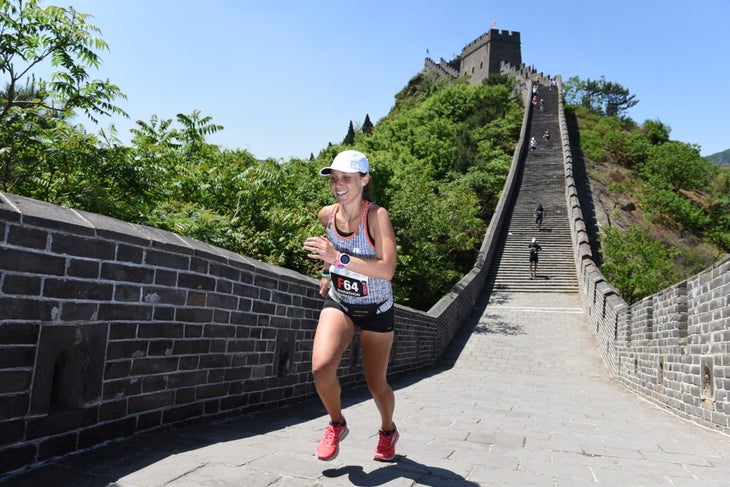 Running is 90% mental, 10% physical.
The physical part, dare I say, is easier. You can follow a training plan. The mental game—not so much. How you work on your mental strength will depend on the individual, taking in to account where you feel that your mind is weak. Here are three ways I try to outsmart my body and my mind to literally run my body.
Save the music for good runs. I don't often run with music, but if I do, I pick runs that I know ahead of time I'm likely to feel good on. IF I decide to listen to music on race day, I only want to have good memories associated with that playlist. For this reason if I feel like I'm going to be off that day, I don't dare think of bringing my iPod with me. On the flip side, if I am feeling awesome, I'll bring music with me. I can train my brain to associate how great I feel with the music I'm listening too. When a song I love comes on during a race, the memories of a kick-butt 20-miler pop into my head. It gives me more energy to push through the mental low points.
Stop the mental math. For years I would make myself crazy with mental math. If I run a 9:30 average for 4 miles and then an 8:30 average for the next 6, then all I have to do is keep it faster than a 7:55 for the last 3.1 and I'll hit my goal. Wait, courses usually end up being a little long on my Garmin so then what would the math be if I ran 13.4 miles vs 13.1 miles. I would speed up and slow down based on my calculations, which, lets be honest, are probably not the best in the later stages of a race. In order to stop doing this during races, I had to stop doing it during training. I'm not arguing that there is anything wrong with doing some mental math from time to time, but what was happening was that I didn't trust my training or my body. Now I know the pace range I need to hit on a run and I take each mile as it is. I don't speed up or slow down to make the overall average a certain number. I also believe that it's okay to have some outliers here and there. With no mental math, I don't feel the need to slow down on another mile to change my average if I'm too fast, or pick up the pace if there were a couple that were too slow. This helps me on race day because I don't get freaked out if I see a slower than expected mile. I chalk it up to the race course and know that there are likely to be some miles that are going to be faster. It becomes about letting my body do the work, instead of my mind getting in the way.
Embrace the pain. For a long time I let pain freak me out in races of all distances. My legs would start to feel fatigue, which spurred a negative dialogue in my head. You didn't train hard enough. You can't run this pace. It's an off day. Something is wrong. This is not a distance you are good at. In the end my mind would defeat me. I would give in to the pain and run a race that wasn't as good as I was capable of. Once I started to embrace the pain and keep up the positive self-talk during my long runs and speed workouts, I was able to do the same during races. Tight legs—great. It happens. Means you are working. Feet hurting—heck yes they are. You are running a marathon. It's all good. Chafing getting you down—well that sucks, but we aren't going to give up just because of a little raw skin, now are we? (Note: if you are in real pain—the type that you need to see a doctor for or visit the medical tent—do not push through it.)
Working on my mental game has been one of the factors that has brought about the biggest change in how I run during races. Give it a try to see if it will work for you!
What do you think—Is running strong literally in your head?