Why Declaring A Goal Is The First Step
But my darling, what if you fly?
Heading out the door? Read this article on the new Outside+ app available now on iOS devices for members! Download the app.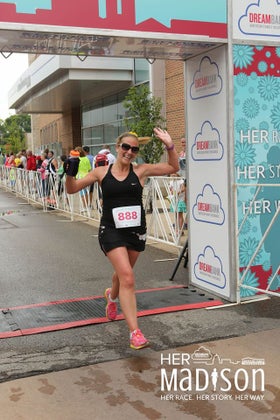 This originally appeared here.
I'm not built for speed. I'm petite (see: short). I'm sturdy (see: rotund). I'm Italian (see: cooks good food and talks with hands).
My desire to be speedy doesn't overcome the aforementioned issues. However I am blessed to run with many women who are fast. In order to keep up with them I've had to become faster too. Which is saying a lot, because imagine running as fast as you can, while talking and simultaneously using your hands to convey really, really important things.
My Declare It Day (DID) goal for 2015 was to break a 25-minute 5K. For some women, that is not a challenge, but for many women, that seems impossible. Thankfully, DID is about my goal and not all of yours. My PR for a 5K at that point was 31:17, and cutting off 6 minutes seemed an adequate challenge.
One week after I declared my goal, I ran a 5K and I finished in 25:33.3 – placing 3rd in the 30-39 age group. Mostly I was ecstatic. In fact, I was so ecstatic that I jumped to celebrate and my medal whacked me in the face, as you can see.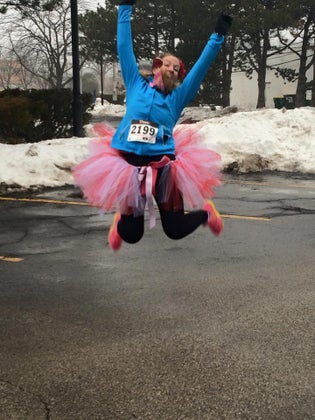 A part of me was feeling guilty that I was so close to my goal after literally one week. I considered changing it but was reminded (thanks, Mom) that I hadn't actually broken 25 minutes yet. I opted to focus on hitting the first goal before worrying about the next one. Besides, I had just placed in my age group! I had never done that before.
This is something many of us do. We get so worried about the next big thing that we forget to enjoy the already-great thing we are currently in the midst of.
I continued working on my speed. I made no other changes in eating because I still liked food. I know my limits.
Related: 7 Steps To Prepare For Declare It Day
Race day was April 24 at 7 p.m. I moved up near the start line and there were hundreds of adorable children from Girls on the Run in front of me. All of these little children at the front of the race, hopped up on adrenaline, resulted in my bobbing and weaving the first quarter-mile, which gave me the impression I was going very slow. I had no idea how fast I was going because I had just gotten a really awesome new running watch and refused to read the manual. Apparently, somewhere in said manual, it states you must press the "start" button a minimum of 100 times to actually start the timer. It should also be noted that racing conditions that weekend were less than ideal.
Related: Not Reaching A Goal Is Just As Transformative
I finished in 24:14. My husband (once he got to the finish line after me) was quick to ask if I had achieved my goal. We have three small children so he doesn't always get to be at races. It was special that he was there to be a part of it, even if he doesn't always understand my crazy goals.
Declare It Day held me accountable in the obvious way. I had made this public declaration of something I was going to do. And I did it. It's also inadvertently created a double challenge for me in 2016. I was embarrassed at how "easy" my goal ended up being for me last year. (I'm Italian and Catholic. I do guilt very well.) I don't want this to be easy. I want to put myself out there and come out stronger on the other end. I know what my goal is supposed to be. I know because every time I think about it, a little voice says:
"You're still injured. It will be hard. What if you fail?"
Related: 3 Reasons Every Goal Setter Needs A Girl Squad
But then there is a louder voice. It shouts: "What if you fly?" (I assume it's my mother. She tends to be the loudest.) It's an intimidating goal, mostly because the first part would involve rest. Healing. Taking care of myself and my injury so that I can build the strength I need to be to break a 4-hour marathon. It feels ridiculously counter-intuitive to choose a running goal and then take a break from running. I know it's the right goal, because it's the one that scares me most.
The fear of failure is large, but I have to admit, failing at a goal probably wouldn't be a bad lesson for me either. Either way, I will be pushed to be a stronger version of me.
Besides, I've had many bad ideas. How much worse can this be?