Mom-Of-3 Sara Vaughn Discusses Reaction To Her Making The World Team
She's a mom, a competitive athlete and a realtor—and now the woman who stole everyone's hearts!
Photo: KevinMorris/PhotoRun
Heading out the door? Read this article on the new Outside+ app available now on iOS devices for members! Download the app.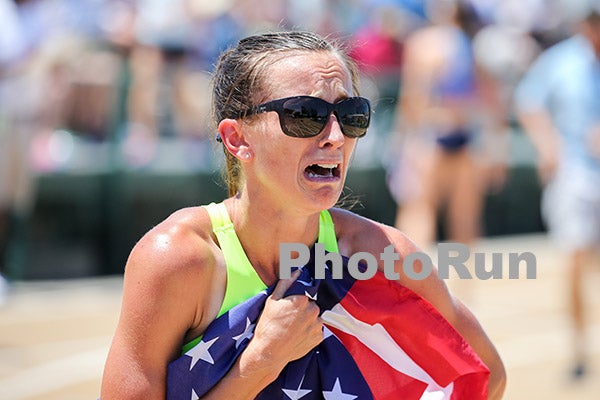 At the 2016 Olympic Trials, Sara Vaughn finished seventh. Although she was still in the race with 200 meters to go, she didn't have the fitness behind her to find the extra gear needed to get to Rio. So when the 31-year-old mom of three crossed the line third in Sacramento at the Outdoor Championships, solidifying her spot on her first world championship team, the American flag that was quickly draped across her shoulders felt that much sweeter.
"It sounds a little silly, but I was really planning on making this team," Vaughn said about her race goal. "My husband and I had been talking about it for awhile, years really, and it's been a long time coming. [After the trials] I knew with another year of consistent training, I could have a much better shot, even though I didn't really have the time qualifier yet."
Vaughn's performance completely wowed not only the crowd in Hornet Stadium but fans watching from home and through social media updates. Fans, fellow elite runners, coaches and anyone paying attention to the championships were tweeting their support for Vaughn, who has competed in every national championship since 2009, save the years when she gave birth to her children. Still, the overwhelming support was a pleasant surprise for Vaughn.
"I was really happy to share in the moment with people who were there," she said. "I didn't really get back to my phone for a couple of hours after the race was over, so it really was awesome to see a lot of people responding, a lot of people I didn't really expect to hear from. It was really nice."
Vaughn wasn't immediately positive she had actually succeeded at making the team when she crossed. "I was like, Wait, did I really make the team? Maybe I miscounted. Before I make a huge idiot out of myself—because I'm totally willing to do that if I make that team!—let's pause," Vaughn said of the moments she spent waiting to see her name appear on the finishers board. "I needed someone to bring me that flag or to tell me that, 'Yes, you were the third body across that line.' I had to pause for a second to know for sure. Then I saw my name on the board and it was a huge relief."
She FaceTimed with her kids a few hours after the race and says they each understood her victory in their own ways. Upon finishing, Vaughn even called out to her kiddos on NBC to let them know that "I'm taking you to London!" She also posted an ecstatic finish line photo on her Instagram today with the caption: "When you go purchase 5 plane tickets to #London…"
https://www.instagram.com/p/BV0SyO0lXxw/
"My 10-year-old understands that it's pretty significant what just happened and pretty special. She's really excited. My 6-year-old is very excited, but I think moreso for the trip. In her mind she gets to go meet the Queen of England! She's got this really cool, grand plan for us in London. Our 2-year-old, we are working on getting her passport."
Vaughn referenced something her almost-2-year-old says often, "my turn," in a post-race interview, alluding to the fact that this race was her turn to make the team. She explained that balancing the demands of motherhood and those of being a "fierce competitor"—not to mention the demands of being a full-time realtor in Colorado!—can be difficult to toggle between.
"As a mom of three, you always come last, your needs and your wants. I often don't get my double run until 9:30 at night. I'm always the last one to eat and shower. A lot of things get put on the back burner when you're caring for three little ones." She went on to say: "It's really hard for me to switch hats form nurturing mom to fierce competitor, and I think anyone on the elite level would tell you that to be a really good competitor you have to be selfish. You have to think about your needs and your training and your sleep. I'm not really good at that, to be honest. I try to be better at that, to be a little selfish."
It was definitely "her turn" to be a selfish, deserving competitor as she chipped off runners through the final 300 meters, moving from ninth place to third place across the line. "I guess in the race, I saw someone in front of me that had something I wanted. And I was just like, 'It's my turn.'"
Following her race, fellow mother runner and outdoor championship competitor Alysia Montano interviewed Vaughn on behalf of USATF. Montano, who made her own splash by running pregnant—again—in a Wonder Woman outfit, definitely has Vaughn's respect as someone who is "not afraid to prioritize her fitness and her health." Both Montano and Vaughn were easily two of the top stories of the weekend out of Sacramento.
Vaughn made the team behind Jenny Simpson, who won her fourth national championship in a row in the 1,500 meters. Simpson and Vaughn were teammates after Vaughn transferred to Colorado as a sophomore. "Watching Jenny progress from college freshman to where she is now has just been awesome. I really respect her," Vaughn said of the national champion. "I'm not really surprised she won her seventh U.S. title or whatever it is! She's really got talent and I know she works really hard. It's fun to share this team with her."
The beauty of track and field is that runners can get to know other runners purely through competition—the way Vaughn says she also knows Kate Grace, who finished second in the 1,500 meters. All three women will be heading to London this summer to represent Team USA on the world stage.
As for her first national championship flag? "I folded it up and took it home and we will be hanging it up on our flagpole for Fourth of July.
"I've been around the sport for a long time and I don't know how many national championships I've run in—basically all of them since 2009, minus years I had kids. It's a lot of work and just really gratifying and satisfying and all of those things rolled into one. Just happy tears—definitely nothing sad about it—but it was so cathartic. This is literally 10 or 15 years of work. Finally worth it, finally."